Leave Dubrovnik for the day and head to exciting and fascinating Sarajevo on this full-day trip through the Balkans. After crossing the border into Bosnia and Herzegovina, pass through historically important towns like Počitelj, Mostar and Jablanica, before arriving in Sarajevo. Once there, do a 2-hour sightseeing tour via minivan while discovering the most important landmarks and memorials the city has to offer. Admire the Latin Bridge, Bascarsija Bazaar and many other sites before departing again for Dubrovnik.
Highlights
Full-day private tour to Sarajevo from Dubrovnik
Travel through Bosnia and Herzegovina, passing Neum, Počitelj, Mostar and Jablanica
Enjoy a Sarajevo sightseeing tour by minivan with your private guide
See top Sarajevo attractions like Bascarsija Bazaar, the Latin Bridge and Sarajevo Roses
Spend time at leisure in the town before returning to your Dubrovnik hotel by minivan
What You Can Expect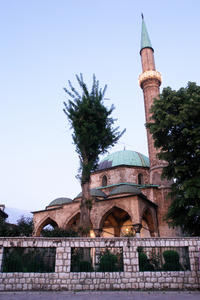 Get picked up at your hotel in the center of Dubrovnik to begin this exciting day trip to Sarajevo. Riding in an air-conditioned and comfortable minivan, learn about the history Sarajevo (as well as the places you pass) from the knowledgeable guide. Cross the border from Croatia to Bosnia and Herzegovina (and don't forget to bring your passport) and pass by the historically important and beautiful town of Počitelj with its Turkish-style architecture, before getting a quick glance at the striking 14th-century bridge of Mostar. Take a breather and stretch your legs in Jablanica. Stroll the streets or perhaps sit down for a hearty lunch (at own expense) at one of the many local restaurants.
By the early afternoon, arrive in Sarajevo, the capital of Bosnia and one of the most fascinating cities in Europe. During a 2-hour tour via minivan, admire the eclectic mix of architectural styles: Ottoman-era mosques hugging up to Austrian Habsburg-style neo-classical buildings. Learn from your guide about how World War I began here, as well as, about the city during the wars of the 1990s (which there are very few physical reminders today).
After the sightseeing tour, take some free time to enjoy the town at your own leisure. Ask your guide for sightseeing advice or just wander, enjoying a coffee at a cafe or just stroll the streets.
Later, return to Dubrovnik and get dropped off back at your hotel.

July 2015
Our driver was Ivan, and he was awesome. The vehicle was very nice, his driving was safe and efficient, but most importantly, he had a detailed knowledge of the region's geography and history.

July 2015
Amazing! The best guide ever, could answer even tricky questions. car was very comfortable. The tour of Sarajevo was interesting and good length. stunning scenery.
June 2015
This tour was absolutely incredible.
Robert is a kind and considerate gentleman and he immediately out us st ease with his warm persona.
The vehicle was amazing and his driving skills enviable.
We learnt so much about both Coatia as well as Bosnia.
The tour of Sarajevo was the highlight of our trip

May 2015
Our tour was amazing! It began with a great driver and a very knowledgeable guide in Dubrovnik. She was full of information/history of the entire area. When we got to Sarajevo we had a different guide show us around the city, he too was amazing. I would highly recommend this tour. He selected the perfect place for lunch which we saw later on the Travel Channel, amazing. Bosnia is beautiful and still recovering. I would love to go back and explore more, visit Mostar and tour more areas of Sarajevo.
August 2014
This was the best tour I've been on! Our guide, Vlado, was fantastic! He was so funny and open. He helped to put the history of the area into perspective, and he gave us a good background on where we were. It was interesting to see Sarajevo and the drive was beautiful. I would strongly recommend this tour.
April 2014
One of the best tours I have ever gone on. Marija our guide was great - very informative, superb sense of humor. I definitely recommend going up to Sarajevo - a unique and very interesting place. We easily did it in one day - although it is a very busy day. The driver was also fantastic - very good and the car was great too. I give it an A+!
October 2013
By far the best tour ever! So well organised and Paola and Vlado were hilarious
June 2013
The tour-guide was EXCELLENT!!!! He gave us a very informative and lively explanations about the history and the places we visited during the tour! We learnt a lot from the trip! Highly recommended!
August 2015
This was a long! day. Tour should have started very early in the morning considering on how far we had to travel. We unfortunately got stuck in line at the border. This further delayed things by an hour. It was great to stop in Mostar for a quick tour and look. We drove directly to Sarajevo and met with the local tour. The tour was very good but it was fast as we wanted to get through things in order to hit the road to get home. Sarejevo really just gave us the downtown highlights. I think doing an overnight in Sarajevo would be better. Great to see, but the tour was just too rushed!
Liz Canada
July 2015
My tour to Sarejevo was wonderful. The two guides - one from Dubrovnik and the other in Sarejevo were very knowledgeable and had interesting stories to tell,. In particular my guide in Sarejevo was well versed in the history and restoration of Sarejevo. He was also very considerate of my need to rest occasionally and to walk a slower pace.
Advertisement
Advertisement