Get picked up at your hotel in Dubrovnik and then make the hour-long drive to the Pelješac peninsula, the second largest peninsula in Croatia and a land mass crammed with history, culture and plenty of wine and food. Stop in the bay-side town of Ston, famous for its oysters, to see an old salt factory and to gawk at the town's miles of medieval walls that once formed the border of the Republic of Ragusa (i.e. Dubrovnik). Visit some family-run wineries. Stroll along the sea. This private tour of Pelješac is flexible and can be tailored to your interests.
Highlights
Private day trip to Peljesac Peninsula from Dubrovnik
Visit the fishing town of Ston to see the Great Wall of Croatia
Head inside Ston's old salt factory to learn about the pure salt harvested in the area
Travel along scenic coastal roads and stop at family-run wineries to sample Peljesac wine
Learn about the region's incredible fresh seafood and sample mussels or oysters, if you wish
Enjoy personalized attention from a private guide
What You Can Expect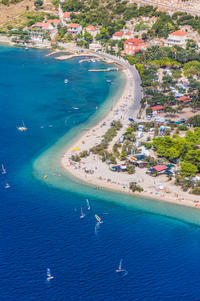 After getting picked up at your hotel in Dubrovnik, begin the hour-long journey to the Pelješac peninsula, passing over the contemporary Franjo Tudman Bridge and then cruising past ancient fishing villages along the beautiful Dalmatian Coast. On the way, learn about the history and culture of the area from your knowledgeable guide and perhaps chat about some of the sights you want to see so that your trip can be tailored to your own interests.
The first top is the town of Ston and its diminutive sibling, Mali Ston (Little Ston), home to some of the longest medieval walls in Europe at 4.3 miles (7 kilometers) and also some of the most delicious oysters this side of the Atlantic. Visit and old salt factory, which produced enough valuable salt that it made the area wealthy and well known in southern Europe.
Take a break for lunch in town (at own expense) and perhaps sample some of the famous oysters – even Roman emperors would have them shipped to Rome – and then continue the journey down the Pelješac peninsula, cruising along the coast. This area is known for its wine production, so stop at three different family-run wineries to sample their goods and perhaps also at a coastal fish farm to taste some freshly caught seafood.
After further exploring the area, head back to Dubrovnik where the tour will conclude by dropping you off at your hotel.
June 2016
Wonderful trip with just the right amount on and off time with our host / driver.
June 2015
Our tour guide Ana and driver were fantastic. They provided us with interesting factoids as we drove from one vineyard to another. Recommended a fabulous place of lunch...the BEST oysters I have ever had, bar none.
Wonderful way to spend a day.
July 2014
My wife, Evelyn, arranged this tour for my birthday, which happened to be a day when our Croatia tour had a free day. Our driver, Vlado, was experienced, capable, fluent in English and a delightful guy. It was a beautiful day and beautiful scenery. We bought a few bottles of wine which we put to good use hosting a group party for the other 12 adult members of our tour group. The wine was delicious, but our lunch was even better. We also enjoyed slurping oysters fresh from the sea at a little place Vlado took us to in mid-morning.
June 2014
Excellent tour. Guide was well informed with driver good and careful. Wineries visited were very friendly and informative about Croatian wines and winegrowing. A very good experience.
May 2014
We loved Olga! What a great tour - beautiful countryside, delicious wine and seafood! Highly recommend.
December 2013
Guide Philip was the best. Really knew his stuff . Took us after the wineries to a little oyster and mussel farm by the side of the road and we had an unexpected feast! There aren't t enough stars for him
June 2015
Great day, lovely to see a bit more of this beautiful country. Only 4 stars as tour guide not quite as informative as perhaps she could have been. But definitely recommend going private.
May 2015
Trip was great. Only problem is trying to bring back wine home..........
Advertisement
Advertisement