Explore the seas around Cavtat near Dubrovnik on a 3-hour sea kayaking trip, and go snorkeling on tiny Supetar island. Hear ancient legends and stories as you paddle through the crystal clear waters of Cavtat's sheltered bay, enjoying unbeatable views of the town's harbor. Enjoy lunch at an idyllic blue lagoon before enjoying free time to explore the countryside on the remote island of Supetar, perhaps diving into the turquoise waters and discovering life below sea level. Choose a start time to suit your schedule; the evening tour coincides with sunset and includes a glass of wine, too!
Highlights
3-hour sea kayaking tour from the ancient coastal town of Cavtat
Hear old legends and stories as you coast along with your guide
Recharge with a sandwich, freshly prepared at a local restaurant
Enjoy free time for hiking or snorkeling on the tranquil island of Supetar

Select an evening tour to see the sun set over Cavtat, and enjoy a glass of wine back at the pier

What You Can Expect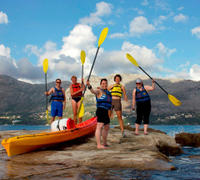 Make your own way to Cavtat's harbor, roughly an hour away from Dubrovnik by bus or boat, and then meet your expert guide and fellow kayakers on the pier. Listen as your guide takes you through a safety briefing and provides you with the equipment you need for your tour including a kayak, paddle, lifejacket and waterproof barrels for your personal items.

Due to its location in a secluded cove, Cavtat and its waters are sheltered, making for perfect kayaking conditions. Push off from the historical harbor and paddle along the promenade, hearing old legends and war stories as you go.

Have your camera ready for postcard-perfect snaps of the harbor from the sea. Be sure to look down for a glimpse of underwater life as well; the still, crystal clear water offers perfect conditions for you to see the colorful reefs and marine creatures that thrive beneath the surface.

Follow your guide to the nearby island of Supetar. Disembark from your kayak in a beautiful lagoon and recharge with a refreshing bottle of water and a sandwich, freshly made at a local restaurant before the tour. Flat and green with lush vegetation, the island is ideal for exploring at your leisure. Perhaps enjoy a small hike, or — if you wish to cool off — grab a snorkel set, dive into the turquoise waters and discover the wonders of life below sea level.

At the prearranged time, climb back inside your kayak and follow a route along the opposite coast of the peninsula back to Cavtat Old Town where your tour concludes. If you have opted for an evening tour, a glass of wine is provided back at the pier.
June 2015
Very informative, great views, good fun.
June 2015
We also took the bike tour of the country side and had an excellent experience with our guide Ivan. My compliments to Alexandra, Antonia and the viatour team for adjusting the bike for my friend whose strength is compromised by cerebral palsy. This made it possible for her to participate and enjoy the day. Outstanding customer service! SM
December 2014
Best thing we did while here. Extremely enjoyable and the giude (Mijo) was very helpful and friendly. Would definitely recommend this.
September 2014
Great adventure. Luka was a wonderful guide who based on our wish took us to best snorkeling area which we enjoyed greatly. In addition to everything else that was included n the trip he told us very interesting stories about history of the region and we had a very pleasant journey with him. Thanks.
Advertisement
Advertisement