Feel safe, secure and at peace by booking this private shared transfer from your hotel in Korčula Town, Orebić, Cavtat or Dubrovnik to the Dubrovnik Airport. A professional driver ensures you'll get to the airport with plenty of time to catch your flight and in the safest way possible. It's that easy!
Highlights
Shared transfer from your Dubrovnik, Cavtat, Orebic or Korčula Town hotel to Dubrovnik Airport
Stress-free way to get to the airport
Relax in a spacious, air-conditioned vehicle
Friendly and professional driver
Service available 24 hours a day, seven days a week for the greater Dubrovnik area
What You Can Expect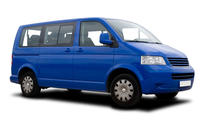 Whether you're in Korčula Town, Dubrovnik, Orebić or Cavtat, this private shared transfer will pick you up on time at your hotel and safely and reliably deposit you at the Dubrovnik Airport in time to catch your flight. This private transfer service is the best way to achieve peace of mind before your flight.
Provide your hotel address and your flight time when you book, and then you can sit back and relax knowing you'll have a safe and reliable transfer to the airport in Dubrovnik. Present your voucher to the driver and then you're set.
Just reconfirm the transfer 24 hours before the flight and then a driver will be there to pick you up at the time and place you specified.

December 2015
Great - was all alone even though a shared transfer and the car journey back was comfy and scenic.
September 2015
August 2015
This transfer was perfect - completely reliable, the driver was great and arrived a few minutes early (despite horrendous weather) in a new and very comfortable car, plus I was the only passenger at the time! Definitely recommend, and will definitely use Viator transfers in the future.
MS C United Kingdom
July 2015
June 2015
Had a very early morning pick-up. Driver was on time, courteous, friendly. Would highly recommend.

June 2015
Everything went smoothly. No complaints.
June 2015
Excellent. The company reached out two days ahead of time to confirm time and exact location of pickup (we were staying in Old Town). On the ?morning of, our driver arrived 5 minutes early and got us to the airport quickly and safely. He was also so friendly and funny - we had a great time chatting!
March 2015
The service was fantastic and much cheaper than a normal taxi transfer. The driver was friendly and on time and the car was clean, safe with a pick up location not too far from the place I was staying. I was very happy with the service and was really pleased to have found this as Dubrovnik airport isn't close to the city.
The only comment I would make is that as a lone female having to wait on the street at 4.30am in the morning, there was no indication on the car that it was a taxi or from Viator. Normally that probably wouldn't matter but in the circumstances, I was sat on the road bymyself, a black car pulled up on the opposite site of the road and technically it could have been anyone. I didn't get up until the driver came over and addressed me using my name so I knew it was my transfer but techincally it could have been anybody!

March 2015
On time and efficient. Nice, cheerful driver, even at 5am! Would definitely use this service again!
January 2015
The driver was prompt, professional attired and very courteous. We had a pleasant conversation (at 5:00AM in the morning) but I would definitely recommend this service again.
Advertisement
Advertisement