With this full-day guided day trip from Dubrovnik to Mljet, you're all set to have the ultimate Dalmatian island experience. The most densely wooded of the Croatian isles, this 23-mile (37-kilometer) island is a great spot to spend the day. Relax on the boat ride from Dubrovnik and take in the shimmering Adriatic Sea. Explore the diminutive island of St. Mary and its amazing Benedictine monastery and then spend time on verdant Mljet learning about its history from your guide.
Highlights
Full-day trip to Mljet National Park from Dubrovnik
Enjoy a catamaran ride to the beautiful island of Mljet

Take a boat ride onto a scenic lake and to the St Mary isle, where you'll tour a Benedictine monastery and enjoy lunch (on your own expense)

Explore Mljet National Park and climb up the hills to enjoy the stunning scenery of the Adriatic coast
What You Can Expect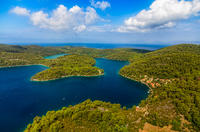 Get picked up at your hotel in the morning and hop in the air-conditioned minivan to start the island excursion. On your way to the port of Gruž, learn from your guide about the history and culture of the places you'll be visiting that day. Once at the port, climb aboard a catamaran and get ready to sail the Adriatic with your guide and group. Drink in the incredible views and the natural beauty of the area.
Hop off the boat at Polace, located on the northern end of Mljet, and take a scenic ride in a minibus to Pristanište. Drive through Mljet National Park and stroll along the hiking trails, flanked by verdant shrubbery and trees. Learn about the history of the islands -- that the name comes from the Greek word for 'honey,' or that it was first mentioned in records as far back at the 6th century BC. Hop in another boat to cruise around two inland salt-water lakes, Malo Jezero and Veliko Jezero and enjoy more pristine natural scenery.
After the boat ride around the lakes, transfer to a second boat for a trip to the diminutive island of St. Mary. Explore the small isle with your guide and discover the incredible 800-year-old Benedictine monastery. Spend some free time on the island, indulging in a delicious Dalmatian lunch (at own expense), take a dip in the refreshing Adriatic waters or go on a leisurely stroll around the island before heading back to Dubrovnik and getting dropped off at your hotel in the late afternoon.
June 2016
LOVED this tour. There were only 2 other people besides my daughter and I and I would encourage everyone to do this. Last reviews were from 2014 but this was more than worth every cent - go to Mljet ASAP
October 2014
October 2014
Had a wonderful day and everything smooth and easy, picked up at hotel at time stated by a very friendly and helpful driver. Met Ivana tour guide at the port who was also very helpful, friendly and informative. The only small negative point I have is that we were collected at 8.15 and boat to the national park did not leave until 9.15 but other than that not one thing wrong. The national park is very peaceful and beautiful and we are so very glad we went. There were two weddings on the Island and that was nice to see in the tiny historic chapel. Would I recommend this trip 100 percent yes.. Ivana and your driver thank you very much for your hospitality we had a great day.
October 2014
Excellent tour guide Great lunch
September 2014
September 2014
Laurensd Belgium
July 2014
Great tour! We were picked up at the hotel in a nice Mercedes. It took us to the port where our guide already purchased the tickets for the catamaran. Our transport to the island took approx. 1h. The guide was friendly and made sure she left us enough time to be on our own. When arrived in the national park, we boarded a minivan that took us to a small boat. After a visit with some interesting facts we went to another island. On that island we had free time for 3h to swim and relax.
June 2014
Excellent guide, organisation. And a wonderfull place to visit.
Shame the weather wasn't up to grabs.
January 2014
There were only 6 of us with a local guide, Olga on this trip. It was a genuine small group tour. Olga was interesting and entertaining and gave us plenty of free time as well as good explanations of the islands and many other facts about Croatia and its recent past. Mljet itself is a beautiful island and the tour on the lake with lunch on the water's edge by the old monastery was a highlight, marred only by the ubiquitous wasp plague. There is an opportunity to bathe in the lake (take reef shoes or similar for the stony ground!) and then to take a 20 minute flat walk back along the lake edge. For the historians there is an old Roman villa and Byzantine Church at the harbor edge which can also be explored before getting back on the ferry. All-in-all an excellent day out.
December 2013
I highly recommend this trip. The park was beautiful. Philip and Paula, our guides, were terrific. Philip told us a lot about Dubrovnik in general and recommended things for us to do in our spare time There were only 3 people on the tour. The lake water temperature was warm in Sept, and because it was salty I was able to just relax and float.
Advertisement
Advertisement