See the highlights of Durban in the morning, followed by a visit to one of the city's newest attractions — Ushaka Marine World. See the famous Golden Mile beachfront and the Indian Markets, plus enjoy time in the largest marine theme park in Africa.
What You Can Expect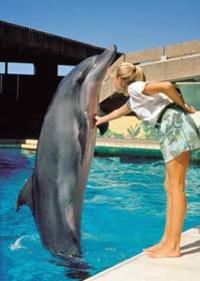 Begin your tour with pickup at your central Durban hotel and head for the stretch of beachfront known as the 'Golden Mile' with its restaurants, shops and hotels. Do some people-watching as all of Durban visits this beach at one time or another.
Pass by Durban City Hall and the Playhouse Theatre before stopping at the Indian Markets. Breathe in the remarkable spices, herbs and traditional medicines for sale as you wander the colorful aisles.
Next stop is one of the newest attractions in Durban and the biggest marine theme park in Africa — Ushaka Marine World. The park covers more than 15 hectares along the Golden Mile and features 5 distinct zones — including one with water slides and pools and even a recreated 1920's shipwreck. There are exhibits with both fresh and salt water.
Start your visit to Ushaka Marine World with lunch (own expense) followed by a guided tour of the facility. See the indoor/outdoor salt water aquarium and the multiple exhibits that focus on creatures that live in the waters off South Africa's coasts. Enjoy a dolphin, seal and penguin show. At the end of your visit to Ushaka Marine World, you'll be returned to your hotel.
Fiore L Italy
December 2011
Perfect nothing to be signalled, beautiful and interesting excursion,with the person of the kind and perfect Springbok
Anonymous
April 2010
The Hluhluwe game reserve is a must-see in Durban, even if you're here for a short time, make an effort to do this safari. Very recommended.
January 2016
This was the best tour. Our Tour guide was a very nice lady and very helpful.
January 2012
Just wonderfull, the driver picked us up on time and was very friendly. The city tour amazed us. Thank you very much for everything.
Theodore S Ghana
April 2010
It was a very good trip everyone who visit South Africa should try it.
April 2012
A good intorduction to Durban. Wish we had spent more Time in some of the museum stops rater than spending too much Time around the old harbour! The Ushaka Marine is fantastic for the vides and fun expécially if you have kids but thon you would not do it on a day trip. Funny guide shared our bunny chao even though we had paid for 2 tickets, saying that was 2/3. Bizarre.
Advertisement
Advertisement