Set out on a day-long safari from Durban to the Hluhluwe Imfolozi Game Reserve, one of Africa's oldest nature reserves. It's also home to the world's largest white rhino population, a species once on the brink of extinction. Once here, you'll embark on a closed vehicle game drive in search of Africa's 'Big Five,' along with other animals such as cheetahs and hyenas. Scan the waters for crocs and hippos, and keep an eye (and an ear) out for birds like the colorful little bee eater and the Klaas's cuckoo.
Recent Photos of This Tour
What You Can Expect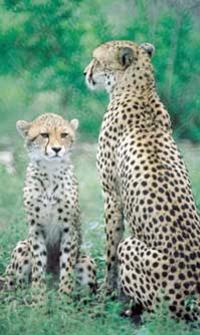 The reserve enjoys international acclaim for it's work in Rhino conservation, spearheading the successful "Operation Rhino" campaign to bring the White Rhino population back from the brink of extinction in the 1950's and 1960's. This is an ongoing campaign which the reserve is proud to be a part of.

The tour includes closed vehicle game drives throughout the day, and you have the option to take an open vehicle game drive at an additional cost, payable direct to the supplier on the day. Lunch is at the award winning Hilltop Camp, which has incredible views over the reserve.
October 2014
Colin our guide did an excellent job.
March 2014
My Husband (30) and I (24) from Germany had a wonderful day in the Hluhluwe Game Reserve. In the park we saw crocodiles, giraffes, elephants, warthogs, rhinos, buffalos, zebras, several species of monkeys, spiders, snakes and birds. The guide knew exactly where to find the animals, it was great. Also the driver from Durban to the game reserve was very nice. He was a zulu man and told us so much about the zulu culture. The Lunch at the Lodge was also very nice, we were able to choose from the whole card of the restaurant.
We had a wonderful day.
Fiore L Italy
December 2011
Perfect nothing to be signalled, beautiful and interesting excursion
Arlene V USA
May 2010
While we only saw three of the "big five" I would consider our safari to be a success. Our driverguide was both very personable and also very informative. He shared a lot both on our trip to and from the game reserve as well as providing us with information on animals in the reserve itself. I would highly recommend this safari to anyone who was considering it.

Deborah C United Kingdom
April 2010
This trip was work flying 6,000 miles for on its own. Our guide Thabo was excellent. Full of information and spotted things that we would have missed. Our meal at the hilltop restaurant was delicious and the view could not have been bettered. Anyone planning at trip to Hluhluwe should definitely book it through Viator. Excellent value for money.
Anonymous
February 2010
On my game drive, we'd barely got through the gates when we came across a bull elephant. Unfortunately, it had no intention of moving, and our guide started sensing that Dumbo was becoming agitated. A quick reverse back up the hill was in order – these male elephants can be very dangerous. We watched him slowly trudge away from a safe distance and then continued. It was pretty hot, so a lot of creatures were undercover, but we did see warthogs, buffalo, zebras, rhinos and giraffes before sightings dried up. After lunch, it was a different story. We were treated to rhinos wallowing in mud, giraffes up incredibly close, wildebeest sauntering around and seemingly hundreds of impalas. The highlight came towards the end, though. At the other side of a watering hole from our vehicle sat four lions, just waiting for something to come their way and have a drink.
Wyn G United Kingdom
August 2009
We had an excellent driver/guide, who did all he could to make our trip both enjoyable and to let us see so many animals.
Maire R Ireland
July 2009
Totally professional service. Driver to Hluhluwe and back was so entertaining and knowledgeable about South Africa that the 3 hour drive to the reserve passed quickly. Our guide for the safari was also excellent and when to great lengths make sure we saw as many animals as possible. Lunch was excellent too.
March 2014
After seeing the Serengeti and Masai Mara, it was a bit disappointing, but the long ride to and from Durban cuts into the best viewing time. Should be a two day trip. The Driver did his very best and can only be commended.
August 2011
Long trip from Durban gave us an idea of the agricultural economy of SA - sugarcane and eucalyptus farms as far as eye can see. Beautiful landscape of the Reserve, we saw zebras, giraffe, elephant (1), water buffalo (1), rhinoceros only from very far, some other animals as well. No big cats - February is not the best time. Very pleasant and friendly, well informed Zulu guide.
Advertisement
Advertisement