Take a day trip into the Kingdom of Lesotho from Durban, traveling by 4-wheel drive vehicle through the extremely steep Sani Pass after passing through the Natal Midlands and Himeville in a more standard coach. Visit a Sotho village to meet the locals, then head for the Sani Pass Top Chalet for lunch (included) before returning to Durban.
Recent Photos of This Tour
What You Can Expect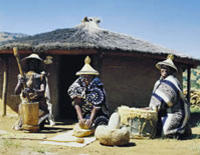 Get an early start, picked up at your central Durban hotel, and begin the drive toward the Kingdom of Lesotho, an independent country completely surrounded by South Africa. Travel through the Natal Midlands, admiring the scenery, and stop in the town of Himeville, where you'll transfer to a 4-wheel drive vehicle.
The next part of the journey involves traveling up the incredibly steep Sani Pass, only possible with 4-wheel drive. When you reach the top, go through passport control at the border — this is another country, after all — and then you're in Lesotho.
Visit a Sotho village, meeting locals and taking in the mountaintop views, before continuing on to lunch at the Sani Pass Top Chalet (included) with still more breathtaking views. After lunch, travel back down the Sani Pass and back to Durban.
Please note: The 4-wheel drive vehicle departs from Underberg. Time permitting, you'll have a chance to stop at the 310-foot tall Howick Waterfall on the way back to Durban.
June 2016
Fantastic tour, incredible views from the top of Sani Pass and great introduction to Lesotho. Guide was incredibly knowledgeable. Highly recommended.
November 2015
Fantastic trip, the tour company were exceedingly helpful and professional as was the driver. The guide we had in Lesotho was very knowledgeable, professional and helpful.
Lesotho itself it stunning and well worth the visit.
September 2015
An utterly fantastic tour. Views all the way up Sani Pass kept the cameras clicking. Great driving by our guide
March 2015
great trip, sani pass was brilliant. didn t know drinks were not included in meal--- please say to future clients. no history of the country was mentioned-- it would have been good to know a bit more.
February 2015
March 2014
As a keen 4WD driver in Australia, I appreciated the different scenery and enjoyed this unique look at an unusual mountain pass and the people who live there. Most enjoyable and having been to the highest pub in Africa rounded off a very good trip
February 2014
Well organized with friendly and helpful staff. The guide was extremely knowledgeable and interesting. Scenery amazing and the whole experience well worth the money.l
February 2013
If you are in Durban don't miss this tour, its absolutely a must with excellent scenery and great experience going up(and down) Sani Pass. Our guide was very nice with great knowledge and we were very lucky with the weather, great views all the way
Christine H USA
June 2012
Highly recommended. This is a great opportunity to learn about natives, other than Zulus, and to visit their homes.
January 2012
This was a great trip it does take 12-14 hours and the road is rough,but the scenery is wonderful you feel like you have been transported to another time when you reach Lesotho.
Advertisement
Advertisement