Spend a day at Shakaland to learn about Zulu life from the Zulu people who live there. Visit a traditional Zulu kraal (village), eat a typical lunch and watch a performance of Zulu dancers.
Recent Photos of This Tour
What You Can Expect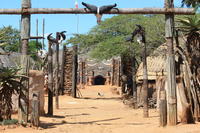 After getting picked up at your central Durban hotel, travel up the coast of the KwaZulu-Natal province toward Shakaland. Pass through the lush beauty of the nKwalini Valley.
The largest Zulu kraal (village) in Zululand sits on a hill that overlooks the uMhlatusi River, and this is Shakaland. It's a living museum, where Zulu people show visitors what tribal life is like.
Learn about Zulu traditions such as beadwork, basket-weaving, brewing beer, making pottery and building huts. Visit a sangoma (fortune teller) to see what your future holds. Sample the Zulu beer. Watch a performance of Zulu dancers. Then enjoy a traditional lunch (included) before the trip back to Durban.
June 2015
It was highly educative and specially fun! We loved the experience, specially the knowledge of our guide! Awesome! In the way to the complex the guide would fill us with various historic facts and small details that turned this visit something special! On the complex, all was very organized and extremely fun! I highly recommend this tour!!!
January 2015
Learned a lot about the Zulu people . Our tour guide Wendy was very knowledgeable. A must do.
September 2013
Fascination and a wonderful cultural experience.
Christine H USA
June 2012
Fascinating history that was particularly well presented. It certainly wasn't Disneyland, but provided a insight into daily Zulu life
Fiore L Italy
December 2011
Perfect nothing to be signalled, beautiful and interesting excursion
Greg F Australia
February 2010
This was a great cultural experience.
Anonymous
February 2010
This 'traditional' village was created for a popular TV programme called Shaka Zulu, and when the show came to the end of its run, the set was transformed into a hotel and cultural village. Here, the 'villagers' give demonstrations of grinding maize, making traditional beer and preparing food amongst other things. But it's the dancing and drumming show that is most spectacular. The dancers really go for it, staring the audience in the eye as they launch into the Zulu War Dance, and by the end it's a free-for-all multi-dancer melée. How much you enjoy Shakaland will depend entirely on how much you like this sort of thing. Take the history lessons with a large pinch of salt, ignore the fact that the traditional Zulu villagers will revert back to jeans and mobile phones post-performance and take things in the spirit intended… then it's all jolly good fun.
October 2012
The actual village was a bit disappointing, although I suppose it was the best they can get to the real thing. The Zulu guides did their best to make you feel welcome and explained village life and very proud of their heritage and ancestor Shaka. Dancing at finish was fabulous, full of energy, noise and the Zulus enjoyed performing. Try and do the meal as it was very good and worth the money
January 2012
This is not where the Zulu live,but the old TV setting from a 1980's TV series. The Zulu guide we had was joking and acting,not as educational as this could be with proper guide.
Advertisement
Advertisement