Durban's world class saltwater aquarium, Ushaka Marine World will have young and old delighted! With over 30 indoor and outdoor exhibits, Ushaka Marine World includes a variety of marine life - see a dolphin, penguin and seal show, and marvel at the intelligence of these animals.
Recent Photos of This Tour
What You Can Expect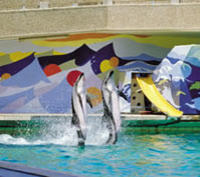 Enjoy a full guided edutainment tour at Durban's favorite family attraction: Ushaka Marine World. Your tour of this world class facility will comprise a saltwater aquarium with over thirty indoor and outdoor displays, and exhibits of South Africa's unique Indian and Atlantic Ocean marine life.

At the end of Durban's Golden Mile, is the beginning of a new world of fun, entertainment end excitement. Ushaka Marine World, spanning over 15 hectares of prime beach front, is Africa's largest marine theme park. Incorporating fresh and sea water, lush vegetation, natural materials and the recreation of a 1920's cargo ship wreck, Ushaka Marine World had created a magical world of sea and marine life.

The park is made up of 5 zones:

Sea World
Aquarium, dolphinarium, seal pool, dive tank, snorkel reef and lots more

Phantom Ship
Culinary delights at the Cargo Hold and Upper Deck

Wet 'n' Wild
A fun fresh water world of slides and pools for the adrenaline junkie

Ushaka Beach
Non-stop beach and surf action

Village Walk
There's nothing to beat the marine theme shopping adventure

With shark cage dives, ocean walkers, helicopter rides, surf lessons and scuba diving options at an additional cost at the park, there is plenty to keep the whole family busy for the day!
Anonymous
February 2010
The dolphin show takes place in a special stadium at least twice a day. The show's premise – how dolphins helped the great Zulu king, Shaka, get over the death of his mother – is ludicrous. But it doesn't matter when Gambit and family are in action. They perform back flips, walk across the water, wave to the audience and even indulge in a spot of headbanging. They're exceptionally cute – and fully deserve all the fish they keeping getting fed as they show off.
Anonymous
February 2010
Good show, especially with kids. Ours loved it.
Advertisement
Advertisement