Uncover the ancient mysteries of Easter Island on a comprehensive 4-day tour of the island's most enigmatic attractions. Accompanied by a knowledgeable guide, see the atmospheric ruins of the ancient temple of Akahanga;delve into the history of the poignant archeological site, Ahu Akivi; and see captivating collections of moai statues scattered across the landscape. Gaze at the vibrant bird paintings of Ana Kai Tangata and select from luxurious 3.5- or 4-star accommodation during this enriching excursion.
Highlights
4-day Easter Island tour
See the Manutara bird paintings in Ana Kai Tangata cave
Visit the temple and fallen statues of Akahanga

See where the moai statues and their red topknots were quarried and carved
Explore Rano Raraku volcano with your expert guide

Choice of three-star, 3.5-star or four-star hotel
Recent Photos of This Tour
What You Can Expect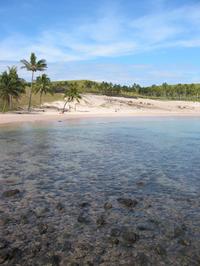 Visit the most enigmatic and intriguing archeological sites of Easter Island on this 4-day tour led by an accomplished guide. See a captivating selection of sacred temples, moai statues and colossal volcanoes as you explore the ancient landscapes of the island. Enjoy the convenience of round-trip transportation from the airport and select from comfortable 3.5- or 4-star accommodation. Breakfast is included each day, as are a selection of other meals indicated in the Itinerary section below.
Itinerary
Day 1: Easter Island
After arriving at Mataveri Airport, you'll be met by your guide and transferred to your hotel for your evening's accommodation. Once here, the rest of the day and night is yours to explore on your own.

Accommodation: O'tai Hotel (three-star), Taha Tai Hotel (3.5-star) or Hotel Altiplanico (four-star)

Day 2: Easter Island (B)
After breakfast at your hotel, your tour of Easter Island begins with a visit to see the Manutara bird paintings of Ana Kai Tangata cave, sacred to the warriors of Easter Island. Next, see the huge lagoon crater of Ranu Kau volcano and visit the ceremonial city of Orongo at its base. Here, admire the island's greatest concentration of petroglyphs, depictions of the Tangata manu birdman creator god. In the afternoon, visit the Ahu Akivi archaeological site in the island's heart, and hear the legends of Ahu's seven moai (head statues). On the way back to your hotel, visit the small town of Hanga Roa, where the statues' signature red stone hats, or topknots, were quarried and sculpted.

Accommodation: your same hotel

Day 3: Easter Island (B, L)
Breakfast at your hotel is followed by a full-day excursion to the ruins of the temple of Akahanga, where you'll see the moais' topknots lying tumbled on the ground. Next, visit the Rano Raraku volcano, whose rock was used to carve the island's moai statues. If you climb to the edge of the crater and peer within, you'll see the volcano's lake and see moai in various stages of construction scattered around. Continuing to Ahu Tongariki, you'll see where many moai were toppled by a large sea quake in 1960. In the afternoon, go for a swim at Anakena beach before revisiting the town of Hanga Roa and returning to your hotel.

Accommodation: your same hotel

Day 4: Easter Island (B)
After breakfast at your hotel, you'll be transferred to Mataveri Airport for your departing flight. Depending on the time of your flight, you might have free time for you to explore Easter Island further on your own.
March 2016
Loved most every minute. Hanna was a wonderful guide.
Patricia W USA
February 2016
Great tour. It is bilingual, Spanish and English. You will see all the major sites of the island. Our only complaint was we were told to reconfirm and no one answered the phone number we were given on our voucher. However, tour operator was at airport as scheduled.
Dale M USA
September 2015
Everything went without a hitch! We saw literally everything on the island worth seeing and still had free time to explore on our own.
June 2015
Great trip. Pick up and return to airport were great even with flight delays. Tour guide was excellent.
April 2015
Noname sp? and Mania were excellent guides. They provided wonderful information and the pace was just right. This was an excellent tour.
alison46 USA
March 2014
Totally satisfied! Viator connected us with Mahinatur Excursions. It could not have been any better. Had a great room at the hotel Altiplanico and wonderful tour guide Aka born and raised on the island very informative, his parents were archeologists involved with the restorations of the Moai. So we had great first hand information. Highly recommend……………Easter Island and the tour were more than expected!
January 2014
Fantastic tour with great guide, Christian. Enjoyed seeing all the sites, learning about the history, and also learning about current life on the island. Tour company was very efficient in organization and very accommodating.
March 2016
Full day trip was very good - a little unbalanced with too much in the morning - lunch was good. Second day of half day trips was less good - guide not as good - also they were over 30 minutes late picking us up in the morning.
January 2016
No complaint except car was too packed. I had to sit at a seat where the back tire was. It took up most of my leg space. Tour guide Amalia is very knowledgeable. Easter island is full of stuff to see. Too bad something I wanted to see was shipped to British museum by the invader.
Advertisement
Advertisement