Take an exciting trip from your Cuenca hotel to Ingapirca, home of the largest Inca ruins in Ecuador. Learn about the ancient temples that dot this iconic complex and wander through age-old structures on foot with your expert guide. Afterwards, comb through handmade crafts before tucking into steaming dishes of Cuenca cuisine and returning to your hotel.
Highlights
Day trip to the Inca ruins of Ingapirca from Cuenca
Explore the largest archaeological Inca ruins in Ecuador
Learn about the historical significance of this fascinating archaeological site from your guide

Observe local handicrafts and enjoy a lunch of typical regional dishes
Pickup and drop-off from most Cuenca hotels included
What You Can Expect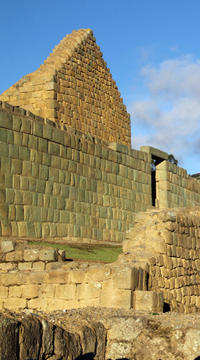 Depart from your Cuenca hotel and take the 2-hour journey to Ingapirca. This ancient city is the site of the largest archaelogical Inca ruins in the country.
Navigate the stone structures and historic grounds on foot with your guide, who will explain the significance of the circular sun temple and other key landmarks. Learn more about the Inca and Canari cultures', whose stonework is evident throughout the ruins.
Your guide will describe how the Ingaprica ruins played an essential role in early Ecuadorian military strategy and how this destination once served as a fortress to support troops.
After exploring, check out local craftsmen weaving Panama hats and learn more about pottery, leathergoods and other handmade items. On Sundays, travelers will also stop at the Handcraft Market of Canar.
As the tour comes to a close, tuck into a traditional Cuenca meal with new friends. Unwind with fellow travelers before departing back to the hotel.
August 2015
A lovely day trip. Very knowledgeable tour guide, dependable driver, and enlightening stops along the way added to the main Ingapirca attraction. Ingapirca is fascinating! Thanks.
June 2015
Fantastic tour! Our guide Pedro A. was very knowledgable and helpful. We stopped at great points of interest along the way and shared a terrific lunch with the group after visiting Ingapirca. We lucked out with great weather, and Ingapirca is well worth seeing. This tour is highly recommended.
March 2015
This tour was very informational.
March 2015
We would highly recommend this tour and tour guide. Sebastian was very knowledgeable and interesting.
December 2014
Everything was great--the tour guide was awesome!!!
August 2014
The guide, Juan, could not have been any better. I asked if he would give the tour in Spanish since I have been learning the language over the last 7 years. He gave detailed descriptions of each place including the history, construction techniques, etc. For my personal interest it was the perfect tour During lunch I asked him to write down some intersting music, literature, and movies to help me continue learning about the ruins, Cuenca and Ecuador. From this list I can continue learning when I return home.

January 2014
Adrian the guide was wonderful. He loves sharing his knowledge and enthusiasm. I loved every part of the tour. My only suggestion would be a quick stop to take a photo of the Biblian chuch on the way up because it is so cool from a distance. Worth going on Sunday for the market stop.
December 2013
Adrian the tour guide was the most knowledgeable and eloquent tour guide I have ever met! He had every detail down and lunch at La Posada de Ingapirca was delicious. Only thing to note is that the entrance fee to the ruins (~$6) was not included, otherwise wonderful experience!
June 2013
Our tour guide Adrian Aguirre, was the best. Cheerful, patient, extremely knowlegeable and well able to present a great deal of interesting information conversationally. The meal - it is hard to call it lunch - was excellent and the restaurant up on the hill above the ruins was outstanding. The ruins themselves are, in large measure, a nudge to the imagination,but provide a clear picture of how life might have been and, if one is open to it, a strong sense of the past. The tour was outstanding, the administrative hassle to get it organized, not so great. High reliance on technology which, for some of us,is more challenge than we need. If you can handle the technology, do not miss this trip.
Sincerely
Leonard
April 2013
Adrian tour guide was awesome! Tour was awesome! Lunch was awesome!
Advertisement
Advertisement