Visit the Isle of Islay in the Scottish Hebrides on a 4-day tour from Edinburgh, and discover its famously friendly people, stunning landscapes, and most importantly – its whisky! Having produced Scotland's finest smoky malt whiskies for more than 200 years, Islay provides the perfect base for whisky lovers and novices alike. Enjoy three nights of accommodation in the 4-star Bowmore Distillery Cottages, and discover up to six different distilleries, including big-name sites like Laphroaig and Ardbeg, with a guide.

Numbers are limited to 16 on this small-group tour, ensuring you'll see the best of Islay with personalized attention with your guide.
Highlights
4-day whisky tour from Edinburgh to the Isle of Islay
Spend three nights in a 4-star Bowmore Distillery Cottage with your group
Learn all about smoky Islay whiskies on up to six distillery visits, including Bruichladdich, Kilchoman, Laphroaig and Ardbeg
Enjoy a visit to the town of Oban and the ancient Kingdom of Dalriada on the Scottish mainland
Small-group tour with a maximum of 16 people ensures a more personalized experience
Recent Photos of This Tour
4-Day Isle of Islay Tour from Edinburgh: Whisky Distilleries Including Laphroaig, Bowmore, Kilchoman and Ardbeg
What You Can Expect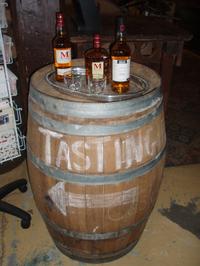 Travel from Edinburgh to Islay – the Inner Hebridean island known as 'Queen of the Hebrides' – and enjoy three nights in the town of Bowmore. Your accommodation is in one of the Bowmore Distillery Cottages – a collection of beautifully renovated 4-star holiday homes inside the distillery grounds. Your typical Scottish cottage has between 3 and 6 en-suite bedrooms, and a kitchen and lounge that you'll share with other people on your tour. Meals are not included, but continental breakfast items (bread, milk and cereals) are provided, and you can use your kitchen to cook, whenever you wish.

Throughout your tour, your guide will introduce you to many of the island's famous whisky distilleries where you'll learn how to nose and taste the distinctive malt whiskies, identifying the characteristics that make each one so unique. There's more to life than a good malt though, and if Islay's breathtaking scenery holds more appeal to you than its whisky, your guide will have alternative trips to offer, as well as the visits that are worked into your itinerary. All entrance fees and distillery tours are payable at your own expense.
Itinerary
The itinerary below is for tours commencing on a Friday. If your tour starts on a Monday, then the itinerary for days 1 and 4 are swapped. Days 2 and 3 remain the same, with the difference that all distilleries will be in full weekday operation, meaning you'll benefit from more tastings, as well as seeing the distilleries in action!

Day 1: Edinburgh – Bowmore, Isle of Islay
Leave Edinburgh early and travel west by luxury minibus, passing Glasgow and along the banks of Loch Lomond to the wee village of Inveraray on the banks of Loch Fyne. Stop for lunch to sample some of the local seafood (own expense), and then continue travelling through the region of Argyll, into the ancient Kingdom of Dalriada. Explore the site with your guide on foot, seeing some of its 350 prehistoric monuments, like stone circles and standing stones, and then visit Kilmartin House Museum to learn about area's archeological finds.

Continue with a short drive to Kennacraig to board your early-evening ferry to Islay. Watch out for dolphins, whales and seabirds on your 2-hour crossing, and then finish your day with a minibus transfer to your cottage in Bowmore.

Overnight: Bowmore Distillery Cottage in Bowmore

Day 2: Western Islay (B)
Leave your cottage by minibus and travel past Saligo Bay to the western corner of Islay for a visit to Kilchoman Distillery – the newest and smallest distillery on the island. Unique for its practice of growing barley for its whisky on site, the distillery is also one of only six in Scotland that carries out traditional floor maltings – where the barley is spread over a floor to germinate naturally. Head inside for a tour, or alternatively, check out western Islay's scenery on a coastal walk to Machair Bay.

Break for lunch, and then travel to the harbor village of Portnahaven to go seal spotting. Then, choose to either visit Bruichladdich Distillery (famous for its production of gin as well as whisky) or spend time at leisure in Bowmore. Both groups will meet back at a pre-arranged time for a visit to Bowmore Distillery. Head inside to watch the whisky workers milling the grain and smoking the peat, and then return to your cottage to spend your night at leisure.

Overnight: Bowmore Distillery Cottage in Bowmore

Day 3: Southern Islay (B)
Set out with your guide to explore the southern part of Islay, where its most smoky and peaty whiskies are created. Visit Ardbeg Distillery for a tour, and try up to six of its finest smoky whiskies, including rare Ardbeg scotches and samples poured straight from the barrel. The distillery has also gained a name for itself as one of the best places in the area to eat lunch, so… do just that; sit down for a meal and enjoy Ardbeg's top-quality local produce.

Continue to Laphroaig Distillery to enjoy another distillery tour, or if you've had 'your fill' of whisky for the day, visit Kildalton Church or the village of Brigend instead. Return to your cottage and then spend your evening in the town independently.

Overnight: Bowmore Distillery Cottage in Bowmore

Day 4: Islay – Oban – Edinburgh (B)
Leave your cottage by minibus and then cross over to mainland Scotland by ferry. Continue your journey along the coast by minibus to the town of Oban – a bustling little harbor town. Stretch your legs on a walk around at leisure, and use the time to enjoy lunch. Oban is famous for its seafood, and your guide will happily offer tips for the best restaurants to visit for it! Alternatively, visit Oban Distillery and get your tour's final taste of Scotch whisky before returning to Edinburgh. Your 4-day tour finishes back in Edinburgh in the early evening.
October 2015
Excellent tour and Steve our guide and driver was awesome. Full of knowledge and humour. Very helpful and has lovely knees. Nice to be in a small group. The cottages were very nice and of course the distilleries were an interesting experience. If you're a whiskey lover then this tour is for you.
August 2014
Very good tour with a great driver
August 2014
A dream come true for a fan of Islay Single Malt. In depth tours and tastings at 3 distilleries and mini-tours and tastings at 3 more. Even an opportunity to pour your own bottle right from the cask, visit historic sites, walk through a peat bog, and stake your claim to a square foot of Laphroig (and collect a wee bottle of 10 year old from them as rent for use of your property). The cottages at Bowmore were delightful. The trip to and from Edinburgh is on a very comfortable coach and ferries. Lots of stops along the way to visit Lochs, castles and quaint villages. Our driver and guide, Emily, with her university education in the history of Scotland was extremely informative and entertaining.
May 2014
The trip to Islay started with difficulty in so far as we were initially directed to gather at the wrong location. Viator made a feeble attempt to correct this error prior to our trip sending us a vague imprecise email with the correct gathering location that made no attempt to illuminate the error. In any case a staff member from the tour company, found us at the wrong location and redirected us to the correct location. Unfortunately all but two seats were taken and my wife and I spent the initial portion of the tour seated in different areas of the bus, a situation that corrected itself the next day and for the remainder of the trip. The Whisky Tour itself was phenomenal and more than made up for the initial displeasure we experienced. We would make two suggestions. First, all participants should be informed that they will get one, and only one, opportunity to purchase whisky at each distillery. Unfortunately we put off the purchase of a select whisky at the Bowman Distillery and never had another opportunity to make a purchase despite staying at the Bowman Distillery cottages themselves. More our loss because 1/we could not find the selected whisky in Edinburgh upon our return and 2/ the prices are significantly higher in Edinburgh - a point that was not emphasized on the tour. Lastly, we tipped our guide Emily and our driver Jamie generously because of their outstanding work. But, at no time, were tipping guidelines discussed or even mentioned. Overall we enjoyed the tour which was both educational and rewarding in oh so many ways. The Bowman Distillery cottages were everything you would expect and more. We had a power loss on one occasion when we started both the dishwasher and the washer/dryer at the same time, but the breaker was easy to reset. We could have used to directions for the washer/dryer, but we managed. We'd go on the tour again in a heartbeat.
May 2014
May 2014
This tour is the perfect mix of whisky tasting and sight seeing. Our tour guide, Sarah, was excellent! She was very knowledgable and helpful. The accommodation at Bowmore Distillery was great, comfy beds, hot showers and a large kitchen/living area. I really can't fault this tour, if I wanted to be picky my only complaint is that I requested a double bed but was given a room with twin beds instead. Book this tour, you won't be dissapointed :)
Advertisement
Advertisement