Get a comprehensive look at Scotland during this 5-day journey through its rugged and rural landscapes. Travel through the Lowlands, Northern Highlands, West Coast and the Isle of Skye, including a stop at Loch Ness and Eilean Donan Castle plus a seasonal railway ride on the Jacobite steam train from Fort William to Mallaig. Enjoy overnight accommodation in Oban and Drumnadrochit, as well as a 2-night stay in Kyleakin on the Isle of Skye.
Highlights
5-day tour of Scotland's highlights, departing from Edinburgh
Journey through beauty spots such as Loch Lomond and Trossachs National Park
Visit famous sights including Kilmartin Glen, Loch Ness, Glencoe and the battlefield of Culloden
Ride the Jacobite steam train on a scenic journey from Fort William to Mallaig
Make the most of ample free time to explore the Isle of Skye independently
Enjoy overnight stays in Oban and Drumnadrochit, and a 2-night stay in Kyleakin, with daily breakfasts included
Recent Photos of This Tour
What You Can Expect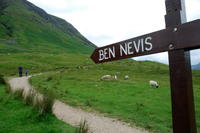 See a diverse range of rural landscapes on this 5-day Scotland and Isle of Skye tour from Edinburgh. You'll travel with a small group in the comfort of a minivan, with personalized commentary from an expert guide who details the sights. Visit Scottish glens, mountain peaks, lochs and mysterious castles along a vividly scenic route.
Relax with hotel or guesthouse accommodation (depending on option selected) in Oban, Kyleakin and Drumnadrochit, with daily breakfasts included.
Enjoy a seasonal railway ride aboard the Jacobite steam train (May 16–August 29) or an alternate Loch Ness cruise and admission to Urquhart Castle (March 21–May 9; September 10–October 10).
Itinerary
Day 1: Edinburgh – Oban
Meet your guide at the prearranged departure point in central Edinburgh, and then hop inside an air-conditioned minivan and travel west through the beautiful scenery of Loch Lomond and Trossachs National Park.
Stop first in Kilmartin Glen, where Neolithic and Bronze Age remains abound. With more than 350 ancient monuments in the area, it is one of the most important archaeological sites in Europe. Walk in the footsteps of the first Scots at Dunadd Hill Fort and see the impressive standing stones of the Temple Wood Stone Circle.
Next, continue to the beautiful fishing town of Oban, known as 'The Gateway to the Isles' because of its link with the Hebrides. Then, after checking in to your hotel or guesthouse, enjoy the rest of the evening at your leisure.
Overnight: Hotel or guesthouse in Oban
Day 2: Oban – Glencoe – Isle of Skye (B)
Savor a delectable breakfast at your hotel or guesthouse, and then check out of your accommodation and travel to Glencoe — perhaps Scotland's most famous and most scenic glen.
On arrival, marvel at the breathtaking scenery and hear from your guide how the picturesque spot was the site of a terrible massacre in 1692 that took the lives of many members of the MacDonald clan.
After enjoying some free time to explore Glencoe independently, return to your minivan and continue on to Fort William, a settlement dominated by the UK's tallest mountain: Ben Nevis. Hop aboard the Jacobite steam train, considered one of the greatest train journeys
(included May 16–August 29)
. When you reach
Mallaig, enjoy a seafood lunch (own expense) before crossing
the sea to the magical Isle of Skye.
Arrive in the delightful village of Kyleakin on Skye's east coast and check in to your hotel or guesthouse, where you'll stay for the next two nights. The rest of the evening is yours to spend at your leisure.
Overnight: Hotel or guesthouse in Kyleakin
Day 3: Isle of Skye (B)
Start the morning with a hearty breakfast at your accommodation, and then enjoy the rest of the day to explore the Isle of Skye as you wish.
Perhaps pull on your hiking boots and head to the Cuillin Mountains to lose yourself amid the spectacular scenery. Or, maybe visit Dun Beag Broch, a small fortress near the village of Struan that dates back to the Ice Age. You might even travel to Dunvegan Castle, the 13th-century home of the Macleod clan, or take a cruise to see the Loch Dunvegan seal colony.
Overnight: Hotel or guesthouse in Kyleakin
Day 4: Isle of Skye – Loch Ness (B)
After breakfast, check out of your hotel or guesthouse and journey to the harbor town of Portree. Make the most of some free time to explore the small island capital, and then head to Trotternish Ridge, which is formed by a series of landslips including the well-known craggy pinnacles of the Old Man of Storr and the dramatic sea cliff of Kilt Rock.
Next, cross back over the sea to the Scottish mainland to visit Eilean Donan Castle, which dates back to the 13th century. Used as a filming location in the 1986 movie Highlander, the ruins of the castle look out over three sea lochs, and the landmark is widely considered as one of Scotland's most iconic sights.
Then, travel into the heart of the Highlands. Gaze out at the rambling green hills and other scenic sights of the Scottish countryside, and then arrive at your accommodation in Drumnadrochit, near the mysterious Loch Ness.
After checking in to your hotel or guesthouse, enjoy the evening at your leisure.
Overnight: Hotel or guesthouse in Drumnadrochit near Loch Ness
Day 5: Loch Ness – Edinburgh (B)
Following breakfast, gather your bags and check out of your accommodation. Then, with your guide and group, relax on the short journey to Loch Ness. Hop out of your minivan by the mysterious stretch of water to snap photos and look out for Nessie, the fabled Loch Ness Monster.
Should you wish, set off on a 30-minute cruise (own expense) from Clansman Harbour to Urquhart Castle. After taking in the sights from the water, disembark at the castle's ruins and head inside (own expense) to explore at your leisure. (Note: Loch Ness cruise and admission to Urquhart Castle are included March 21–May 9; September 10–October 10.)
Alternatively, head to the Loch Ness Centre and Exhibition (own expense), which boasts seven themed areas crammed with more than 500 million years of history, mystery and legends of Loch Ness and its famous monster.
When the time comes, join back up with your guide and travel south to the battlefield of Culloden, the site of the short but brutal hand-to-hand Battle of Culloden in 1746 that marked the defeat of the Jacobite forces.
Next, visit a local distillery, where you can sample a wee dram of Scotch whisky (own expense). Then, catch glimpses of the stunning Cairngorm Mountains on route to Pitlochry. Enjoy free time in the charming town before traveling back to Edinburgh.
Your 5-day tour then concludes with a drop-off at the original start point.
June 2016
Excellent trip
Andrew was amazing and a wonderful host ,guide and raconteur
A few suggestions
1We arrived in Glasgow and took a bus to Edinburgh to join the trip only to find out we could have started in Glasgow .i reviewed the site and there was not mention of starting from Glasgow
2 the extra trips and sites were not mentioned in the itinerary and when we tried to pay by Visa we were told cash only .this should have been mentioned beforehand so we would have the correct amount
3 we thought a small group tour would have been 7--14 people but we were 26
4 we would have appreciated a brief itinerary printed for us so we would be prepared for the days activity
5 a mesh carryall on the back of the seat in front would have been helpful for storing papers and daily items
Accommodations were stellar ,meals were great
Definitely worth the money
June 2016
This tour was fabulous! Our driver Tom was a wonderful person who knew so much about Scotland and was so proud of his Scottish history. He took the time to walk each person into their accommodations and ensure that they were in proper order and everyone was happy. I would highly recommend this tour for anyone looking to get a true taste of Scotland.
May 2016
Bloody BRILLIANT!
The commentary was so enlightening, informative, entertaining and engaging. The scenery was magnificent and we thoroughly enjoyed the whole experience. Mark the tour guide was THE BEST. We will definitely be back and we highly recommend this trip as well as the tour company.
December 2015
Andrew is definitely the best guide ever! Charming, knowledgeable, kind as so very funny. He made this trip just wonderful. When Andrew spoke he made Scottish history come alive. Can't say enough good things about this tour and Andrew! By the way, the sites were interesting and the accommodations were very nice as well.
June 2014
Great trip! Wonderful coverage of Scotland - especially Skye. Our guide was perfect - great knowledge, interesting anecdotes, very patient with some difficult travelers. He made the trip enjoyable - really appreciated his attention to detail, responsiveness to individual needs and desires. Loved it
July 2013
The Scottish Highlands are beautiful and worth visiting, no matter what the weather... The tour and the accomodation were well organized, and our tour guide, Rob, was entertaining, knowledgeable and helpful. I had a blast :)
June 2013
An excellent tour covering part of the highlands and the Isle of Skye. Our guide was enthusiastic and very knowledgeable, and provided excellent commentary. Unfortunately there was quite a bit of rain on the days that we traveled, but the guide was very flexible, varying the route to enable us to make the most of the tour depending on conditions. Would recommend this tour highly. Indeed, would recommend a longer tour if such was available and time permitted.
Bonnie C Canada
September 2012
We had a wonderful time during our 5-day Scottish Highlands tour. The service was provided by Experience Highland in Edinburgh. Our group of 16 came from diverse backgrounds, was congenial and full of fun. The accommodation was comfortable and breakfasts provided were great. Brian was our tour leader, driver and guide. In addition to his sense of humour, knowledge on Scotland's natural history and its people(s), Brian also provides an insight into Scottish perspectives on the sites and events of Scotland. He is extremely attentive to the needs of our group and his pride and love of Scotland are evident. We have also learned much about the cultural aspects of Scotland.
July 2012
I felt as though I had been in a Scottish history class. Our guide, Stephen was as knowledgeable as any guide that I have ever been with. He made the Highlands tour a fabulous experience. I will recommend this tour to everyone that I know who may be coming to Scotland! I will also recommend that they ask for Stephen as their guide. He was the magic that made for a great tour!
May 2012
I have been wanting to go to Scotland for several years and did extensive research on the tour company that I wanted to go with - I was not disappointed in Viator's booking of Highland Experience. I traveled with my family at the end of April/beginning of May and we were lucky enough to get our tourguide. While driving through the Highlands he would give amazing accounts of various battles, Scottish historical figures and political intrigues - and he would deliver it all interspersed with great humor. We did a lot in our five days. He truly went above and beyond to make sure everyone was happy on the trip and that all of our individual interests were met. Before we arrived in each town and be left to our own devices he would give us a small tour and point out fun things to do or good restaurants to try. I felt this was especially helpful in orienting to the new environment. Our guide (and Highland Experience) was very enthusiastic and accommodating to a diverse group of interests (Harry Potter, to Diana Gabaldon, to specific highland battles and sights) - and everyone's interests were catered to! I have very good memories of this trip and wish to return to Scotland again - not enough time and still so much more to see!
Advertisement
Advertisement