Experience the mystic and striking beauty of the remote Orkney Islands on this 5-day excursion from Edinburgh. In a small group, journey with your expert guide through the rugged Scottish Highlands, John o'Groats and the wind-swept Orkney archipelago. Enjoy views of the mysterious Loch Ness and Ben Hope Mountain, villages steeped in Viking mystery and landmarks like Stirling Castle and Lamb Holm Italian Chapel. Spend four evenings relaxing in 3-star accommodation.
Highlights
5-day Orkney Island tour from Edinburgh including the Highlands
Travel through the breathtaking Highlands, and look out for the Nessie the monster at Loch Ness
Pass through John o'Groats and cross Pentland Firth by ferry to the Orkney Islands
Visit historical Orkney attractions including the Italian Chapel on Lamb Holm and the Neolithic village of Skara Brae
Stop at Culloden Moor near Inverness, the site of the final Jacobite uprising in the 19th century
Enjoy overnight stays in Inverness and Ullapool plus two nights in Kirkwall, capital of the Orkney Islands
What You Can Expect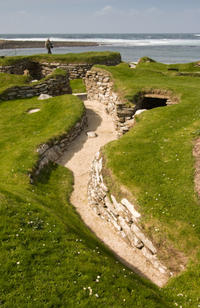 Your 5-day excursion through the Scottish Highlands and the Orkney Islands begins in Edinburgh, where you'll meet your guide and small group. You'll set off in the morning, winding through tranquil, sweeping landscapes and stopping at must-see historical landmarks like Stirling Castle.
During the next days, you'll travel by minivan and ferry, crossing the Pentland Firth to the sparsely inhabited Orkney Island – an ancient archipelago comprised of around 70 islands. Savor the unspoiled scenery and touches of Viking history that surround you, including ancient standing stones and prehistoric villages like Skara Brae.
Your return trip crosses the Highlands, stopping at historic landmarks like Ardvreck Castle, Culloden Moor and Clava Cairns. Enjoy active days soaking up Scottish culture and nature and evenings at your leisure in Inverness, Kirkwall and Ullapool.
Your tour includes round-trip transport, four nights accommodation in a 3-star hotel or guesthouse (single or twin accommodation available) and daily breakfasts.
Itinerary
Day 1: Edinburgh – Highlands – Loch Ness – Inverness
Leave Edinburgh in the morning and travel west to the town of Stirling, roughly an hour away. Pass Stirling Castle and the Wallace Monument, a tribute to the man who won the Wars of Independence, and travel out of the city past Doune Castle — a filming site for the satirical British Monty Python film Holy Grail.

Stop in the pretty town of Callander to stretch your legs and grab lunch (own expense), and then continue to the Highlands. Sit back and relax as you pass some of the region's most stunning stretches of water including Loch Luibnaig, Loch Earn, Glen Ogle and Glen Dochart, and travel north through Rannoch Moor to Glencoe, site of the brutal 1692 Glencoe massacre. Stop for photos on the rugged mountain, and then continue north through the Great Glen to Loch Ness for some 'Nessie spotting'! Look out for the fabled Loch Ness monster while looping around the lake, and travel onward to Inverness, capital of the Highlands and your final destination of the day. Check in to your hotel and spend the rest of the evening doing whatever you please.

Overnight: 3-star hotel or guesthouse in Inverness

Day 2: Inverness – John o'Groats – Kirkwall in the Orkney Islands (B)
Check out of your accommodation after an early breakfast and travel through the scenic Black Isle region, past Skibo Castle and along the dramatic northern coastline. Scotland's finest wildlife is often seen here, so look out for golden eagles and red deer as you journey through the remote countryside.

Pass through John o'Groats, Britain's most northerly mainland village, and then board your ferry from Gills Bay to the Orkney Islands archipelago. After approximately one hour crossing Pentland Firth, dock at the main Orkney port, and then drive to the famous Italian Chapel in Lamb Holm. Hear how it was built by Italian prisoners of war when the island was uninhabited, and admire its intricately built architecture. Continue to the former Viking stronghold and Orkney capital of Kirkwall, check in to your accommodation and then sightsee at leisure, perhaps paying a visit to St Magnus Cathedral.

Overnight: 3-star hotel or guesthouse in Kirkwall

Day 3: Kirkwall – Skara Brae – Stromness – Maes Howe – Kirkwall (B)
After a relaxing breakfast in your hotel, meet your guide for an action-packed day, spent exploring the Orkney Islands and learning their history. Visit the Neolithic village of Skara Brae — a site older than the Pyramids of Egypt — and immerse yourself in prehistoric mystery on a trip to the stone circle at Brodgar and the Standing Stones of Stenness.

Stop in Stromness, one of Scotland's most picturesque seaside villages, and then travel to Maes Howe, the village where 12th-century Vikings left a vast collection of Norse runic inscriptions. Enjoy some free time for lunch (own expense), and then finish your excursion with a drop-off at your hotel.

Overnight: 3-star hotel or guesthouse in Kirkwall

Day 4: Kirkwall – Ardvreck Castle – Ullapool (B)
Leave Kirkwall after breakfast, and travel to the port with your guide to board your ferry back to the Scottish mainland. Journey through the Ben Loyal and Ben Hope mountains, following the rocky cliffs and gold-sand beaches of the northern coast, and then work your way deep into the Assynt Mountains of the Highlands. Stop to explore the 15th-century ruins of Ardvreck Castle and gaze out at the sweeping vistas of rugged Scottish countryside.

After a break at a nearby town for lunch (own expense), travel to the whitewashed fishing village of Ullapool, located at the mouth of Loch Broom. Check in to your hotel, and then spend your night at leisure.

Overnight: 3-star hotel or guesthouse in Ullapool

Day 5: Ullapool – Culloden Moor – Edinburgh (B)
Relax over breakfast, check out of your hotel, and leave Ullapool behind as you start your journey south to Edinburgh. Pass alongside the River Droma, stopping to see the waterfalls at Corrieshalloch Gorge, and take in the beautiful Loch Glascarnoch on the way past Inverness.

In the early afternoon stop at Culloden Moor, the site of the third and final Jacobite uprising (a series of battles for independence during the 18th century). The gruesome Battle of Culloden, in which some 2,000 men were killed, was the last pitched battle (pre-planned fight) to be waged on British soil. Explore the battlefield with your guide, imagining what it was like to be at the center of the action in 1746.

Continue to the standing stones and Bronze Age burial ground at Clava Cairns for a photo stop, and then travel through the Caledonian Pine Forest that hugs the Cairngorm mountain range for the final lunch break of your tour. From the forests, travel south through the picturesque Kingdom of Fife, and arrive back in Edinburgh in the early evening.
October 2015
This was wonderful! Great tour guide Barney, great companions, great weather, beautiful scenery, and fascinating stops. Orkney's sites were awesome Maes Howe, Skara Brae, Stennis, etc.. Guide made great suggestions for restaurants. B and Bs were lovely and friendly. Not enough time in Inverness, but then there never is. We saw a lot more of the Highlands than I expected on this trip. Culloden battlefield visitor center exhibit was new to me, and well worth the stop.
October 2015
Excellent programme and guide . All I could have hoped for , with excellent choice of hotels .
July 2015
Absolutely fantastic!! Very knowledgeable guide who played commentator on aspects of history and folk lore. He was quite happy to answer all our questions, flexible as needed. Bus was very comfortable. Accommodation organised was wonderful - all hosts were extremely friendly and rooms were pleasant and well appointed. Would happily go again!!
June 2015
This was the absolute highlight in what was an amazing 4 weeks in the UK. If history is your thing this is unmissable. Our B and B accommodation was excellent. Our guide/bus driver, Gus was an absolute star and a great story teller. It was a small tour which made it all the better.
June 2015
All our Scotland trips through Viator/ Rabbies were Awesome!! Very Professional friendly Team!! We would defintely Highly Recommend!!
May 2015
November 2014
Really enjoyed this. Fun, knowledgeable guide with considerate microphone announcements (she began every announcement quietly so we didn't feel attacked). Playing the music of the areas was a nice touch. It was particularly good having a guide and a driver.Thoughtful planning of the route to include lots of interesting stops. Enough time in most places, though I would have liked more time on Orkney. The drive through the wildness of Scotland after we left Orkney was awesome. Loved seeing the red deer. The trip to Culloden was fascinating - the tourist centre there is terrific. Could have spent another hour walking around. The group was small and sociable. Have recommended the tour company to my friends.
September 2014
It was a wonderful tour with a great guide. The company that offers it is Rabbie's. So I assume that Viator is just a middleman and that I wasted money by dealing with your company rather than directly with Rabbie's. So I won't thank you.
July 2014
Fantastic tour, great tour guide, Gus. Excellent accommodation. Very informative commentary. Couldn't have been better.
May 2014
The tour was fantastic, well-organized and fascinating pace despite the rainy weather that we didn't even notice sometimes. Thanks to our knowledgeable guides and wonderful group, we managed to see and to learn a lot at moderate pace. I would definitely go again one day. THANK YOU!
Advertisement
Advertisement