25 Reviews
Location:

Edinburgh, United Kingdom

Duration:

80 minutes

(approx.)
There are ghoulish goings-on in the ancient city of Edinburgh on this spine-tingling 1.5-hour tour, and the city's spirits seem more restless than ever! Head up to the Royal Mile at dusk and meet the ghost of long-deceased Mr Clapperton — Edinburgh's old cemetery director. Explore the cobbled passageways beneath Edinburgh Castle and hear tall tales from the city's dark past. Keep your wits about you and enjoy a light-hearted look back in time through Edinburgh's history. You never know who, or what, may leap out from the shadows...!
Highlights
1.5-hour ghostly and ghoulish evening walking tour of Edinburgh's Old Town
Explore the Royal Mile with your guide, the long-dead Mr Clapperton
Stroll the streets and alleyways beneath Edinburgh Castle
Shudder at ghostly encounters with the Mad Monk of Cowgate, Agnes Fynnie the witch and young Jimmy Tamson, the grave-digger.
Your tour includes a copy of 'Witchery Tales', a book by Adam Lyal (deceased)
What You Can Expect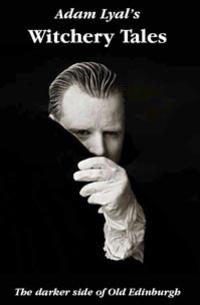 Meet the long-dead Mr Clapperton — Edinburgh's cemetery director during the 1840s — near the city's famous Royal Mile then head off along the cobbled streets and alleyways to begin exploring. Hear chilling tales of torture and witchcraft from the spirited Mr Clapperton, and learn of the departed souls sometimes seen along Edinburgh's dimly-lit passageways.
Wander the atmospheric Old Town in the shadows of the imposing Edinburgh Castle. Enjoy demonstrations of authentic torture devices along the way and hear of their history from your guide, but don't let your guard down! Keep your eyes peeled and your wits about you for ghostly apparitions from some of the city's notorious ex-residents.
You might encounter characters from Edinburgh's dim and distant past such as the notorious Mad Monk of the Cowgate, Agnes Fynnie the witch or the fearsome Highlander — Rhuari McLeod — who helped capture Edinburgh for Bonnie Prince Charlie during the 1745 Jacobite uprising.
Perhaps it'll be young Jimmy Tamson who makes an appearance — a Scottish lad responsible for burying the dead when the Black Death spread through the city in the 14th century. It's said that on quiet nights you can still hear the boy's haunting cry on the air, "Bring oot yer deid, bring oot yer deid..."
Some say this ghostly walking tour is scary, while others find it funny. Either way, enjoy the shivers down your spine and ghoulish goings-on, and learn of Edinburgh's rich history and heritage on route. After 1.5 hours of spine-tingling exploration, your tour will conclude a minute's walk from where it began.
August 2015
great fun and interesting historic themes
June 2015
Very entertaining ! Guide and his sidekick were very good bringing the stories of Edinburgh to life !
June 2015
It was such a fun tour and very entertaining. Alexander Clapperton Deceased and his associate were both very informative and funny. It was great learning a bit about the darker side of Edinburgh. Not too scary so great for families and the amount of walking isn't very strenuous. My husband and I really enjoyed ourselves with this one and definitely recommend it.
May 2015
Tour guide was super funny. Not really scary more history oriented, which we appreciated. Great for those who appreciate history!
August 2014
My family and I loved this tour. I would definitely recommend this tour to others as it was recommended to me. Our tour guide, Alexander Clapperton, unfortunately deceased and his assistant (who played several different roles) were just hilarious and told some great ghostly tales. Unfortunately, I didn't get our tour guide's name, but he was fantastic (young student age, long blonde hair) in his role. The gentleman who played each character was great as well. Well worth the time and money. I would highly recommend this tour while in Edinburgh.
July 2014
What a fantastic experience. Highly recommended for all ages!
July 2014
Booked this tour for myself and my grand daughter.Bit disappointed that only 5 people showed up. However the guys did a fantastic job and despite the rain they made it a real fun and interesting experience. My granddaughter who is ten had a great time and loves telling everyone she got her hand chopped off for begging and that gran is really a witch. Well done guys, would definitely do another one. Great fun.
April 2014
I was expecting it to be very scary, but it turned out to be hilarious. Olivia, aged 9. I was scared out of my skin at least 3 times. Olivia's mum, aged 49. Very funny and we all learned something. Ps high heels and short skirts not recommended for this tour. Surprisingly, there were some.
April 2014
Fantastic trip, good knowledge of the history of Edinburgh and a great laugh. Definitely recommended!
September 2013
It was a great time the evening that we took the tour. We have taken several others in other cities and this seemed to be better than the others. It was not scary. The two had a good report with each other. The tour helped us to understand the early history of the city and the problems that it was having. We read the book and it was very enjoyable. We would reconment it to those who want to take a night tour.
Advertisement
Advertisement