Delve into Edinburgh's ghoulish side with a 1.5-hour evening walking tour of the city's eeriest sites! As you stroll along Royal Mile and wind through the dark corridors beneath Edinburgh Castle, hear spooky tales of torture, witchcraft and mayhem from your local guide. Learn about infamous apparitions such as the Mad Monk of Cowgate, the witch Agnes Fynnie and Mr. Clapperton, Edinburgh's former cemetery director. Steel yourself for a night in the shadows!
Highlights
1.5-hour ghostly and ghoulish evening walking tour of Edinburgh's Old Town
Explore the Royal Mile with your guide, the long-dead Mr Clapperton
Stroll the streets and alleyways beneath Edinburgh Castle
Shudder at ghostly encounters with the Mad Monk of Cowgate, Agnes Fynnie the witch and young Jimmy Tamson, the grave-digger.
Your tour includes a copy of 'Witchery Tales', a book by Adam Lyal (deceased)
What You Can Expect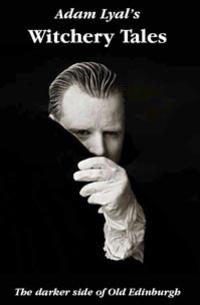 As evening sets in, your tour of Edinburgh's spirited sites and horrific history begins. Meet your guide – Edinburgh's infamous (and dead!) 19th-century cemetery director, Mr Clapperton – on Royal Mile in central Edinburgh and brace yourself for a walk through dimly-lit cobbled streets and alleys. As you admire the nocturnal nature of the capital city, listen to Mr Clapperton's spooky tales of witchcraft, torture and hauntings.
Meander through the warren of dark streets in Old Town, beneath the formidable Edinburgh Castle. Hear about characters of ill-repute such the Mad Monk of the Cowgate, a monk badly burned in a 17th century monastery fire, and Agnes Fynnie, a witch burned to death in 1641. Learn about Rhuari McLeod and Jimmy Tamson, a young man known for burying heaps of dead during the 14th-century Black Plague.
Between stops, catch glimpses of ghoulish characters and see demonstrations of spine-tingling torture devices that enjoyed centuries of common use. By the end of this chilling 1.5-hour tour, you'll look at Edinburgh in a more ominous light. To remember your experience, take home a souvenir copy of The Witchery Tales by Adam Lyal.
Your tour returns near the starting point on Royal Mile with plenty of time to warm up at the pub.
Please note: Due to a planned annual event in Edinburgh, the departure point is from a different location between August 1 – August 27, except Sundays. Further details will be provided on the voucher.

May 2016
Hilarious and informative. Very fun!

April H Ireland
April 2016
Seriously fun, interesting and fabulous. Definitely recommend it.
August 2015
great fun and interesting historic themes
June 2015
Very entertaining ! Guide and his sidekick were very good bringing the stories of Edinburgh to life !
Elizabeth S United States of ...
June 2015
It was such a fun tour and very entertaining. Alexander Clapperton Deceased and his associate were both very informative and funny. It was great learning a bit about the darker side of Edinburgh. Not too scary so great for families and the amount of walking isn't very strenuous. My husband and I really enjoyed ourselves with this one and definitely recommend it.
May 2015
Tour guide was super funny. Not really scary more history oriented, which we appreciated. Great for those who appreciate history!
August 2014
My family and I loved this tour. I would definitely recommend this tour to others as it was recommended to me. Our tour guide, Alexander Clapperton, unfortunately deceased and his assistant (who played several different roles) were just hilarious and told some great ghostly tales. Unfortunately, I didn't get our tour guide's name, but he was fantastic (young student age, long blonde hair) in his role. The gentleman who played each character was great as well. Well worth the time and money. I would highly recommend this tour while in Edinburgh.
July 2014
What a fantastic experience. Highly recommended for all ages!
July 2014
Booked this tour for myself and my grand daughter.Bit disappointed that only 5 people showed up. However the guys did a fantastic job and despite the rain they made it a real fun and interesting experience. My granddaughter who is ten had a great time and loves telling everyone she got her hand chopped off for begging and that gran is really a witch. Well done guys, would definitely do another one. Great fun.
April 2014
I was expecting it to be very scary, but it turned out to be hilarious. Olivia, aged 9. I was scared out of my skin at least 3 times. Olivia's mum, aged 49. Very funny and we all learned something. Ps high heels and short skirts not recommended for this tour. Surprisingly, there were some.
Advertisement
Advertisement