Soak up the majesty of northwest Scotland on a full-day trip through the West Highlands and Oban from Edinburgh. With a friendly guide, see some of the world's most stunning scenery from the green hills of seaside Oban to the lochs and mountain peaks of Trossachs National Park. See landmarks like Kilchurn Castle, visit the villages of Luss and Inveraray, and hear tales of famous Scots such as Robert the Bruce.
Highlights
Travel from Scotland's East coast to West coast in one day

See the rugged natural beauty of the Scottish Highlands

Hear historical tales of Clan rivalry from your expert guide

Visit quaint Highland towns, castles and lochs on your small group tour

Explore Oban, the seafood capital of Scotland and walk up McCaig's Tower

Smaller group tour, with a maximum of 15 people, ensures a more personalized experience
What You Can Expect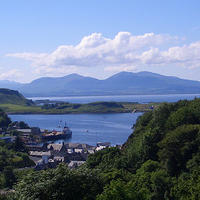 Your full-day day tour of Scotland's enchanting Highlands and seaside Oban begins in Edinburgh, where you'll meet your guide on the Royal Mile. You'll set off in the morning through the Lowlands towards your first stop in the village of Luss, passing through Glasgow to pick up fellow travelers. Then head into Trossachs National Park for a beautiful scenic drive through forest-covered terrain, punctuated by dramatic mountain peaks. You'll stop near Loch Lomond to stretch your legs and takes in the sights before continuing west.
Cruise along the shoreline of the tranquil Loch Awe to the romantic ruins of Kilchurn Castle. As you travel, learn about battles that occurred in this region and rulers like King Robert the Bruce and Clan Campbell, who possessed the Argyll lands for centuries.
You'll soon arrive in the colorful coastal town of Oban, where seafood abounds and you can indulge in a lunch of prawn sandwiches, fresh oysters or crab (own expense). Take some time to eat and explore the Victorian town. Visit McCaig's Tower, a granite tower in Roman style that offers stunning views of the bay. Don't hesitate to climb to the top to see all the way to the Isle of Mull!
From here, make your way back to Edinburgh, stopping at the white-washed village of Inveraray. Explore the town's shops, purchase some local sweets and admire sweeping views of Loch Fyne before returning to the capital. Your 11.5-hour tour arrives at the departure point by evening.
May 2016
The guide was outstanding, lots of stories and history explained.
April 2016
We made a few stops at some really amazing places for stretching our legs or taking some fotos of the breathtaking landscape. Our driver Steve was amazing! He showed us where to get the best seafood in Oban, made us laugh a lot and answered all our questions.
September 2015
This was one of the best tours my family has had, ever! Would highly recommend it.
Thank you so much
September 2015
That was a great trip. My appreciation to Michael who has done an outstanding job in driving as well as guiding us.
July 2015
This was an unforgettable tour!
robertp5050 United States of ...
July 2015
Cameron did a great job driving and discussing the scenery/towns we visited - this tour is a must for seeing the beautiful scenery outside of Edinburgh - and driving these roads yourself would be a dicey game. Strongly recommend.
Florence C USA
July 2015
Had an amazing time!! If you are staying in Edinburgh for a few days and have already done the famous Loch Ness trip, and are looking to do a second excursion, then I highly recommend this one - esp if you are a lover of seafood. Oban is the seafood capital of Scotland and the seafood doesn't get fresher than this. You get beautiful views of the harbor and skyline. There's never a shortage of restaurants for all budget levels and endless shopping opportunities from souvenirs to boutiques. If it's authentic, no-nonsense, casual, really good quality seafood you are seeking, then I recommend the quaint little green shack located right behind McCraig's Warehouse souvenir shop the locals would agree it's be best and near the train station. Just follow along the pier and the delicious smell of fresh seafood being cooked until you reach it. The seating is outside and ordering is quick and simple. Try the Grand Platter - which includes a sampler of all kinds of seafood lobster, crabs, mussels, scallops, fish, etc. etc. - it's plenty for two people. However, if you're craving fish n chips, try the place directly across from the McCraig's Warehouse souvenir shop. It's very fresh and good as well. I can literally spend a whole day at Oban. Our wonderful and friendly tour guide Michael from Highland Experience Tours was great. He was very informative and knowledgeable. He was approachable and pointed out all the different sights, histories, and fun facts along the way. He made our journey fun, exciting, and relaxed. We made numerous photo stops, which was awesome. I enjoyed the Falls of Falloch, and the stop at St. Conan Kirk because I really appreciate old churches. The village of Luss is cozy and had a great view of Loch Lomond. If I had to gripe about one thing, I guess it would be to have more time in Oban. I loved it that much! This was the perfect trip!!
June 2015
I loved the tour! Our guide Cameron was very funny and knowledgeable. He stopped a few times so we could take photographs. The landscape is beautiful and Oban a nice town to stay for a few hours. I would definitely recommend this tour!

June 2015

September 2014
Love the small group. Absolutely great tour.
Advertisement
Advertisement