Appreciate the splendor of Scotland on an 8.5-hour whisky and waterfalls trip from Edinburgh. Wind through the Scottish Highlands and marvel at the majesty of Loch Lomond and Trossachs National Park, then visit the Famous Grouse Distillery for a tour, whisky sampling and lunch (all payable on site). Discover the centuries-old tradition of Scottish whisky production, then cap off your tour with the natural wonder of Black Linn Falls.
Highlights
Day trip to the Famous Grouse whisky distillery and the waterfalls of the Highlands from Edinburgh
Stop in Stirling to see the Wallace Monument and travel past Loch Lomond and Trossachs National Park
Visit the Famous Grouse whisky distillery and enjoy a walking tour of the site, if you wish
Sample a dram of the local whisky and learn about its flavors from a guide
Walk through the Hermitage, a natural beauty spot with incredible waterfalls such as Black Linn Falls
Enjoy a stop in Dunkeld, a village written about in Shakespeare's MacBeth

What You Can Expect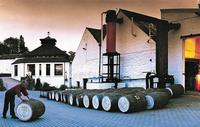 Your trip begins early in central Edinburgh, where you'll embark en coach for scenic drive to the ancient capital of Stirling. Enjoy spectacular morning views as the sun lights up Stirling Castle, former residence of Scottish royals including Mary, Queen of Scots. Snap some photos and learn about the site's colorful history riddled with battles such as the Battle of Stirling Bridge, led by William Wallace. Then stop at the William Wallace monument to learn more about the rebel warrior.
As your coach travels through the Highlands, admire the natural and cultural sights, from 'wee hairy coos' (cattle) roaming free, to geological wonders like Loch Earn and Loch Lomond. Your expert guide will narrate the journey through Trossachs National Park, giving historical context to the present-day surroundings.
Stop next at The Famous Grouse, Scotland's oldest working whisky distillery. Enjoy lunch, take an optional distillery tour and sample a dram of whisky straight from the cask (own expense)! As you view the space, learn about the traditional methods used to produce Glenturret Highland single malt. If you choose not to tour, this is a great time to relax and independently explore.
Your trip continues to the Hermitage, a whimsical natural wonderland where you'll stroll through fir-lined paths along the River Braan to Ossian's Hall and the majestic Black Linn Falls. After your nature walk, head to the charming village of Dunkeld to visit the stunning Dunkeld Cathedral along the River Tay and learn about the town famously mentioned in Macbeth. Then relax for the return ride to Edinburgh, where your full-day trip ends back at the starting point by early evening.
October 2015
Mahri was excellent as the driver and tour guide. Lots of interesting facts shared. We enjoyed thoroughly.

August 2015
Heather was a fantastic guide, full of historical knowledge combined with humor and timing. Very pleasurable trip through the highlands. Highly recommended!
June 2015
It was a lovely day in the Highlands. Our tour guide Joe was fun and knowledgeable and made every effort to ensure we all had the best time possible.
June 2015
Very well organized, very professional guide. Should not miss.
May 2015
Great tour. Our guide Heather was very enthusiastic about the history of Scotland and very knowledgeable. As a history major, I had gotten some of the general history about Scotland, but she was able go to into much greater depth than I got in Western Civ 241. And of course, there is the whisky. Great tour, highly recommended for those that want to go off the beaten path and see some of the countryside.
October 2014
It was a fantastic tour. I was made especially great because of our great informative tour/ bus driver. She was great and an asset. We enjoyed every aspect of it.
August 2014
June 2016
The bus tour was quite good. Our guide, Kirsty, was lovely and very knowledgeable. She shared a lot of interesting stories about Scottish history.
The brewery tour itself was quite good. The only disappointing part of the tour was the lunch at the brewery. For some reason we were only able to eat in the cafe part of the brewery not restaurant where the food is all pre made and consists virtually of just a few selections of cold sandwiches, haggis and some soup. The sandwiches were very average. This has NOTHING to do with the bus tour itself, but is instead just feedback on the brewery itself.
All in all it was quite a pleasurable day.
May 2016
This was fun! Highlands tour company is so much better then rabbies.. Don and #39;t take a tour that is rabbies. The guide was funny and informative. He knew so much.

Lou H United States of ...
May 2016
A lot of fun. Enjoyed walking around and seeing the waterfalls. The distillery tour was fun too, but if you've been to one before they're not much different.
Advertisement
Advertisement