10 Reviews
Location:

Edinburgh, United Kingdom

Duration:

8 hours

(approx.)
Enjoy a day of whisky and waterfalls on a day trip from Edinburgh, led by a friendly local guide! After a stop in the stately town of Stirling to see the Wallace Monument, travel through the Scottish Highlands, passing alongside Loch Lomond and Trossachs National Park. Stop at the Famous Grouse whisky distillery for lunch and a tour (both payable at own expense) and, after sampling a wee dram of whisky, continue to the Hermitage, a natural beauty spot that's home to the impressive Black Linn Falls.
Highlights
Day trip to the Famous Grouse whisky distillery and the waterfalls of the Highlands from Edinburgh
Stop in Stirling to see the Wallace Monument and travel past Loch Lomond and Trossachs National Park
Visit the Famous Grouse whisky distillery and enjoy a walking tour of the site, if you wish
Sample a dram of the local whisky and learn about its flavors from a guide
Walk through the Hermitage, a natural beauty spot with incredible waterfalls such as Black Linn Falls
Enjoy a stop in Dunkeld, a village written about in Shakespeare's MacBeth

What You Can Expect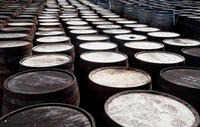 Leave central Edinburgh and travel north through the countryside to the country's ancient capital of Stirling, a town stepped in history. Gaze out of your window at the majestic sight of Stirling Castle, perched high on a craggy hill overlooking the town, and then stop for photos at the Wallace Monument while learning about William Wallace and his part in the medieval Wars of Independence.

After a break to stretch your legs, return to your coach and continue north through the Highlands, enjoying sights of the beautiful cattle (or 'wee hairy coos' as the Scots may say) that roam the wild and windswept countryside. Travel past Loch Earn, admiring its scenic beauty, and ogle the rich colors of Loch Lomond and the Trossachs National Park as you pass through the open parkland.

In the early afternoon, stop for a light lunch at one of Scotland's most famous whisky distilleries – The Famous Grouse. If you are keen to learn more about whisky and its production, enjoy a tour of the distillery to see how the malts are dried and matured (own expense). After exploring the site, meet back up with any members of the group who opted not to do the tour and sample a small dram of whisky to revive your spirits.

Continue into the heart of Perthshire and stop for a walk at the Hermitage, a popular beauty spot where groves of trees frame the waterfalls and gushing waters of the River Braan. Amble through the woodland to the Hermitage's spectacular Black Linn Falls, and after resting and taking photos, start your journey back toward Edinburgh.

Enjoy one last stop at the quaint village of Dunkeld, mentioned by Shakespeare in Macbeth, and visit the stunning Dunkeld Cathedral on the banks of the River Tay. Pass the impressive Forth Bridge just outside Edinburgh, and then finish your tour at the start point.
June 2015
It was a lovely day in the Highlands. Our tour guide Joe was fun and knowledgeable and made every effort to ensure we all had the best time possible.
June 2015
Very well organized, very professional guide. Should not miss.
May 2015
Great tour. Our guide Heather was very enthusiastic about the history of Scotland and very knowledgeable. As a history major, I had gotten some of the general history about Scotland, but she was able go to into much greater depth than I got in Western Civ 241. And of course, there is the whisky. Great tour, highly recommended for those that want to go off the beaten path and see some of the countryside.
October 2014
It was a fantastic tour. I was made especially great because of our great informative tour/ bus driver. She was great and an asset. We enjoyed every aspect of it.
August 2014
July 2015
I finally got my photo with the whisky I like. Just a shame I do not have the right nose to be able to work there on a full time basis. The waterfalls was just fantastic. A great trip.
September 2014
The guide Don was fantastic. Although we didn't see any waterfalls and the distillery was extra. Still recommended as we saw a lot of Scotland .
August 2014
Great Trip and very well organized! I recommend this to everyone!
October 2014
Well it was only ONE distillery, The Famous Grouse Distillery, which was fine. I didn't realize until we were in Scotland that the tour didn't actually include the Distillery Tour. The other places we went to only allowed about 20 minutes at each place. Not enough time to see anything. We DID NOT got to Lock Lomond, which myself and another couple were sure was included in the tour. The driver/tour guide was very knowledgeable and had great stories to tell. He was not afraid of the gas petal I'll tell you that. So the actual bus ride itself was an adventure. I don't think we got our moneys worth unfortunately.
September 2014
We were only about 18 people in a big bus, very comfortable. The driver was the guide and was pretty good, but talked way too much and repeated himself a lot. The tour of Famous Grouse was wonderful, but we were not told we would not have time to stop for lunch, a 10 minute stop was made 30 minutes into the trip, but no one was hungry then. Those who did not tour ate at the distillery, but we never got a chance to eat. Also 30 minutes before returning the driver said he would leave us off nearer our hotel, fine for us, but others had people meeting them at the tour office. He said he could not get down there on Saturday night and would leave them at the bridge. We had quite a walk to our hotel, missed our dinner reservation and the other people had to somehow get in touch with people meeting. This should have been told to us before we started the tour. Think I would use Rabbies Trail Blazers for this tour.
Advertisement
Advertisement