Set out on a six-day tour of Argentina's stunning Patagonia region with a range of lodging budgets to choose from. This multiday excursion includes guided adventures like a boat cruise to Perito Moreno Glacier in Los Glaciares National Park, as well as ample time to explore on your own. Embark on a full-day hike up Mt Fitz Roy if you're feeling up to it, or simply bask in the scenic beauty of El Chaltem. Learn about Patagonian culture throughout your trip, which begins and ends in El Calafate.
Highlights
6-day tour of Patagonia from El Calafate
Visit Los Glaciers National Park and see the World Heritage-listed Perito Moreno Glacier

Explore the small mountain town of El Chalten
Take a self-guided hike to Mount Fitz Roy, where you'll admire stunning views of Lagua de los Tres
Choice of four types of accommodation allows you to suit this tour to your style and budget!
5 nights accommodation, breakfasts and transport between sites included

What You Can Expect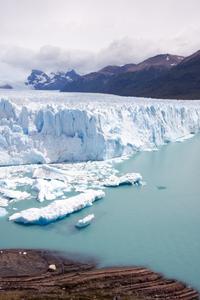 With five nights at your choice of accommodation, transfers between El Calafate and El Chalten and a friendly, professional guide, this tour of Patagonia is an easy and convenient way to see some of Argentina's most beautiful landscapes.

Guided activities include a visit to Los Glaciers National Park and a boat cruise to the Perito Moreno Glacier to see this magnificent natural wonder up close. During your free time, you'll be able to get to know the towns of El Calafate and El Chalten and hike Mt Fitz Roy, located on the border of Argentina and Chile. Throughout the experience, learn about the culture and nature of Patagonia from your knowledgeable guide.

Breakfast is included at your accommodation each morning; dinner can be enjoyed during your free time each evening (your guide will be happy to recommend local places). Depending on the day, you'll have time for lunch either in the towns of El Calafate, El Chalten or Los Glaciers National Park

Please see the Itinerary section below for details on each day of the tour.
Itinerary
Day 1:
Upon arrival at El Calafate International Airport, you'll be transported to your hotel. After check-in, the rest of the day is yours to relax or explore local shops and restaurants in El Calafate on your own.

Overnight: Your choice of accommodation in El Calafate

Day 2: (B)
After an early breakfast, head out on a full-day guided excursion to Los Glaciers National Park. Hike around moderately difficult trails the surrounding hills with your guide and admire gorgeous views of Perito Moreno Glacier. With ice walls as high as 262 feet (80 meters), Perito Moreno Glacier is one of Patagonia's only growing glaciers and a UNESCO World Heritage Site.

Next, hop on a boat for a cruise that will give you closer views of the stunning glacier. After the boat cruise, you'll have time to stop for lunch before continuing exploration of the park's beauty.

In the early evening, head back to your hotel in El Calafate. The night is yours to have dinner at your leisure.

Overnight: Your choice of accommodation in El Calafate

Day 3: (B)
Enjoy breakfast before departing for the small town of El Chalten, where you'll spend two nights. After an approximate 3.5-hour drive, where you'll pass by Argentino and Viedma Lakes, you'll arrive in El Chalten, where you will make your way to your hotel and have the rest of the day free to explore the town and have lunch and dinner on your own.

Overnight: Your choice of accommodation in El Chalten

Day 4: (B)
Today is a free day. After breakfast, discover the beauty of El Chalten and its surrounding area on your own. If you're feeling adventurous, take a full-day hike up Mt Fitz Roy, where a trek to the top takes approximately 8-hours. This difficult hike offers gorgeous views of Laguna de los Tres. Make sure to pack a lunch if you decide to hik Mt Fitz Roy!

Overnight: Your choice of accommodation in El Chalten

Day 5: (B)
Eat breakfast early and enjoy a half day of free time in El Chalten before heading back by bus to El Calafate. If you didn't experience Mt Fitz Roy on Day 4, consider taking advantage of one of its many shorter trekking trails. Enjoy lunch before heading back to El Calafate.

Upon arrival back in El Calafate, you'll head to your hotel and have the rest of the night to do what you wish.

Overnight: Your choice of accommodation in El Calafate

Day 6: (B)
After breakfast, you'll be driven to the El Calafate International Airport in time for you departing flight.


Note: You have the option not to be taken to the airport if you choose to extend your trip in Argentina

December 2015
The trip itself was spectacular and would highly recommend it!
I was traveling solo during this trip and thus paid higher rates, but that said I generally still believe the tour was pretty expensive compared to quality of the hotel and travel arrangements. I believe more economical rates could be found locally.
December 2013
Most notably the Perito moreno is worth seeing, but organisation of the trip could stand to improve
November 2013
The hotels, we booked 4 to 5 star hotels, were far below the standard. The hotel in El Calafate was OK but was 3 Stars, the hotel in El Chalten was far below the standard, and was, looking at the rating close to 3 but far from 4. We will not book via Viator again, they can not guarantee the hotel which was booked, and book other hotels which are on the "same level", which we feel is not the case. We enjoyed the trip, all people we met were great and helpful, but the hotels were not what we booked. It did not interfere with our overal enjoyment of the entire trip, but it was anoying, spending money and not receiving for what you paid.
Advertisement
Advertisement