An adventurer's delight! Have you ever wondered what being close up to a glacier feels like? Here's your chance to find out. Hike across El Perito Moreno, one of the world's most famous glaciers! This full-day tour is a must-do for all adventure-seekers visiting El Calafate.
Highlights
Adventure tour from El Calafate to hike the inside of El Perito Moreno Glacier

Take part in a once-in-a-lifetime experience

Explore one of the world's most famous glaciers

All equipment, professional guide and round-trip hotel transportation included

What You Can Expect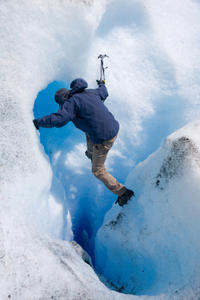 Departing from your El Calafate hotel, you'll head to the Bajo de las Sombras (Under the Shadows) port. After a quick 20-minute sail, you'll reach the opposite shore and the base of the Perito Moreno Glacier. Here, the guides will help you pick out a crampon, special metal spikes worn on your boots for traction. Then, your adventure begins as you hike along the Rico Arm to reach the glacier.

With your crampons fastened, head out for the real adventure as you embark on a 1.5 hour walk across the glacier. Your guide will be there to tell you about the famous Perito Moreno Glacier while trekking. At the end of the walk, enjoy lunch (bring your own) before continuing on.

Finish up your adventure as you cross the Rico Arm again, which leads you to a footbridge located in front of the glacier for one last glance at the beautiful glacier. Then, make your way back to the road that cuts between the forest of lengas and the pier. Board a bus that will take you to the glacier's viewpoint and footbridges, where you have an hour to enjoy before heading back to your hotel.
November 2015
It is a good hike. Never been on a glacier so this was quite an experience for me.
October 2015
Unforgetable experience and especially our complements to Walter the tourguide
September 2015
September 2015
Absolutely spend the money and do this tour rather than just the boat ride! Trekking on the glacier was an amazing experience that you should NOT miss. The bus picked us up on time and we took 1.5 hrs to get to the glaciers. Entrance fee to the glacier is not included 260 pesos. We then took a boat to the glacier and got amazing pictures. Boat ride was about 20mins. Next we got fitted with crampons and off we went! Julio our guide gave us an intro to the glacier before we headed up. He gave history on the glaciers in the region and how to walk with crampons correctly up the glacier and down. He also gave safety instructions. At no time did I feel unsafe. We were on the ice 1.5-2hrs? We took lots of pics. You don't need any ice experience. If you can walk up a gentle hill you can do this! We took several breaks as we went up and down. After the ice trek, we had lunch, headed back to the boat and spent an hour at the balconies viewing the glacier.
September 2015
Highly recommend this excursion if you're visiting El Cafate and the Perito Moreno glacier. The hike on the glacier is of low to moderate difficulty. Once you don the crampons and climb the icy mountain, you are rewarded with amazing sights including icy blue crevices and sinkholes, ice towers, and more.
February 2015
Fantastic tour. Views were amazing, guide was fantastic. Tour went like clockwork. Lunch is not included so need to make sure you have time day before to buy food. Hotel drop off/pick up included. Hiking is not excessive but is definitely not for people who have mobility issues. A must-do.
January 2015
This tour was amazing! I recommend you strongly to join this tour!
December 2013
wow this is a breath taking experience .the beautifil nature we wolked on topp of a glacier I am still excited of it.the crew is very profesional and all the plan Works like swiss watch.
April 2015
Very nice tour. You can see and feel the glacier and the guides are really helpful, explaining for everybody's understanding all you need to know about the glaciers.
Now, as I've made the tour, I think that I should pick the big trek.
Advertisement
Advertisement