Hike El Perito Moreno Glacier on this full-day tour from El Cafate. This trip is a must-do for thrill-seekers and adventure travelers. This 11-hour expedition includes pickup and drop-off at your hotel in El Calafate, a boat ride from Bajo de las Sombras port as well as all the necessary glacier-hiking equipment like crampons and ice axes. A professional local guide ensures your safety and enjoyment.
Highlights
Adventure tour from El Calafate to hike the inside of El Perito Moreno Glacier

Take part in a once-in-a-lifetime experience

Explore one of the world's most famous glaciers

All equipment, professional guide and round-trip hotel transportation included

What You Can Expect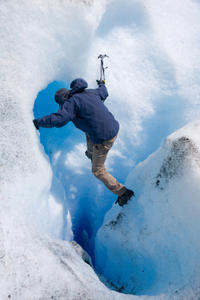 After being met at your El Calafate hotel, you'll be transferred to Bajo de las Sombras (Under the Shadows) port for your 20-minute sail to the glacier. Once you arrive at Perito Moreno Glacier, your expert guides will instruct you on the proper use of special winter hiking equipment, including crampons and ice axes. Wear appropriate gear such as wool socks, trekking boots, and cold weather clothing.

Once you're all geared up, make your way along Rico Arm towards the glacier itself. During the 90-minute trek across Perito Moreno, your local guide will tell your group about the history and formation of the glacier. Surrounded by an otherworldly, white-on-white landscape, listen to the sound of your crampons crunching ice and feel the steam of your own breath. Once you reach the end of the walk, you'll stop and eat the lunch that you've brought along with you. Head back across the Rico Arm and over a footbridge that allows you one last parting view of the hulking glacier you just conquered. After a brief forest trek, you'll be picked up by bus and deposited at the glacier's most spectacular overlook, where spend an hour of free time to relaxing, enjoying the scenery and snapping some photos before heading back to your El Calafate hotel.
May 2016
Absolutely amazing! One of a kind experience, very easy to do. Gives you an opportunity to see the glaciers in few different ways!
May 2016
Perito Merino glacier is a must see and if you want a very easy introduction to crampon walking on ice with good guides and much good humour and a whisky on the ice to finish this is the tour for you. We had a fun day with an extremely comfortable bus to get us there and back. The balcony walk to get the overview of the glacier and watch it crack and split if you're lucky was a lovely way to finish this trip too. Not too far from El Calafate. Highly efficient tour and great guide we hope Julio will come and visit us on his way to the glaciers in the south of New Zealand sometime
March 2016
Spectacular glacier seen through a well-organized tour featuring trekking on the glacier, seeing the massive wall of ice from a boat, and hiking along the cliffs opposite the glacier in the National Park. Great guides, informative, fun and orchestrated like clockwork -- a very professional operation
March 2016
A great tour! A must do if you are ever in Calafete. This was hands down the highlight of our trip to Argentina.
December 2015
The Perito Moreno Glacier is like the Grand Canyon- photos don't do it justice. You have to experience it in person to fathom the size and beauty of it. Our guides were multilingual, really friendly, and highly expert. 1.5 hours walking the glacier was just right. At the end of the walk we were surprised with free whisky and alfajores, which was a really nice treat.
November 2015
It is a good hike. Never been on a glacier so this was quite an experience for me.
October 2015
Unforgetable experience and especially our complements to Walter the tourguide
September 2015
kalli1234 United States of ...
September 2015
Absolutely spend the money and do this tour rather than just the boat ride! Trekking on the glacier was an amazing experience that you should NOT miss. The bus picked us up on time and we took 1.5 hrs to get to the glaciers. Entrance fee to the glacier is not included 260 pesos. We then took a boat to the glacier and got amazing pictures. Boat ride was about 20mins. Next we got fitted with crampons and off we went! Julio our guide gave us an intro to the glacier before we headed up. He gave history on the glaciers in the region and how to walk with crampons correctly up the glacier and down. He also gave safety instructions. At no time did I feel unsafe. We were on the ice 1.5-2hrs? We took lots of pics. You don't need any ice experience. If you can walk up a gentle hill you can do this! We took several breaks as we went up and down. After the ice trek, we had lunch, headed back to the boat and spent an hour at the balconies viewing the glacier.
September 2015
Highly recommend this excursion if you're visiting El Cafate and the Perito Moreno glacier. The hike on the glacier is of low to moderate difficulty. Once you don the crampons and climb the icy mountain, you are rewarded with amazing sights including icy blue crevices and sinkholes, ice towers, and more.
Advertisement
Advertisement