23 Reviews
Location:

El Calafate, Argentina

Duration:

14 hours

(approx.)
Journey out of El Calafate for a full day, on a scenic drive to the Chilean border, where after clearing customs, you'll head to the Torres del Paine National Park. The picturesque drive will allow you to gaze at the stunning scenery and enjoy the true South American tropics. Upon arrival, you'll have the opportunity to explore the national park, its amazing views and beautiful lakes.
Highlights
Full day trip to the Torres del Praine National Park from El Calafate
Explore the powerful waterfall at Salto Grande
Scenic drive through picturesque Patagonian scenery
Complimentary pickup and drop off from most El Calafate hotels
Recent Photos of This Tour
What You Can Expect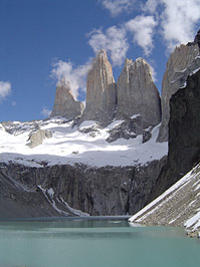 By taking the internal route, you'll pass by Lake Sarmiento and Amarga Lagoon. Driving a few more miles, you'll enjoy a panoramic vista of the Paine Horns from one of the lookout points.
Continue to Lake Pehoe and Paine River before arriving at the Lago Grey Inn for a leisurely lunch. Then take a short hike to see the powerful waterfall at Salto Grande and enjoy the magnificent sights. You'll depart the National Park in the afternoon, arriving in El Calafate late in the evening.
This tour is a must for all nature enthusiasts and those looking for a relaxing day out. Explore amazing South American scenery by traveling through two different countries. Grasp the natural wonders of waterfalls and lakes that both Argentina and Chile have to offer!
April 2015
March 2014
Well, Torres del Paine National Park is one of the most beautiful places on the face of the earth, so if you have a chance to go, even if only for s day, please go. This tour started with an on-time pickup and transfer to a 4-wheel drive, off-road Mercedes Benz bus. The bus holds about 30 people, so the tour group is somewhat smaller than most. The seats are slightly smaller than regular buses, but we didn't really notice the difference much. The tour guide, from the outset, was very friendly, informative, and helpful. Bag lunches were provided for the tour. Travel time from El Calafate to the border was about 3 hours. We spent 1 1/2 hours at the border (mostly on the Argentinian side), which was apparently figured into the tour schedule, so I suppose it is normal. Once in the park, I believe we saw about as much as possible in the 3-4 hours we were there. The return leg was better as neither the Chilean nor the Argentinian border checks were crowded.
Of course, spending 6 hours in a bus getting to and returning from the park is a large demerit, but this isn't the tour operator's fault. If you wish to see the park, traveling from El Calafate, in one day, then I highly recommend this tour. Spending several days in the park is even better, and I understand the tour operator can usually accommodate this, too. All in all, we were very glad we went, and we are planning our next trip back to the park to stay for a week or so.
February 2014
Most excellent trip, not to be missed! We only had 2 full days in Calafate, and chose to take this trip on the first day and go see glacias on the 2nd. Both were very memorable experiences, great guides, comfortable bus, amazing panoramas!
January 2014
Amazing full day tour. The park is INCREDIBLE! Guide was great. He was very knowledgable and spoke English well. Lunch was provided on the bus. Border crossing was easy. There is a lot of time spent on the bus, so be ready. Also, be prepared for colder temperatures and significant wind. Despite these factors, I would still highly recommend this tour!
March 2013
This is an excellent tour and I would highly recommend it.
If I had one wish it would be that the tour bus was more comfortable and came with some amenities (bath, water/coffee etc.).
March 2013
This was a long ride but our guide made it enjoyable every step of the way. His explanation concerning the TORRES just added so much more than I ever imagined possible. It was worth the time and money.
November 2012
If you want to spend an entire day getting close and personal with Patagonia, I recommend this tour. They take you on this huge Mercedes bus that's built for 4 wheeling. It's comfortable, but be warned of a couple of things: Be in a mental state of mind for a LOT of driving - it takes 4 hours just to get to the entrance of the Park. There are a total of four check ins with Argentina and Chile immigration and customs (two going, two returning) at the border. The scenery along the way is breathtaking and I really enjoyed this experience. When you get to the park, if the clouds are cooperating, the scenery of the Torres del Paine is amazing. There are two coffee stops going/coming at the border and there is a fairly decent box lunch included with the tour. There is no formal stop for lunch - a lot of this tour is moving in the vehicle to see the park as it's a fair distance from El Calafate. There are two short walks as part of the stops, but otherwise it's mostly stops to take photos. I highly recommend this tour. The guide was great and he was very entertaining for the day. The day is going to be 13-14 hours, so just be prepared. If the weather cooperates once you reach the park, you will not regret going this tour.
August 2011
A very good day. Excellent guide with wide experience. The 1.1/2 hour hike was nice.
We were well pleased.
February 2010
The only negative fact is that we had to change four different vehicles from the door of our hotel to the final destination and another vehicles on our way back. Other than that, it was an exceptional experience, which I recommend to everybody and I would definitely like to relive it.
March 2015
Great tour. Beautiful scenery. Enjoyed all of it
Advertisement
Advertisement