Take a scenic 1.5-hour drive south of Fort Myers where you can boat, hike and kayak through the beautiful Florida Everglades on this exciting eco-adventure! Watch for dolphins, sea turtles, bald eagles and more as your naturalist guide leads you through the lush, diverse Everglades landscapes. With a maximum of six passengers on this small-group tour, you are sure to have an intimate and unique experience.
Highlights
Small-group Everglades eco-adventure by foot, kayak and boat
Take a boat ride through remote areas of the park and admire the diverse vegetation
Enjoy a kayak adventure to Barrier Island Beach -- no experience required!
Hike along the beach and see shallow tidal zones, dunes, mangrove swamps and more
Be on the lookout for wildlife including manatees, dolphins, sea turtles and bald eagles
Tour led by an experience naturalist certified by the US Coast Guard
Small-group tour ensures a more personalized experience
What You Can Expect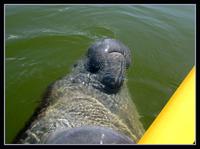 Get the ultimate experience of the Florida Everglades on this fun, exciting eco-adventure by boat, kayak and foot! Your tour is led by an experienced naturalist who is certified by the national park and licensed by the US Coast Guard. Throughout your tour, your guide will teach you all about the history of the area, as well as the wildlife and diverse vegetation.
Begin your tour with a boat ride through some of the most beautiful and remote areas of the Everglades National Park. Once you arrive at your destination, receive a brief safety instruction before getting into your kayak (no experience required) and exploring the area up close. Paddle your way to Barrier Island Beach, a remote beach seldom visited by others. Here, take a guided walking tour of the area and see the wrack lines, shallow tidal zones, dunes, uniquely adapted plants, mangrove swamps and many different invertebrate species.
Your guide will tailor the tour according to the group's interests and the day's environmental conditions. You may encounter a wide array of the park's wildlife including manatees, dolphins, sea turtles, bald eagles, ospreys, herons, egrets, roseate spoonbills and more!
After your hike on the beach, get back into your kayak and paddle back to the boat for your return journey.
August 2015
Wow! What an awesome day. Captains Josh and Kristin were wonderful guides on this interesting and fun adventure. We would give it two thumbs up....WAY up. Dolphins followed us, playing in the wake of our boat as we were heading out for our kayak trip through the islands. It was a day we will never forget and we will DEFINITELY be back to do some fishing with Captain Josh. He was so knowledgable about not only the wildlife, but the history of the natvives that first settled the area all the way to current day. We found some gorgeous shells as we walked along a deserted island beach and would highly recommend this as a great way to experience the Everglades.
May 2015
We spent a week in south Florida at the end of March and this was the highlight of our trip! Captain Josh was wonderful -- he showed us amazing wildlife, he knew the history and biology of the area, he was accommodating and patient -- and his passion and love for the place was infectious. I highly recommend this tour. I only wish I could give him 6 stars.
April 2015
Five star trip! Our Captain/tour guide Josh really knows about all the natural wonders that the everglades has to offer. He taught us things about the plants, animals, and little critters that I never knew before. You could tell that he wanted to make this a memorable experience for my 12 year old son, my sister and me. We saw dolphins, manatees, sting rays, beautiful shells, bald eagles, osprey and so much more. I recommend this adventure to anyone who wants to truly experience the everglades with a safe, fun captain at your side.
July 2014
Really excellent. Easy to book. Turned out to be just the 2 of us with Josh, the Guide, who was very knowledgable and enthusiastic. Stunning scenery and wildlife, including ospreys and dolphins (playing in the boat's wake). Out to the 1000 Islands National Park by powerboat, then as much time as we wanted in kayaks exploring the shoreline - full safety gear provided, and a stroll along the beach. Highly recommended. Bring sunscreen!
April 2014
This tour was EVERYTHING it was said to be--great boat ride around area--mangroves, osprey, dolphins, small shark; then a terrific kayak paddling over to island to walk and look at sea life, shells. Great naturalist Charles (?) who knew lots about area--but also very well read, interested in the eco-system and preserving the area. Not an alligator tour, though--the water is pristine and beautiful, not swampy. The Eco-Adventure office is a bit remote in Chokoloskee, but the personnel were very efficient--even gave a super recommendation for fresh fish lunch. This is a tour for those who want to learn something about the area--not just to flash through in a noisy, environmental-damaging air-boat.
March 2014
Excellent tour. Heather contacted us ahead of time and offered the option of departing from Goodland, which was wonderful, as we were staying on Marco Island. Our guide, Ed was very personable and knowlegeable. I highly recommend this tour and company, and would definitely do it again
June 2015
I had been to the other two entrances to the park. This one was completely different. I expected alligators and sawgrass, not so. Still a beautiful area with a great tour guide.
Advertisement
Advertisement