Travel deep into Everglades National Park on this private, daytime 1-hour airboat tour and wildlife encounter at Sawgrass Recreation Park. Experience the unique subtropical ecosystem of the Everglades on your own airboat, going deeper into the Everglades than on the typical public ride. Skim across the grassy water at speeds up to 40 miles per hour while looking for alligators, fish, turtles and wading birds. This tour includes entrance to Sawgrass Recreation Park and admission to the Reptile, Glades and Exotic Wildlife exhibits.

Highlights
60-minute private, daytime Florida Everglades airboat tour

Look for Florida gators and other wildlife up-close and from the water
See panther, alligator and other animal exhibits and shows at Sawgrass Recreation Park
Small-group private tour ensures personal service
Includes general admission to the park and all exhibits and attractions
This private tour can only be booked in advance
Recent Photos of This Tour
Private Tour: Florida Everglades Airboat Ride and Wildlife Adventure
What You Can Expect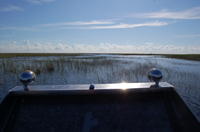 A mere 25-minute drive from downtown Fort Lauderdale is Sawgrass Recreation Park, in the heart of the Florida Everglades.

On this private 1-hour Everglades airboat tour, cruise along the grassy water at speeds of up to 40 miles per hour (64 kph) while gaining insight into the area's subtropical ecosystem from your seasoned captain. Look for a variety of wildlife, like alligators, fish, turtles and wading birds. This private tour has its advantages over the larger, public tour, including a smaller boat to get deeper into the Everglades and for a longer period of time.

After the airboat ride, check out the exhibits inside Sawgrass Recreation Park:

The Reptile Exhibit features dozens of species that are both native and exotic to Florida — from turtles, iguanas and snakes to Cannibal, an alligator weighing a whopping 1,000 pounds (434 kg)! Learn about how these animals live and survive in the wild from the park's handlers, and snap a memorable shot during the 'Hold a Baby Alligator' experience.

In the Glades Exhibit, check out African spur thigh tortoises, which range in size from 20 to over 100 pounds (9 to over 45 kg) each, as well as rare gopher tortoises (rescued from a construction site), iguanas and colorful peacocks. Gain insight into the area and its conservation efforts in the video presentation, 'Our Everglades Story.'

And finally, in the Exotic Wildlife exhibit, enjoy up-close views of wild cats — bobcats, panthers, leopards, caracals and more.

Please note: The pricing displayed is based on a per person basis; regardless of number of people booking, you are buying out the whole boat for your private tour.
May 2016
Tim took u a great trip, he is knowable of the area , and its inhabitants. this was a good trip.
April 2016
Loved having a private tour for our family! We were able to see alligators which is what we came for :! Our guide was great!
April 2016
Captain Gerald is awesome. We had a great time!
March 2016
it was a great trip..Captian Bob was informative,and fun to be with,
The kids loved him ..the adults even more. Great ride
The Swanson Family
January 2016
Tour guide was fantastic. Saw many large alligators and learned much about the history of the everglades.
January 2016
The best excursion ever! Captain Gerald was awesome. Best way to see Everglades up close and see where Captain Gerald lives and the many wonderful things he does not only for the Everglades but also for wounded vets. Highly recommend this trip with Captain Gerald.
November 2015
Gerald was a great captain we enjoyed every minute of the tour.
Thank you

October 2015
There were 4 of us that took a private Airboat Tour with Captain Gerald. He was a great tour guide. He took us to his home and showed us a great view of the Everglades from his roof. The people at the Florida Everglades Airboat Ride and Wildlife Adventure were very friendly and helpful. Bought lots of stuff at the gift shop as well as a picture.

October 2015
This was really cool. We booked the private tour and it was well worth the money. Capt. Gerald Motes took us out and we saw a 11 ft. alligator in the first 5 minutes. He is the only full time resident that lives IN the everglades. He was such a warm and gracious man. He took us to his home where he gives the soft shell turtles a sanctuary. My wife and I got much more than we expected. Thanks Gerald It was a blast!
September 2015
This trip was on my bucket list and it was everything we thought it would be. We had a great tour guide and the weather was perfect.
Advertisement
Advertisement