Pair aurora borealis with spa treatments and you get a northern lights experience like no other. This night trip from Fairbanks takes you to Chena Hot Springs Resort for an exciting but relaxing array of activities. Discover eye-popping sculptures at the on-site Aurora Ice Museum, and then unwind in the resort's legendary mineral water baths. When the conditions are right, a guide takes your small group to the best locations to watch for the ethereal northern lights, with warm beverages in hand.

Highlights
Small-group tour of Chena Hot Springs Resort and the northern lights from Fairbanks and the North Pole
Explore the resort's Aurora Ice Museum, home to intricately carved sculptures and an ice bar
Soak in the outdoor hot mineral springs, hot tubs or indoor pool
Witness the aurora borealis at one of the best viewing locations in the area, known for its high concentration of lights and clear skies
Snacks, meals and additional beverages are available for purchase at the resort's Aurora Café

Round-trip transport from Fairbanks and North Pole hotels provided
Recent Photos of This Tour
Northern Lights and Chena Hot Springs Tour from Fairbanks
What You Can Expect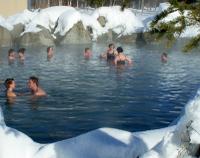 After evening pickup from your Fairbanks or North Pole hotel, enjoy a 1.5-hour drive northeast of the city, perhaps spotting a fox, beaver or moose along the way, before reaching Chena Hot Springs Resort.

Engage in a variety of activities while you wait for the sky to darken to view the northern lights. First, tour of the one of most unique museums you'll ever visit, the Aurora Ice Museum, constructed out of over 1,000 tons of ice and snow. Marvel at ice sculptures by world-renowned carvers Steve and Heather Brice, whose work includes life-size jousters on horses and a two-level tower with a circular staircase.

Fancy a drink? Head over to the museum's bar, settle in on a caribou fur–covered stool and purchase a cocktail poured into a martini glass carved out of ice. For food, check out the offerings at the Aurora Café or the Chena Hot Springs Resort Restaurant (own expense).

Or, put on your bathing suit and work on loosening those knots in your back. Slip into the resort's hot springs, which swirl with lake water averaging 106 degrees Fahrenheit (41 degrees Celsius) all year. Escape to an outdoor hot tub and unwind under the stars. A heated indoor pool is also available.

Then, dress warmly and meet your guide for a small-group outing to watch for the northern lights. You'll be taken to prime viewing locations at Chena Hot Springs, a great spot to witness the green and purple ribbons of light dazzling the sky. If you prefer to be indoors, you can see the action from inside the Aurora Café. Either way, you'll be holding a warm drink as you gaze at the celestial wonder.


Afterward, enjoy transport back to your hotel, with a commemorative certificate of your viewing experience at Chena Hot Springs Resort.



March 2016
Art our tour guide was amazing! He was smart, funny, nice and went out of his way to make this a great experience.
March 2016
Our guide was exceptional. This was a great tour!
March 2016
We booked the Northern Lights and Chena Hot Spring Tour from Fairbanks. It was such an amazing and unforgettable experience. The tour guide was very kind, friendly and informative. Highly recommended!!!
February 2016
Great trip to the hot springs. Our group was fortunate enough to witness the aurora borealis. Patricia was a great guide and a tremendous help with our camera settings as well.
November 2015
Very nice ! Thank you Patricia : I have a very great time , and we were so lucky enough to see the northern lights
September 2015
awesome. Not the trips fault, but no Northern Lights. Otherwise, extremely happy
March 2016
It was a lot of fun! Our guide was informative. We caught the aurora, which was awesome! Our group was only 8 people so that was nice. However, since we went on a weekend, the ice museum was very full. The aurora viewing site is dark enough to take good night time pictures. There is a nice warm room there to wait if you don't want to hang outside to take pictures. All in all a good trip!
March 2016
The hot springs were awesome......The Northern Lights did not cooperate though......Our driver Art was great and very informative!!!
January 2016
Chena Hot Springs is a must visit for anyone going to Fairbanks
September 2015
great trip. it was only 2 of us and the tour guide did a fantastic job in telling us about the lights and the Hot springs. The Lights could have been a little more cooperative. But we did see them and enjoyed them.
Advertisement
Advertisement