Getting from your Fiji island resort has never been easier, with a transfer by high-speed catamaran to Port Denarau Marina.
Highlights
Easy high-speed catamaran transfer from your Fiji island resort
On board commentary as you travel through the islands
Complimentary shuttle bus service from Port Denarau Marina to selected Nadi and Denarau hotels
What You Can Expect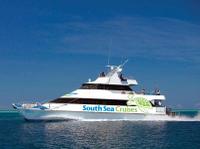 Make getting from your Fiji island resort to Port Denarau easy with a high-speed catamaran transfer.
For those staying in Nadi or Denarau a complimentary shuttle bus service drops off to most hotels throughout the day.
Islands
to Port Denarau Marina
The first catamaran into Denarau Marina is at 12pm. Passengers must overnight on the mainland if departing Nadi Airport on morning or early afternoon flights.

Transfers from Nadi or Denarau:
Area 1 Bounty Island Resort
Area 2 Beachcomber, Treasure Island Resort
Area 3 Malolo Island, Likiliku Lagoon, Lailai Beach Resort, Castaway Island Resort
Area 4 Mana Island Resort
Area 5 Matamanoa Island, Tokoriki Isalnd, Amunuca
Area 7 Vomo Island
There are six services per day, please see the itinerary section below for timetable and route,
Itinerary
Route 1:
9:00am Denarau
9:30am South Sea Island
9:45am Treasure, Beachcomber
10:25am Mana, Tadrai
10:50am Castaway
11:00am Malolo, Tropical, Funky, Wadigi
11:05am Likuliku
12:00pm Denarau
Route 2:
9:15am Denarau
10:15am Tokoriki
10:45am Matamanoa
11.15am Treasure

11:30am South Sea Island

Route 3:
12:15pm Denarau
12:45pm South Sea Island
1:00pm Treasure, Beachcomber
1:30pm Mana, Tadrai
1:50pm Castaway
2:00pm Malolo, Tropical, Funky, Wadigi
2:05pm Likuliku
3:00pm Denarau
Route 4:
3:15pm Denarau
4:05pm Likuliku
4:10pm Malolo, Tropical, Funky, Wadigi
4:20pm Castaway
4:45pm Mana, Tadrai

5:15pm Beachcomber
5:30pm South Sea Island
6:00pm Denarau
Route 5:
3:30pm Denarau
4pm Tokoriki
4:40pm Matamanoa
6:00pm Denarau
Route 7:
8:30am Denarau
9:00am South Sea Island
9:15am Beachcomber
9:45am Vomo
4:30pm Vomo
5:00pm Beachcomber
5:15pm South Sea Island
5:45pm Denarau
September 2014
Excellent service,fast smooth trip,will definately use again,helpful staff.
Thankyou
July 2014
December 2013
Very comfortable way to travel either to your island destination or to connect with your day trip
April 2013
There was a little hiccup with my ticket, and the staff were extremely helpful and so friendly, they fixed the problem without hassle. Great!
Advertisement
Advertisement