Set sail by tall ship to the island sanctuary of Tivua, a small but pristine tropical island in Fiji. Be greeted with a kava welcome ceremony, then spend plenty of free time sunbathing, snorkeling or exploring the tropical waters by canoe or on a glass-bottom boat tour. Morning and afternoon tea, a barbecue buffet lunch, plus unlimited beer, wine and soft drinks keep you fortified all day. This full-day trip includes hotel pickup and drop-off in Nadi, Denarau and Coral Coast.
Highlights
Sail to Tivua Island for a full day of fun and adventure
Join a guided snorkeling tour
Includes a glass-bottom boat tour
Free use of canoes
Enjoy a buffet lunch
Participate in a kava ceremony
Fijian music and entertainment
Includes hotel pickup and drop off
Recent Photos of This Tour
What You Can Expect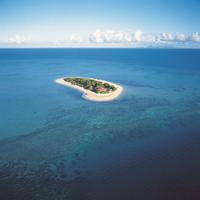 Tivua Island is the perfect day-trip destination in Fiji. Encircled by white-sand beaches and surrounded by coral reef, the pristine tropical island functions as a sea turtle sanctuary during nesting season.
After hotel pickup, step aboard the Ra Marama, a brigantine (two-masted sailing ship) built in 1957 and named after a 19th-century war canoe. Enjoy Fijian music by the entertaining crew and watch for dolphins playing in the bow wave as you're served morning tea aboard the tall ship.
Upon arrival at Tivua Island, take part in a yaqona (kava) welcome ceremony. You can decide how to while away the hours: swim in the azure sea, stroll around the island, or sunbathe on the sandy shoreline. If you're feeling energetic, a selection of activities such as snorkeling, beach volleyball, reef fishing and canoeing is included. Or perhaps set out for some coral viewing on a glass-bottom boat tour.
Dig into a buffet luncheon including barbecue chicken, whole baked fish, sausages, fresh salads, fruit and fresh-baked bread rolls accompanied by local beer, wine and soft drinks. Enjoy afternoon tea before the return sail to your starting point, with drop-off at your hotel by day's end.
October 2015
A joyous escape to a private island. The crew was friendly, courteous and helpful.
October 2015
Absolutely first class. While not old in comparison to other sailing ships, the old lady had a class of its own and the crew made everything interesting and fun. Our time on the island was great and the BBQ was superb.
We both enjoyed every minute including when a member of crew lent me his sandals for wading from the landing craft to the shore as the broken coral was quite sharp my tender old feet. A great day out that ended too soon.
September 2015
Fabulous cruise. Seven of my family members went for my 60th birthday.I was made to feel special from the 1st birthday wish as I got on the bus. Staff were friendly and attentive.Steven was especially helpful, finding extra bean bags etc to accommodate the 7 of us on the island. He also made sure we had snorkelling gear. Activities were great, some went scuba diving, others snorkelling and others the glass bottomed boat. Lunch was really nice and I was again made to feel special by my new Fijian family singing Happy Birthday to me, led by the talented Steven. After lunch my daughter and I had a relaxing massage. I had the best birthday ever, it was the highlight of our trip to Fiji. Do not hesitate to book this cruise.
August 2015
We had a fantastic time with your tour. The crew were very nice and attentive. Loved the kava ceremony too. Would highly recommend Viator to my friends and family. The island was very relaxing and the young adults were kept busy with the activities. Thanks so much.
June 2015
Excellent hospitality, beautiful people and a gorgeous private island. The best way that we could have started our holiday. 4yo loved it too, and the staff was great with him.
April 2015
A fantastic day, packed with wonderful experiences. The crew couldn't have been more enthusiastic and friendly. This is the only cruise I've been on in Fiji but I'm very happy I chose this one.
December 2014
May 2014
We got changed from the tall ship to a catamaran cruise boat due to the weather - was upset about this as what not notified in advance and I had particularly wanted the tall ship - being upset did not last long however, as the crew of the ship were wonderful people and went out of their way to ensure we all enjoyed it - they went above and beyond in helping with our three year old, teaching her to snorkel and looking after her while my husband and I snorkelled. It rained on and off on the day of our cruise, but this did not stop it being a wonderful time - the island was beautiful, had undercover ares and when you're snorkelling your getting wet anyway so made no difference. Again, excellent trip and the most wonderful people.
December 2013
This trip was superb, highly recommend. Took my husband and parents and I've backpacked the world. Didn't want too touristy but not too backpackey for parents and wanted to get out onto an island for first day in Fiji and back after 10 days there. This trip was really great value (other trips were hundreds of dollars more). The staff on this ship were incredible. All were locals and they were very Fijian (so warm and friendly. A male staff member picked up one of the crying children of a tourist and sang him lullabies to sleep. OMG, such amazing service). Oh, the lunch buffet was awesome. We could have had longer snorkelling but that's the only small improvement we'd make. The reef is ok, not the most impressive in Fiji, but the whole trip was fantastic and worth it. We'd do again. It's run by Captain Cook Cruises and clearly they know what they're doing. Booking through Viator was painless and easy. Would book thru them again.
January 2013
Best cruise of all the cruises we've done the coral and fish are amazing and the staff are also amazing, caring and fun!! I would highly recommend this to anyone!! The island itself is amazing and pristine!
Advertisement
Advertisement