Sigatoka Town, famous for its local handmade pottery is the perfect place for souvenir shopping during your trip to Fiji.
Highlights
Explore the town of Sigatoka on this half-day shopping tour from Nadi
Browse through the local shops and purchase great souvenirs including arts and crafts
English-speaking guide
Hotel pickup and drop off
What You Can Expect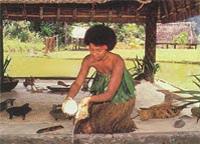 Enjoy some duty free shopping as you browse the local shops for your own little piece of Fiji to take home with you.

This small town on the southern coast of Viti Levu, is situated on the banks of Fiji's second largest river, the Sigatoka River, 70km from the city of Nadi. Experience the produce market and the village shops, as Sigatoka is famous for duty free shopping and for its local pottery.

Take the time to explore the local surrounds and take home some Fijian souvenirs and artwork.

This tour operator is the winner of the "AON 2007 Fiji Excellence in Tourism Award for Inbound Operator of the Year.
October 2014
Highly recommended. SWe were taken to Sigatoka in an air-conditioner by a friendly driver. Shopping there is an exotic experience. Bought nice personalized gifts, which impressed family and friends.
September 2012
Fantastic day! I was the only person on the tour and it still went ahead. Very personalised. Fantastic guide. Really knows his stuff. Happy to stop so you can take photos. Loved it. Viator make the tour booking so easy
Carl S
United States of America
December 2012
We had fun shopping in Sigatoka along with the guide who took us to the best places to shop! Also an enjoyable half day as we were guided around with commentary from the guide on our tour.
January 2011
There was only 2 of us on the tour so we had a private car take us. The trip is about a hour to get there, we wandered around in our own time and did some shopping. Had a wander around Sigatoka and then the driver took us back. Great shopping, cheaper than Nadi.
February 2010
By the time we did this tour we were shopped out. The village we visited was interesting, as the guide actually lived there.
August 2014
It was nice to have a driver and car all to ourselves but this is hardly a shopping trip. We went to the open market, and then went by a store to look at souvenirs. The review did not match up- I thought it would be more shopping but it's not much to see in Sigatoka.
June 2013
One hour drive there, 2 hours to look around the shops, which are the same as Nadi, then 1 hour drive back to hotel at Denaru Island. Good drive to see the scenery. We were expecting to see a "village" and craft places.The Village Craft Market is only a craft shop in the town. Little bit disappointing, but a nice morning.
February 2010
We were taken to the same chain shops that the resorts have within their complexes. We were told that if we went to any markets or other smaller shops we would be ripped off. We wasted 6 hours of our day. The only advantage was seeing the countryside on the way to and from Sigatoka and our guide was very informative of the way of life in Fiji.
Advertisement
Advertisement