Take a day trip to Assisi and Cortona and discover these charming hilltop towns alongside a local guide. Departing from Florence, travel first to Assisi, where you'll visit the Convent of Santa Chiara, the Basilica of San Francesco and hear about the life of St. Francis of Assisi. Pause for a peek inside Santa Maria degli Angeli church, believed to be a favorite spot of St. Francis. Then head to Cortona for some time to explore independently before returning to Florence.
Highlights
Day trip to the hilltop towns of Assisi and Cortona from Florence
Learn about St Francis of Assisi and St Clare, who both lived in Assisi
Visit the Basilica of San Francesco and Convent of Santa Chiara on a guided walking tour of Assisi

Stop for a look inside the 9th-century church at Santa Maria degli Angeli
Enjoy an afternoon of free time in the Tuscan town of Cortona, setting of Under the Tuscan Sun
Sightsee around Cortona independently and look out for sights such as Palazzo Communale
Recent Photos of This Tour
What You Can Expect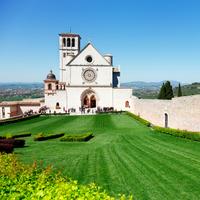 Your tour will begin in central Florence, where you'll hop aboard your coach with your guide and head into the region of Umbria. Stop first in the beautiful town of Assisi, made famous by its ties to St. Francis. Now known as Italy's patron saint, Francis left the wealth of his family behind in the 13th century to preach on Assisi's streets.

Follow your guide by foot to the Basilica of San Francesco, which hosts Giotto's famous frescoes depicting St. Francis' life. Continue on to the Convent of Santa Chiara, dedicated to St. Clare, one of Francis' first followers in Assisi.

Hop aboard your coach and drive to the outskirts of town to see Santa Maria degli Angeli, a 9th-century church where it's said St. Francis came to worship. Explore the interior with your guide before making your way back to your coach.

Head next to Cortona, the charming setting for the popular film and memoir, Under the Tuscan Sun. Take some time to purchase lunch or explore the Palazzo Comunale and Santa Margherita Sanctuary, built in honor of Cortona's patron saint.

After reuniting with your guide, travel back to central Florence to conclude your tour.

Please note: the order of the visits to Assisi and Cortona are subject to change on the day of your tour.

June 2016
Love visiting the medieval hill towns. The tour was instructive and delightful. My husband and I are in our late 60s and found the pace to be comfortable. We learned a lot about St Francis and St Clare, truly amazing leaders.
June 2016
Recommended only for those that can walk steep inclines and steps. Not conducive to those in wheelchairs unless they are motorized.
June 2016
This was a wonderful day trip. It was a small group in a van from Florence with a wonderful guide.
Cortona and Assissi are beautiful towns on the top of the hill.
June 2016
Great tour guide and bus driver.
When we arrived at Assisi the expected tour guide wasn't able to take our group so a guide was organised for us after lunch. This guide had lived in Assisi for 30 years and was passionate about the town and its history. He spoke English and Spanish fluently and made the experience wonderful. I would advise anyone to visit the lovely town of Assisi. We also stopped at the very large lake on the way back.

May 2016
The highlight of this tour for me was seeing the church where St. Francis ministered in the 1200's. That said, there were a lot of other beautiful sights along the way. It's important to know that both of the towns visited are hilltop towns, so not only is there a lot of walking- it's uphill. Was fine for us, but may not be ideal for someone elderly or with any sort of mobility issues. Our tour guide was nice, and the one who showed us around Assisi was knowledgeable. We enjoyed the tour overall - maybe would have liked to have more time in Cortona. It was raining the whole day, so that was a bit of a downer, but that wasn't the tour or guide's fault of course. This is a good and fairly inexpensive tour that will take you places from Florence you may not have had the opportunity to access.
December 2015
It was a small group..but a great tour....comfortable 2 hr. Drive to Assisi with the beautiful Tuscan countryside to see..we were met by a very knowledgeable guide at st. Clare's church who walked us thru town to ST Francis ' church ..then free time to have lunch ....only wish we had more time in this charming town...Cortona was fun but by the time we arrived it was late and getting dark..also raining and most shops closed...our bus driver and guide were superb..highly recommend this tour
November 2015
November 2015
Great tour, the weather was a bit hit so we did run through Cortona hoping to see as much as we could before it rained, but was lovely to get into these two lovely Hill towns and wander around. the Guide was great as was the town guide in Assisi. The guide warned us about the food in Assisi he was right it was awful, make time to pick something up in Cortona if you do it first.
November 2015
Great day. Our guide Antonio and driver Raphael were wonderful. Even when we got in an accident! We were only delayed maybe 10 minutes at best, they made it seem like nothing had happened which was nice. I wish we had more time in Cortona as it is a great small town.
Joyce Z United States of ...
November 2015
everything was great. evenly paced and complete with two additional stops
Advertisement
Advertisement