187 Reviews
Location:

Florence, Italy

Duration:

8 hours 45 minutes

(approx.)
Explore the beautiful Italian countryside and enjoy delicious food and fine wines on this 9-hour tour of the Chianti region with wine-tasting and dinner from Florence. Discover a magical world of olive groves and vineyards, Romanesque churches, medieval farmhouses, Renaissance villas and ancient castles. Wander through the charming hillside towns of Greve and Castellina at your leisure. Visit a local Chianti wine estate and cellar with your guide, and enjoy a wine-tasting session. End your day with a Tuscan dinner, and upgrade to enjoy a traditional Florentine steak!
Highlights
9-hour tour of the Chianti region with wine-tasting and dinner from Florence
Hear of the Chianti region's wine-making heritage from your knowledgeable guide
Explore the beautiful Tuscan towns of Greve and Castellina in Chianti at your leisure
Enjoy spectacular views of the rolling Italian countryside's vineyards and olive groves
Visit an ancient wine estate and tour the historic cellars, where fine Chianti wines are maturing
Sample delicious wines such as Chianti Classico during your tasting session
In San Donato in Poggio, sit down to a delicious Tuscan meal with wine and upgrade to enjoy a traditional 'bistecca alla Fiorentina' steak dish
Tour includes round-trip travel from Florence
Recent Photos of This Tour
Chianti Region Wine-Tasting and Dinner Half-Day Trip from Florence
What You Can Expect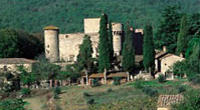 Hop aboard your air-conditioned coach in central Florence and settle in for the 40-minute drive through the Tuscan countryside to begin your tour. On route, listen as your guide shares details of the Chianti region's rich history and heritage, and gain insight into the many wines for which the area is famous.
Take in stunning views of the Italian countryside as you drive past olive groves, cypress trees and vineyards bursting with juicy grapes before arriving in the Tuscan town of Greve. Head first to the town's castle and wine estate, and enjoy a guided tour of the reception rooms, the garden and the historic cellars where barrels of Chianti Classico lie slowly maturing. After the visit, enjoy a tasting session of delicious wines such as Chianti Classico and Chianti Reserve accompanied by a selection of traditional regional snacks.
Head into Greve and soak up the atmosphere in the town's historic square. Admire the traditional architecture and charming shops selling regional produce, and enjoy a little free time to explore at your leisure.
Continue on to Castellina in Chianti, an ancient hamlet set high on a hillside between rolling vineyards and olive groves. Take in beautiful views out over the rolling vineyards below and enjoy free time to wander at your leisure.
Travel on to San Donato in Poggio — an ancient village nestled in the rolling Tuscan hills — and sit down to your evening meal in a local tavern. Enjoy regional specialities perfectly complemented by excellent Chianti wine, and experience first-hand a traditional dining experience for which the Italians are famous. (Dinner will be held in the open, weather permitting, so do bring suitable clothing.) Upgrade to enjoy a delicious bistecca alla Fiorentina — a rich, flavorsome Florentine T-bone steak simply dressed with olive oil, rosemary and salt, and widely considered to be the most famous Tuscan meat dish of all!
When it's time to leave San Donato in Poggio behind, hop back aboard your coach for the 40-minute drive back to Florence where your tour will come to an end.
Please note: There is no WC on the coach
Itinerary
Traditional Dinner Sample Menu for Adults:
Starter:
Penne strascicate (pasta with Bolognese sauce)

Vegetarian option: Penne with mushroom sauce.

Main Course:
Arista (Tuscan-style roasted pork loin) with potatoes, sausage and beans or bistecca alla Fiorentina T-bone steak (if option selected)

Vegetarian option: Regional cheeses with salad, spinach and potatoes

Dessert
Drinks:
A glass of Chianti wine and half a liter of water

Traditional Dinner Sample Menu for Children:
Main Course:
Spaghetti with tomato and fries

Drink:
August 2015
This was the best day we spent in our 23 day Europe trip! The female tour guide wish I could recall her name ! gave a thorough explanation of every small area and local landmark on the bus ride...better than many other guides we had, and she was graceful, humorous and kind to all of us. Our winery experience had another fascinating guide who explained the various wines and aging process of each. I fully appreciated the education about one of my favorite beverages, as well as many plentiful samples with snacks to offset the flavor. The dinner in the village we went to was another bountiful experience, with ample portions and wonderful table companions. We also did siteseeing and shopping in two other villages. What a wonderful, memorable time we spent!
August 2015
Best day spent out of the 23 we spent in 5 countries in Europe! Bus tour guide was thorough with local landmarks and local history, graceful and humorous. Winery guide fully explained the preparation of various wines and conditions that affect them and shared 4 wines and snacks with us to compliment the flavors. Dinner restaurant provided meals customized choices given and order placed earlier in ride, ample portions and wonderful table companions. Other two villages we visited were charming and cozy views of local life and small shops with trinkets to purchase, not usually offered in larger tours.
July 2015
Brilliant tour, could not recommend this more highly. Beautiful scenery, well organised and great value for money for the amount of delicious food and drink you get on the trip. Would 100 go again. Thank you for having us
June 2015
This trip was everything that it promised - lots of free wine, delicious snacks and dinner, nice tour guide, and a great overall time. Price is a great value (restaurant we went to was Michelin star rated) and did I mention tons of wine? Just go, you won't regret this!
June 2015
I do highly recommend this trip, though some aspects of it satisfy more than others. It's a great way to get out of Florence and into the countryside if you don't want to rent a car and brave Italy's winding byways. Our guide, Lucia, was informative and friendly, and the winery stop offers not just a tasting but a sit-down lunch of sorts with full bottles of four wines on the tables and excellent small eats cheese, bread, salamis. You get brief stops at Greve and Castellini, and that's my one complaint--these stops are really so brief as to be quick bathroom breaks or a dash into one souvenir shop. Also, we found the dinner rather underwhelming. That said, I'd recommend it--it's not expensive, and you do get plenty of wine and food for your money. The scenery, more importantly, is breathtaking.
May 2015
Excellent trip. Knowledgable guide. Enjoyable tour and tasting at vineyard. Dinner very tasty especially the steak which was too big to finish.
May 2015
Great way to get out of the hustle of the city center of Firenze and into the country side! Food and wine were great, as was our wine-farm host
October 2014
This tour was by far 1 of my top favorites if not thee favorite! Great way to see Tuscany. Chianti was fabulous with great wine tasting along with cheese, bread, olive oil and jam tastings. Afterward I can pretty much say we all bought multiple items to take home (airlines usually allow 2 bottles of wine per suitcase or they give you the option to ship items home too). We stopped along the way in great little quaint towns where we had additional time to shop, take pictures and drink more wine. Lastly, we finished off at a cute cottage like tuscany restaurant where we drank more wonderful wine and plenty of food to go around. Overall we were very pleased with this tour. I will note that the roads are very windy so keep in mind if you might get bus sick. Also bring mosquito spray!
October 2014
A thoroughly enjoyed half day tour that I would gladly do again. We visited a beautiful winery where we were welcomed by a lovely lady that showed us their property which was once a castle, created into a farmhouse. A very knowledgable guide who informed us everything about wine. Then we sat down and enjoyed 3 different wines with a selection of cured meats, cheeses and breads. It was a really good idea to put each wine with a selected piece of food in order to appreciate both things more. Everyone was so impressed, that each person bought something at the winery! We travelled to Greve and Castellina, spending 40 minutes in each Chianti village for free time, before arriving to a small town for our 3 course meal. The food did not disappoint, each meal was delicious and impressive. The two pasta dishes were amazing, and the main course included multiple side dishes too. Dessert was a yummy tiramisu. Would definetely reccommend this tour for anyone wanting to spend time in the Chianti region and learn about the delicious wines. Thank you Viator and CAF tours for organising a great tour!
August 2014
What a brilliant day out!! From the views you get to see travelling from one place to another, to the wonderful little villages you get to visit, it was fantastic. The wine tour around the castle was extremely enjoyable and informative and the wine tasting was of course wondeful.
I would recommend this tour to anyone who enjoys wine and wants to see the beautiful countryside of Tuscany!
Advertisement
Advertisement