Sample a true taste of Florence on this 9-hour food and wine tour through Italy's famed Chianti region. After departing from Florence, you'll explore the cellars of a historic wine estate in Greve, discover the hill town of Castellina and enjoy an evening meal in a local village tavern. A guide will provide insightful facts and anecdotes as you taste and travel. Upgrade your experience to include an authentic Florentine steak with your dinner.
Highlights
9-hour tour of the Chianti region with wine-tasting and dinner from Florence
Hear of the Chianti region's wine-making heritage from your knowledgeable guide
Explore the beautiful Tuscan towns of Greve and Castellina in Chianti at your leisure
Enjoy spectacular views of the rolling Italian countryside's vineyards and olive groves
Visit an ancient wine estate and tour the historic cellars, where fine Chianti wines are maturing
Sample delicious wines such as Chianti Classico during your tasting session
In San Donato in Poggio, sit down to a delicious Tuscan meal with wine and upgrade to enjoy a traditional 'bistecca alla Fiorentina' steak dish
Tour includes round-trip travel from Florence
Recent Photos of This Tour
Chianti Region Wine-Tasting and Dinner Half-Day Trip from Florence
What You Can Expect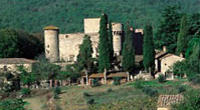 Your tour will depart from central Florence, where you'll climb aboard your coach and head through the countryside with your guide. Soak up the unfolding landscape of vineyards, olive groves and cypress trees as your guide provides information about the history and heritage of the Chianti wine region.

Stop first in Greve, where you'll visit a prominent castle and wine estate. Enjoy a guided tour of the historic cellars where barrels of Chianti Classico sit slowly maturing, followed by a walk through the garden and reception rooms. Then, it's time to taste! Swirl and sip delicious wines, including Chianti Reserve and Chianti Classico, complemented by traditional Tuscan snacks. Then travel back into Greve's main square where the famous annual Chianti wine festival is held. Take some free time to explore independently, perusing the small shops.

Afterward, hop back in the car and head to Castellina in Chianti, a small town set between olive groves and scenic vineyards, where you'll have more time to wander at your leisure and take in the sweeping views.

Continue to the ancient village of San Donato in Poggio and settle into the open-air seating of a local tavern for your evening meal. Toast fine Chianti wine as you feast on delicious Tuscan dishes. Upgrade your ticket to include Florentine steak, a flavorful t-bone dressed with rosemary, salt and olive oil and famous to the region.

Your tour will conclude with transportation back to central Florence.
Itinerary
Traditional Dinner Sample Menu for Adults:
Starter:
Penne strascicate (pasta with Bolognese sauce)
Vegetarian option: Penne with mushroom sauce.
Main Course:
Arista (Tuscan-style roasted pork loin) with potatoes, sausage and beans or bistecca alla Fiorentina T-bone steak (if option selected)
Vegetarian option: Regional cheeses with salad, spinach and potatoes
Dessert
Drinks:
A glass of Chianti wine and half a liter of water
Traditional Dinner Sample Menu for Children:

Main Course:
Spaghetti with tomato and fries
Drink:
November 2015
Guide was fantastic. Wine tasting was excellent and educational. And the dinner was excellent. All in all very good value for the money!
Only down side - the cork on the Chianti Classico that we got from the vineyard was so dry it crumbled as we were opening. Not the tour company issue but maybe you could provide feedback to the vineyard.
October 2015
This tour was great! Everything we hoped for. We highly recommend it.
October 2015
Excellent tour - we loved it.
The tour was well organized, on time. Titsiana our tour guide was great - a little crazy, and difficult to follow in her explanations - but great fun. Our guide at Il Palagio for the wine-tasting was especially informative. Best of all was the group of people, who felt like friends by the end of the evening.
Thank you very much.
September 2015
We went on this tour with another couple and both of us enjoyed it! Keiko was our tour guide and thought she did a great job showing the region and allowing us to enjoy and learn a lot! It's a beautiful area! We definitely got to taste a lot of wine and eat of a lot of food! Only complaint was our bus' a/c wasn't working too well.

dreamergirl4ever2003 United States of ...
September 2015
This tour was fantastic! We loved the tour and the whole experience. We were with a small group and there was plenty of wine and good food! Our tour guide was amazing and was happy to answer all of our questions.
August 2015
This was the best day we spent in our 23 day Europe trip! The female tour guide wish I could recall her name ! gave a thorough explanation of every small area and local landmark on the bus ride...better than many other guides we had, and she was graceful, humorous and kind to all of us. Our winery experience had another fascinating guide who explained the various wines and aging process of each. I fully appreciated the education about one of my favorite beverages, as well as many plentiful samples with snacks to offset the flavor. The dinner in the village we went to was another bountiful experience, with ample portions and wonderful table companions. We also did siteseeing and shopping in two other villages. What a wonderful, memorable time we spent!
August 2015
Best day spent out of the 23 we spent in 5 countries in Europe! Bus tour guide was thorough with local landmarks and local history, graceful and humorous. Winery guide fully explained the preparation of various wines and conditions that affect them and shared 4 wines and snacks with us to compliment the flavors. Dinner restaurant provided meals customized choices given and order placed earlier in ride, ample portions and wonderful table companions. Other two villages we visited were charming and cozy views of local life and small shops with trinkets to purchase, not usually offered in larger tours.
July 2015
Brilliant tour, could not recommend this more highly. Beautiful scenery, well organised and great value for money for the amount of delicious food and drink you get on the trip. Would 100 go again. Thank you for having us
June 2015
This trip was everything that it promised - lots of free wine, delicious snacks and dinner, nice tour guide, and a great overall time. Price is a great value (restaurant we went to was Michelin star rated) and did I mention tons of wine? Just go, you won't regret this!
June 2015
I do highly recommend this trip, though some aspects of it satisfy more than others. It's a great way to get out of Florence and into the countryside if you don't want to rent a car and brave Italy's winding byways. Our guide, Lucia, was informative and friendly, and the winery stop offers not just a tasting but a sit-down lunch of sorts with full bottles of four wines on the tables and excellent small eats cheese, bread, salamis. You get brief stops at Greve and Castellini, and that's my one complaint--these stops are really so brief as to be quick bathroom breaks or a dash into one souvenir shop. Also, we found the dinner rather underwhelming. That said, I'd recommend it--it's not expensive, and you do get plenty of wine and food for your money. The scenery, more importantly, is breathtaking.
Advertisement
Advertisement