Do the UNESCO-listed Cinque Terre in one day, and discover the five idyllic fishing villages of old-world Italy on a guided hike. The walking trails of the national park cling to the cliffs, and offer glorious views of this unspoiled stretch of the Italian Riviera. See its highlights with a guide as you complete a 3.4-mile (5.5-km) route and learn about the area as you go. This Florence to Cinque Terre day trip also includes a seafood lunch with views of the Med, ample free time and transport by coach, train and boat.
Highlights
Hiking trip to Cinque Terre from Florence

Spectacular coastal views along the Cinque Terre

Lunch in a local restaurant overlooking the blue sea and hillsides covered with vineyards

Soak up the old-world atmosphere as you explore Cinque Terre villages on foot
40-minute boat ride along the Riviera (weather permitting)

Take a swim in the clear, blue water at Vernazza or Monterosso

Transport from Florence to Cinque Terre by air-conditioned coach
Recent Photos of This Tour
Cinque Terre Hiking Day Trip from Florence
What You Can Expect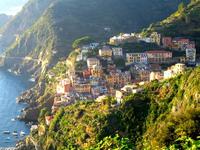 Start your journey from Florence to the Cinque Terre by coach, and listen as guide share stories about the area. Hear tales about the Tuscan city of Lucca, its famous resident Puccini and the nearby marble mountains of Carrara. You'll also learn about the Cinque Terre, and of its five unspoiled fishing villages — Vernazza, Corniglia, Manarola, Monterosso and Riomaggiore — that form the national park.
Begin your Cinque Terre hike in the hills above Manarola and walk to Corniglia, a gorgeous trail that finishes with a steep climb of some 382 steps. The charm of the region is that it is natural and untouched, so there are no safety rails and paths often cut close to the cliff edge.
In Corniglia, it's time for food, so stop to enjoy Mediterranean seafood and pasta with pesto. Views from the restaurant match the fine food, and it's the perfect place to refuel.
Continue hiking the Cinque Terre as you pass terraces of olive groves, which line your route to Vernazza. Perhaps visit one of its colorful bars or cafes, or take a dip in the bay. From Vernazza, take the train to Monterosso, a village known for its beach and artisanal shops. Enjoy free time to sample the local wine or dip your feet in the Med.
Relax with a boat ride (or train ride, if the weather is poor) to Riomaggiore with its candy-colored houses. Then relax before your last portion of the hike to Manarola.
Your day trip from Florence to the Cinque Terre finishes with a coach journey back to the city.
Please note: The walking route covers roughly 3.4 miles (5.5km) and the Cinque Terre trails include rough stone steps, direct tracks and paved sidewalks. The longest portion of the trek lasts 2.5 miles (4km) along a series of steps and takes a person of good fitness around 1.5 hours to complete.
April 2016
Excellent tour guides,Fabian and Julian, made this tour a lot of fun!
April 2016
Well organized tour and fantastic tour guide. A great way to experience Cinque Terre in one long day!
April 2016
The trip was awesome great group leaders who were extremely familiar with area and were never out-of-sight which is always reassuring. The hike was the highpoint of the day traversing some very challenging terrain but not insurmountable for anyone. Just a very good workout after our lunch. Our lunch was fine except for the lack-of-attention from staff we asked for cheese for our pasta and the response came back as there already is cheese on the pasta. A real cheese-Nazi must be cousins with the soup Nazi although I saw no family pictures hanging.
April 2016
This tour was everything we wanted out of Cinque Terre. Our guides Fabiana and Freddy were phenomenal.
April 2016
Everything about this tour was fantastic. Although the scenery itself is just amazing the tour guide made this tour enjoyable and unique. Fabian has spent a lot of time in America so his English is excellent. He was personable, funny, genuine, engaging and very enthusiastic about his country and the tour. Walkabout Florence Tours kept the tour very small and even had 2 buses with two separate guides for the overflow smart idea when navigating the small towns in Cinque Terre. These folks are very organized. If you only have a day to see the Cinque Terre there isn't any other tour that can match this one from Florence.
April 2016
This was so much fun. We were not following around some old staunchly tour director holding an umbrella shouting out facts. Our leaders were Molly and Freddie, who briefed us on the bus ride to Cinque Terre, as to interesting facts and what to expect. The lunch was fresh and tasty and the other participants were friendly. I would def recommend this outing to anyone who's out for an adventure.
April 2016
I was a little sceptical of doing this tour due to past experiences and some of the reviews I'd read. However, it ended up being one of my most favourite days in Italy. Martina was incredibly knowledgable and very friendly, it's so obvious that she loves what she does. We were given sufficient time at each town to explore, the lunch was delicious and the views were stunning. It can get extremely warm while hiking, so I would recommend plenty of water! The actual hike itself is not that difficult, and it provides you with a fantastic view. Would 10/10 recommend this tour!! Thankyou again for an incredible day Martina!
April 2016
What an Amazing experience! This was the highlight of our vacation and it did not disappoint. The Cinque Terre was absolutely stunning. The five villages are all unique, full of character and offer some stunning views of the Mediterranean. Lunch is included with the tour an, which was delicious. Pesto was offered by default but We choose Pasta al Pomodoro which was delicious. Now on to the hike, what can I say other than you must do it! Gorgeous views, plenty of good photo opportunities and a good workout! You'll be rewarded with some great gelato at the conclusion of the hike. A special shout out to our guide Freddy who made the tour lots of fun, told us some interesting facts and history along the way, and offered encouragement to those who were unsure of the hike. He was the best guide I had on all the tours I took in Italy this time! This tour earns my highest recommendation!

April 2016
We used Walkabout Tours to visit Cinque Terre. The bus ride to and from Cinque Terre was good. Fabian was a hilarious guide who gave us detailed information about the sites we visited. We really enjoyed the lunch in the restaurant just before the hike. Each town we visited had an amazing view of the landscape and colorful houses. The hike was challenging but fun.
April 2016
The tour guides were the best I've ever encountered, and they made the tour very fun, interesting and full of life--even the bus ride! Their names were Johnny and Fabian, and they were so accommodating and absolutely hilarious. Not a moment of inconvenience. One of the best tours I've ever taken. Would highly recommend everyone to take this tour!
Advertisement
Advertisement