1594 Reviews
Location:

Florence, Italy

Duration:

12 hours 30 minutes

(approx.)
Join the only tour that takes you to the Cinque Terre on a one-day hiking trip from Florence. Hiking is the only way to truly experience the magic of the Cinque Terre. Take a break from the bustle of the city and hike this UNESCO World Heritage-listed site. It's a unique and memorable experience, exploring the only unspoilt survivor of the genuine Italian Riviera.
Highlights
Hiking trip to Cinque Terre from Florence

Spectacular coastal views along the Cinque Terre

Lunch in a local restaurant overlooking the blue sea and hillsides covered with vineyards

Soak up the old-world atmosphere as you explore Cinque Terre villages on foot
40-minute boat ride along the Riviera (weather permitting)

Take a swim in the clear, blue water at Vernazza or Monterosso

Transport from Florence to Cinque Terre by air-conditioned coach
Recent Photos of This Tour
Cinque Terre Hiking Day Trip from Florence
What You Can Expect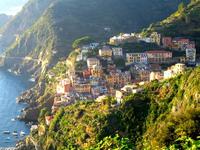 Led by your knowledgeable guide you will trek scenic trails and wander through vineyards and olive groves, over stone walls and along a spectacular coastline. This tour includes coach transportation, rail and boat travel between villages, entry in to Cinque Terre National Park and a delicious lunch.

The Cinque Terre takes its name from the five picturesque fishing villages of Riomaggiore, Manarola, Corniglia, Vernazza and Monterosso. Each town has a distinct character, but all share alleys, arches and steep stone steps, best explored on foot. An idyllic snapshot of old-world Italy, the villages are surrounded by sunny beaches, narrow lanes lined with shops and stalls, brightly colored fishing boats, seaside promenades and sleepy piazzas.

The ancient trails are rough but manageable. Be prepared for the hiking – although the path is open to everyone, remember that the ground can be slippery, uneven, and in places steep and narrow. The charm of the area is that it is natural and unspoilt, so do not expect hand rails or safety rails when steps are steep or when the path is close to the edge.
Itinerary
Florence - Cinque Terre - Florence (L)

Relax as you travel towards the Cinque Terre, listen to stories about Lucca and its famous son Giacomo Puccini, and admire Michelangelo's astonishing marble mountains of Carrara.

Passing just above Manarola (the first village of the Cinque Terre), you'll enter the National Park before tightening your boots for the first section of the trail to Corniglia, a beautiful stretch that finishes with a climb of 382 steps. On the cliff top village of Corniglia a delicious lunch made of fresh Mediterranean seafood and the most authentic pesto pasta is served in a local restaurant with a perfect view of the sea and surrounding hillside.

After lunch, your continue along the steep, ancient path, climbing high up through spectacular terraces of olives towards the village of Vernazza, one of the prettiest and most characteristic of the five towns, where you have free time to sit in one of the cheerful bars and cafés, or even have a cooling swim in the bay.

Next you will take a short train ride to Monterosso, this village is renowned for its beautiful beach and artisan shops. Enjoy free time to taste the local wine, explore the shops or dip your toes in the cool Mediterranean sea. Now, its time to sit back and relax as you enjoy a scenic 40-minute boat ride (weather permitting) along the shores of the Cinque Terre, the journey takes you to Riomaggiore.

In Riomaggiore you begin the last part of the trail, called Via dell'Amore, "Lover's Lane" - a walkway hanging above the sea which leads to Manarola, completing your Cinque Terre visit before returning to Florence by coach.

Please note: Due to a landslide which occurred at the end of September 2012, the famous path "Via dell'Amore" has been closed.

Please note: The total walking route on this tour covers a distance of approximately 3.4 miles (5.5km), most of which is along stone steps, trails, dirt tracks and a small amount of paved sidewalks. The longest section of the walk is a 2.5-mile (4-km) stretch along the steps and this usually takes a person of average-level fitness around 1.5 hours. If weather permits, stops are included in each of the five towns as per the itinerary.
August 2015
Excellent well organized tour. Glad there was an alternative option to hiking of taking the train when the temperature was unbearably hot. Looking forward to coming back.
July 2015
Get ready to HIKE! Wear proper footwear and try not to carry much with you outside of the essentials. Everything on the tour was so beautiful, we couldn't be happier with our decision to book it. And our tour guide Martina, was quite possibly one of the best human beings we've ever had the pleasure of meeting. Walkabout is a great company with many awesome tours, definitely check them out!
July 2015
It was tiring but the views you get of Cinque Terre during the hike are worth it! As well as the dive afterwards if you get the chance! The guides are knowledgeable and take care of everything, just make sure you keep up with the group and the time frames/meeting points so that you won't get lost. All in all, a great experience!
July 2015
Absolutely beautiful location and outstanding tour. Freddy was an outstanding host and guide.
July 2015
It was great fun on the hike with a small groups of us. The guides are a professional! I had a great time.
July 2015
The tour was great! Freddie and Johnny were wonderful guides, and their charisma and knowledge of the area only brightened an already wonderful place. The tour had a nice balance of activity and downtime. Would recommend this tour as a day trip from Florence to see Cinque Terre.
July 2015
Highly recommended...Freddy, Johnyboy and the driver Belagio I think his name was were superb!!
Very knowlegable and entertaining guides.....cheers I had a wonderful day!!
Nathan
July 2015
hands down are best day so far in Italy. By the end of the day we were exhausted but happy. Our tour guide Fabio was a bundle of energy and so enthusiastic, he made sure we all go through the hike and no one got lost. This hike does take effort but is within the capabilities of most people.
July 2015
A wonderful day out ... upbeat positive and informative guides. It was extremely hot but the views made the sweating worth it. Worth every cent. Johnny, freddie and the team at Walkabout awesome.
July 2015
This day trip was definitely worth it. I booked a few days in advance and showed up at the appointed location and time where I was met by several representatives from Walkabout Florence. We were taken to Cinque Terre on a very comfortable, air conditioned bus, and were accompanied by two guides, Stefano and Fabian. Both guides were extremely knowledgeable and funny, keeping us informed and entertained as we made the almost three hour trip to Cinque Terre. Everything we were to do that day was clearly and perfectly explained by our guides. When we arrived at Cinque Terre our group was split in two, and I had Stefano as a guide. I have been on many tours like this over the years and I can say that Stefano was top notch. He was attentive to everyone, and made the day fantastic. We hiked a bit about an hour in the morning to the town of Corniglia. Corniglia is one of the towns of Cinque Terre, and by the time we reached the town it was time for a delicious lunch of seafood and pasta. We were given ample bottles of water it was about 90 degrees F and allowed time to rest before continuing on to the other towns of Cinque Terre. The second hike is not for the faint of heart it is grueling in some places, but totally doable for anyone who is in somewhat good shape. Everyone in our group was OK, though some people struggled a bit. Again we were given ample time to shop, eat, swim, and walk around each town of Cinque Terre. We took the train from one town to another, and I must warn you that in high season the train is PACKED with people. At times we were like sardines. Luckily the trips are short and Stefano made it very clear that we should watch for pickpockets on the train. He was the most vigilant of all. We made it back to Florence by bus at 9:00 p.m. after a wonderful day. I would highly recommend this trip to anyone, and hope you enjoy it as much as I did!
Advertisement
Advertisement