1655 Reviews
Location:

Florence, Italy

Duration:

12 hours 30 minutes

(approx.)
Join the only tour that takes you to the Cinque Terre on a one-day hiking trip from Florence. Hiking is the only way to truly experience the magic of the Cinque Terre. Take a break from the bustle of the city and hike this UNESCO World Heritage-listed site. It's a unique and memorable experience, exploring the only unspoilt survivor of the genuine Italian Riviera.
Highlights
Hiking trip to Cinque Terre from Florence

Spectacular coastal views along the Cinque Terre

Lunch in a local restaurant overlooking the blue sea and hillsides covered with vineyards

Soak up the old-world atmosphere as you explore Cinque Terre villages on foot
40-minute boat ride along the Riviera (weather permitting)

Take a swim in the clear, blue water at Vernazza or Monterosso

Transport from Florence to Cinque Terre by air-conditioned coach
Recent Photos of This Tour
Cinque Terre Hiking Day Trip from Florence
What You Can Expect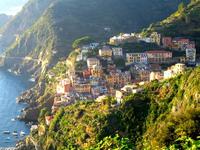 Led by your knowledgeable guide you will trek scenic trails and wander through vineyards and olive groves, over stone walls and along a spectacular coastline. This tour includes coach transportation, rail and boat travel between villages, entry in to Cinque Terre National Park and a delicious lunch.

The Cinque Terre takes its name from the five picturesque fishing villages of Riomaggiore, Manarola, Corniglia, Vernazza and Monterosso. Each town has a distinct character, but all share alleys, arches and steep stone steps, best explored on foot. An idyllic snapshot of old-world Italy, the villages are surrounded by sunny beaches, narrow lanes lined with shops and stalls, brightly colored fishing boats, seaside promenades and sleepy piazzas.

The ancient trails are rough but manageable. Be prepared for the hiking – although the path is open to everyone, remember that the ground can be slippery, uneven, and in places steep and narrow. The charm of the area is that it is natural and unspoilt, so do not expect hand rails or safety rails when steps are steep or when the path is close to the edge.
Itinerary
Florence - Cinque Terre - Florence (L)

Relax as you travel towards the Cinque Terre, listen to stories about Lucca and its famous son Giacomo Puccini, and admire Michelangelo's astonishing marble mountains of Carrara.

Passing just above Manarola (the first village of the Cinque Terre), you'll enter the National Park before tightening your boots for the first section of the trail to Corniglia, a beautiful stretch that finishes with a climb of 382 steps. On the cliff top village of Corniglia a delicious lunch made of fresh Mediterranean seafood and the most authentic pesto pasta is served in a local restaurant with a perfect view of the sea and surrounding hillside.

After lunch, your continue along the steep, ancient path, climbing high up through spectacular terraces of olives towards the village of Vernazza, one of the prettiest and most characteristic of the five towns, where you have free time to sit in one of the cheerful bars and cafés, or even have a cooling swim in the bay.

Next you will take a short train ride to Monterosso, this village is renowned for its beautiful beach and artisan shops. Enjoy free time to taste the local wine, explore the shops or dip your toes in the cool Mediterranean sea. Now, its time to sit back and relax as you enjoy a scenic 40-minute boat ride (weather permitting) along the shores of the Cinque Terre, the journey takes you to Riomaggiore.

In Riomaggiore you begin the last part of the trail, called Via dell'Amore, "Lover's Lane" - a walkway hanging above the sea which leads to Manarola, completing your Cinque Terre visit before returning to Florence by coach.

Please note: Due to a landslide which occurred at the end of September 2012, the famous path "Via dell'Amore" has been closed.

Please note: The total walking route on this tour covers a distance of approximately 3.4 miles (5.5km), most of which is along stone steps, trails, dirt tracks and a small amount of paved sidewalks. The longest section of the walk is a 2.5-mile (4-km) stretch along the steps and this usually takes a person of average-level fitness around 1.5 hours. If weather permits, stops are included in each of the five towns as per the itinerary.
September 2015
This was an absolutely fantastic experience. Our tour guides really put in a lot of extra effort for our enjoyment. I spent most of the time with Johnny but also enjoyed my interaction with the other tour guide, sorry can't recall the name, but she studied biology and journalism. The whole tour was so well organized and done. Thank you!
September 2015
September 2015
Our guides Freddy and Molly were both excellent. Went out of their way to make our experience quite pleasant. While the hike is a bit demanding, there is time to take breaks. It was a fun group and we met a few interesting people.
September 2015
This tour was amazing! You see so much and don't have to worry about any of the travel logistics getting from one town to the next. Tour guides Fabian and Raice (spelling?) were fantastic!!!!! Cultured, smart, funny and warm - We would sign up for any tour they might lead in the future.
September 2015
The hiking trip was a great way to see Cinque Terre. We had a great time and I would highly recommend the hike to friends. Our guides Martina and Lavi were wonderful. The were very professional and they did everything possible to guarantee that we have the best experience possible.
September 2015
Took 3 teenagers on this tour and they thoroughly enjoyed it. Fast paced - been there, done that got the tee shirt kind of day but perfect for impatient teens. The hiking was fantastic and our guide Molly made it a fun and interesting day. They went out of their way to make everyone feel included and individual needs accommodated. For the price, less than a day at Disney and far more memorable.
September 2015
Absolutely amazing!!! The tour guides were excellent and very knowledgeable. The whole experience was perfect in nearly every way!
Debby
United States of America
September 2015
Johnny provided positive and upbeat energy to this tour, always checking in with customers and ensuring that everyone knew what was going on and had a good time. Cinque Terre is an amazing place to visit, and this tour lets you view highlights from all five main villages. Highly recommended!
September 2015
WOW! Easily the best tour I have ever been on. Freddie and Lavinia were 100 outstanding! I am so glad we did this. We were an enormous group, and Freddie and Lavi took the time to learn everyone's names, where we were from, etc. Their commentary was always insightful and usually very funny. They kept track of everyone across all 5 towns, despite how insanely busy it was. All of our train tickets were paid for and organized, and lunch was excellent. I'd do it again, just to hang out with those two :
Important note: This is NOT a cutesy stroll. It is a HIKE. I would consider myself very fit, and it was definitely a workout. I'm a firm believer that this was the best way to experience Cinque Terre, but if you aren't into it, you can simply train from one town to the next and meet the rest of the group when they arrive. Don't be the girl that shows up in flip flops-- seriously.
September 2015
The tour covers all 5 towns and we experienced local train, boat and hiking/climbing with fantastic views. Lunch was awesome at the local restaurant with great food and service. Johnny and Freddie are funny, informative and well organized tour guides! Just wish we can spend more time there.
Advertisement
Advertisement