1578 Reviews
Location:

Florence, Italy

Duration:

12 hours 30 minutes

(approx.)
Join the only tour that takes you to the Cinque Terre on a one-day hiking trip from Florence. Hiking is the only way to truly experience the magic of the Cinque Terre. Take a break from the bustle of the city and hike this UNESCO World Heritage-listed site. It's a unique and memorable experience, exploring the only unspoilt survivor of the genuine Italian Riviera.
Highlights
Hiking trip to Cinque Terre from Florence

Spectacular coastal views along the Cinque Terre

Lunch in a local restaurant overlooking the blue sea and hillsides covered with vineyards

Soak up the old-world atmosphere as you explore Cinque Terre villages on foot
40-minute boat ride along the Riviera (weather permitting)

Take a swim in the clear, blue water at Vernazza or Monterosso

Transport from Florence to Cinque Terre by air-conditioned coach
Recent Photos of This Tour
Cinque Terre Hiking Day Trip from Florence
What You Can Expect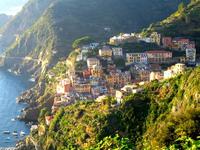 Led by your knowledgeable guide you will trek scenic trails and wander through vineyards and olive groves, over stone walls and along a spectacular coastline. This tour includes coach transportation, rail and boat travel between villages, entry in to Cinque Terre National Park and a delicious lunch.

The Cinque Terre takes its name from the five picturesque fishing villages of Riomaggiore, Manarola, Corniglia, Vernazza and Monterosso. Each town has a distinct character, but all share alleys, arches and steep stone steps, best explored on foot. An idyllic snapshot of old-world Italy, the villages are surrounded by sunny beaches, narrow lanes lined with shops and stalls, brightly colored fishing boats, seaside promenades and sleepy piazzas.

The ancient trails are rough but manageable. Be prepared for the hiking – although the path is open to everyone, remember that the ground can be slippery, uneven, and in places steep and narrow. The charm of the area is that it is natural and unspoilt, so do not expect hand rails or safety rails when steps are steep or when the path is close to the edge.
Itinerary
Florence - Cinque Terre - Florence (L)

Relax as you travel towards the Cinque Terre, listen to stories about Lucca and its famous son Giacomo Puccini, and admire Michelangelo's astonishing marble mountains of Carrara.

Passing just above Manarola (the first village of the Cinque Terre), you'll enter the National Park before tightening your boots for the first section of the trail to Corniglia, a beautiful stretch that finishes with a climb of 382 steps. On the cliff top village of Corniglia a delicious lunch made of fresh Mediterranean seafood and the most authentic pesto pasta is served in a local restaurant with a perfect view of the sea and surrounding hillside.

After lunch, your continue along the steep, ancient path, climbing high up through spectacular terraces of olives towards the village of Vernazza, one of the prettiest and most characteristic of the five towns, where you have free time to sit in one of the cheerful bars and cafés, or even have a cooling swim in the bay.

Next you will take a short train ride to Monterosso, this village is renowned for its beautiful beach and artisan shops. Enjoy free time to taste the local wine, explore the shops or dip your toes in the cool Mediterranean sea. Now, its time to sit back and relax as you enjoy a scenic 40-minute boat ride (weather permitting) along the shores of the Cinque Terre, the journey takes you to Riomaggiore.

In Riomaggiore you begin the last part of the trail, called Via dell'Amore, "Lover's Lane" - a walkway hanging above the sea which leads to Manarola, completing your Cinque Terre visit before returning to Florence by coach.

Please note: Due to a landslide which occurred at the end of September 2012, the famous path "Via dell'Amore" has been closed.

Please note: The total walking route on this tour covers a distance of approximately 3.4 miles (5.5km), most of which is along stone steps, trails, dirt tracks and a small amount of paved sidewalks. The longest section of the walk is a 2.5-mile (4-km) stretch along the steps and this usually takes a person of average-level fitness around 1.5 hours. If weather permits, stops are included in each of the five towns as per the itinerary.
July 2015
Hands-down one of the best days for our family of four while visiting Italy. Our guides Angel and Sandra were extremely fun, friendly and knowledgeable, and provided a lot of humor throughout the day. We learned much about the history and background of these beautiful towns. We thoroughly enjoyed their restaurant - the meal and the views were fantastic. An absolutely great day, don't miss this hike!
July 2015
One of the most memorable places of the tour. The view was spectacular, and the food was delicious. If you are in florence, don't miss out this beauty!
July 2015
This tour is amazing! If you have a day in florence and are trying to decide what tour to take I highly recommend this one. My wife and I absolutely loved it. Our tour guides, Julian and Johnny were informative, funny, and extremely accommodating. It is a hiking tour, but there are people who have no business hiking who still completed it in their late 60's and not in hiking shape. The great thing for us was that we were able to go at our own pace, which was ahead of the group, so we had more time in each village. Julian and Johnny pointed us in the right direction and then stayed with those who hiked slowly while most went ahead. The Cinque Terre is beautiful, probably the most gorgeous place I have ever been. We were able to get some great local food, swim in three of the villages, and enjoy some great shopping opportunities my wife told me to write that. This was our 2nd trip to Europe and it was by far the best tour we have ever done.
July 2015
It was a wonderful trip and Fabian is an amazing tour guide.
July 2015
I've been home for two weeks now and I have raved about this tour to everyone I've talked to. I can't say enough good things! This tour exceeded my expectations in every way: we were able to go to all five towns in Cinque Terre, the guides were super fun and very knowledgable, and the tour was organized with superb efficiency. It was great to be able to hike and boat between some of the towns, and everything was paced nicely to were I felt like I had enough time to see and do what I wanted without feeling rushed. I would say with fair warning that the hike is probably more enjoyable if you're in better shape, but doable if you take your time. This tour was the highlight of my entire trip to Italy!
July 2015
Excellent!! Fun and informative guides, well organized. The hike part is quite strenuous - come with good hiking shoes and plenty of water and cash for the little bar halfway along - you'll thank yourself!. We went in July - very hot and the train part was packed with people. But it all worked well. A great day!!
July 2015
This was a great day trip! It was definitely a lot of walking and hiking so dress appropriately, bring water, and bring your bathing suit for swimming at the end of the day.
July 2015
Great day! The hike was perfect- challenging but manageable. The guides did a great job of keeping up with us but letting us roam, and finding stops along the way. Extremely well managed. Worth every penny. Cinque Terre is gorgeous and the tour was fantastic!
July 2015
Johnny was our tour guide he was very knowledgeable, funny , kind and interacted with everyone on the tour even though there were 32 of us. We had a great time I would recommend this trip to anyone.
July 2015
First things first....this tour does involve a good amount of physical exertion. The beginning involves climbing up multiple flights of stairs to get to the top where the hike begins. You must have good footwear and be in reasonably good physical shape. That being said....this trip was excellent and we had a wonderful time with Martina as our guide. She was very personable, took the time to get to know each person in her group, and kept track of each one of us as we did the hike at our own pace. She also managed to get us all on and off the very crowded Saturday trains, which was no small feat. Thanks for a great trip Martina! We were lucky enough to have a beautiful sunny day for our trip and the scenery was amazing! If you are interested in seeing Cinque Terre in a day, this trip is the way to do it. Some of the best pictures from our trip to Italy came from this trip.
Advertisement
Advertisement