36 Reviews
Location:

Florence, Italy

Duration:

Varies
Follow the trail of Dan Brown's 2013 'Inferno' novel on a half-day walking tour, led by an expert local guide! The international bestseller, based on Dante Alighieri's 'Divine Comedy,' is set in Florence and several city attractions feature in the book's mysterious plot. Hear stories of the main character, code-cracking Harvard professor Robert Langdon, and visit key sites like Palazzo Vecchio's secret passageways and the Baptistry of Florence. If you are eager to see more, upgrade to a full-day tour and enjoy a skip-the-line tour of the Uffizi Gallery and Vasari Corridor, too.

Bonus ticket! Both tours also include a combination entrance ticket for independent access to several top Florence attractions after the tour: Opera del Duomo Museum, Crypt of Santa Reparata, Brunelleschi's Dome and Giotto's Bell Tower.
Highlights
Inferno walking tour of Florence, led by an expert local guide
Learn all about the popular Dan Brown Inferno novel, based on Dante Alighieri's Divine Comedy
Explore the secret passageways of Palazzo Vecchio and see the Hall of Geographical Maps and Dante's death mask
See sights mentioned in the book such as the Gate of Paradise in the Baptistry of Florence
Upgrade to a full-day tour to enjoy a skip-the-line Uffizi Gallery and Vasari Corridor tour
Use an entrance ticket to visit selected Florence attractions at leisure like Brunelleschi's Dome, Giotto's Bell Tower and more

What You Can Expect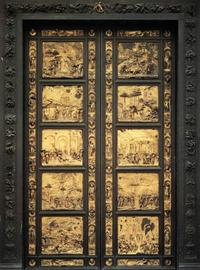 Meet your guide in central Florence, and then set off on your Inferno tour of the city. In tune with the order of the book, start with a stroll through Piazza della Signoria to visit Palazzo Vecchio – Florence's impressive 14th-century city hall – and head inside to explore the secret passages and chambers that linked the building to the Vasari Corridor.

During the Renaissance days of the ruling Medici family, the passageways of Palazzo Vecchio and Vasari Corridor were used by the Grand Duke Cosimo I to avoid his Florentine foes; in Inferno, Robert Langdon and his helper, Sienna Brookes, used them to flee from chasing soldiers. Other highlights of the site include the Hall of Geographical Maps and Dante's Death Mask, a plaster cast mask of the author's face following his death.

Leave Palazzo Vecchio and stroll through town to Florence Duomo, one of the city's most iconic sites. In front of its main door is the Baptistery of Florence (Battistero di San Giovanni), where Dante is said to have been baptized. Step inside to see the ornate bronze Gate of Paradise that helped Langton solve a few of his mysteries.

If you have more time, upgrade to a full-day tour and follow the footsteps of Langton to the Uffizi Gallery and Vasari Corridor. Skip past the lines outside the world-famous Renaissance art gallery and explore. After admiring famous pieces of work, by artists such as Giotto and Botticelli, head to the Vasari Corridor for a stroll. The walls of Florence's hidden corridor are lined with one of the world's largest portrait collections, and your guide will point out highlights in between telling little-known stories about Inferno's mysterious characters.

If you selected the half-day tour, finish your tour near the start point. Alternatively, if you selected the full-day tour, finish in front of Pitti Palace. Before leaving, your guide will give you an entrance ticket to Opera del Duomo Museum, Crypt of Santa Reparata, Brunelleschi's Dome (the top of Florence Duomo) and Giotto's Bell Tower. Just use your ticket on the same day as your Inferno tour and explore the attractions at your own pace.
April 2015
This tour is based on Dan Brown's Inferno Novel, in terms of using the historic places used by Dan Brown in his book, which, not surprisingly, are the most famous places in Florence - this tour was led by a guide named Mario, who was a great tour guide and was definitely opinionated on Dan Brown. We thought it was very interesting when he shared his critique of the book with us during the tour - I suppose when one makes a living giving tours such as these, you really become intimately involved with the writing.
We started at the Palazzo Vecchio, the government palace. Started when Florence was ruled as a republic, and then taken over by the Medici family when they rose to power. Mario pointed out some of the true hidden messages mentioned in Dan Browns book, which actually do exist in some of the old paintings. It was very cool.
Amid countless rooms of amazing art by Vasari and others, we saw a small room that was once Machiavelli's office, and Cosimo de Medici's amazing map room, with an enormous metal globe in the center and walls covered with 16th century maps, with areas marked terra incognita for the unknown world. Beautiful and fascinating. Our guide provided a wonderful history and really made our time on the tour enriched with history and art. We also had a walk around Florence, and while walking from the Palazzo Vecchio to the Duomo, our guide introduced us to one of the many street performers of Florence, the aged Poet of Florence, who was dressed in period garb.The guide tipped the old man and he recited a brief poem in Italian for our group of four people. I appreciated how our guide treated the elderly street performer with respect. We also visited the Duomo, Cathedral of Santa Maria dei Fiore, and the baptistry where our tour ended with a discussion of the book, and Mario asked us our opinions of the book, as well as the social issues brought up by Dan Brown in his writing. Mario is opinionated but we appreciated his candor.
April 2015
I really enjoyed this walking tour. Marco wove an interesting interpretation into the various sites we experienced. By the end of the afternoon tour through the Uffizi and Vassari gallery, I had a better way of interpreting the paintings. Well done :)
Advertisement
Advertisement