Skip the restaurants for a night and enjoy a 5-course meal inside a cozy, Florentine home. Learn the history and fine art behind Italian cuisine as your expert chef and host serves up a delicious Tuscan dinner. Begin your meal with an aperitif and end with a coffee and good conversation. Numbers are limited to 12 people on this tour to ensure a cozy, homespun experience.
Highlights
Enjoy a 5-course Tuscan meal in a Florentine house

Get an 'at home' experience in Florence and relax with your hospitable local host

Enjoy quality home-cooked food in a friendly environment

Learn about Tuscan cuisine and share foodie tips with like-minded people in your group

Start your meal with an aperitif and end with coffee

Small-group experience with a maximum of 12 people ensures a more intimate atmosphere

Recent Photos of This Tour
Experience Florence: Tuscan Dinner in a Florentine Home
What You Can Expect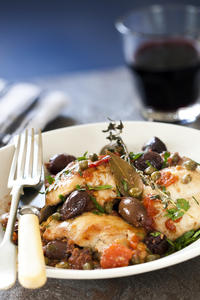 Tuscan cuisine focuses on fresh, locally grown ingredients: plump tomatoes, soft cheeses, grilled meats, fresh breads and olive oil straight from the Tuscan hills. It's no surprise that its dishes are beloved all over the world.

Begin your evening of true Tuscan flavor in central Florence, where you'll join up with your host and make the short walk to the private home. Settle into the cozy dining room and sip an aperitif as your host serves the first course.

Using traditional ingredients with an innovative spin, the homemade specialties included in your 5-course meal will vary depending on the season. (A sample menu can be found in the Itinerary section.) If you'd like to complement your meal with wine, you can purchase some from your host.

As you chat over a leisurely meal, the way real dinner is done in Italy, learn some of the local culinary secrets from your host, including the dishes' origin stories. Finish up with Italian dessert and a coffee before making your way back to your hotel.

Itinerary
Sample Menu:
(Subject to change without notice)
Creamy burrata cheese with tomato bruschetta
Pappa al pomodoro (tomato and bread soup, made with basil and leeks)
Spinach and ricotta dumplings, dressed with truffle butter and Parmigiano-Reggiano cheese
Chicken cacciatore (stewed olives, tomatoes, rosemary and garlic), or roasted vegetable flan. Both dishes are served with new potatoes and a green salad
Tiramisu
May 2016
Wonderful experience - hosts were lovely and dinner fantastic! Really enjoyed talking with the other guests to compare Florence experiences - would highly recommend.
March 2016
If I could I would give it more than 5 stars. Food amazing, hosts even better.
November 2015
Spectacular! Our hosts operate a cooking school in their home. The night we were there the only other guests what participated in the school so they ate food that they had prepared while we ate a spectacular meal prepared for us. The courses were well chosen and complemented one another. Our main course was an excellent quail dish that still has us in smiling. We were able to purchase wine at the home quite inexpensively. We would certainly do this again next time we are in Florence!
November 2015
Outstanding evening with a nice local family. Dinner was worth the money even without the interaction with the guests. Do IT!
October 2015
Lovely evening with 2 lovely people! Food was excellent and the wine very good. Their knowledge of food and wine and warm hearts was a great joy!
July 2015
What an amazing experince. My girlfriend and I booked this wonderfu night, not really sure what to expect. We were met at the pre arranged point and taken to a beautiful Florentine home where given a glass of Presecco and introduced to a couple who had been cooking all day on a seperate tour and would be joining us for dinner.
Another couple joined us and that made us 6. What took place over the evening was an amazing nioght of strangers getting to know each other over the 5 amazing courses and in the sourrounds of a beautiful home. The Chef was a genuine, friendly woman along with her husband who served us better than some waiters in 5 star hotels. People, this is honest good food in a relaxed atmosphere and I will be returning on my next trip to Florence. Don't miss this amazing night. Thank you.
June 2015
Amazing organic food, absolutely delicious. Great way to have a different meal and meet some great people. Provided plenty of food, and offered a wine tasting option, which was well worth it.
April 2015
What a wonderful evening! The meeting place was really very straight forward to locate, and our host, Eduardo was there, on time, to escort us to his lovely home, where we were greeted by our chef Varinia. We were dining with another couple, and their daughter, and we enjoyed a glass of Prosecco prior to dinner. The dining room was initially set up with two tables, but our dinner companions suggested that we join tables, which was easily accomodated and we embarked on a memorable evening of lively conversation. Each course was delicious and the portions very adequate. Wine was available for purchase and accompanied each course beautifully. Varinia joined us for some conversation after dinner, and is certainly a warm and interesting woman. My son and I highly recommend this experience.
April 2015
A truly amazing experience. Very friendly and welcoming hosts. The food was fantastic and the intimate atmosphere well worthwhile. I would recommend this tour very highly.
March 2015
Our hosts Eduardo and Vary were excellent. The food was sensational. Thank you for a wonderful evening
Advertisement
Advertisement