Take a small group bike tour (maximum 15 people) through Florence. Ride around the city and be inspired by the Renaissance on a comfortable bike. You'll cycle in the city of Florence and ducking and weaving between narrow streets along the way too. See all of the major city sites including the Ponte Vecchio, Uffizi Gallery, Piazza della Signoria and Piazza della Repubblica.
Highlights
Two-hour bike tour of Florence
Ride from sight to sight with your guide
Hear interesting facts, stories and useful information about the sights
Choice of morning or afternoon tours
You can read more about the Florence Bike Tour on the Viator Travel Blog

Recent Photos of This Tour
What You Can Expect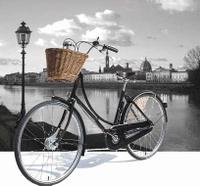 See Florence like an Italian on a tour by bicycle
! Whether it's your first or fifth time in Florence, this bike tour is the perfect way to travel from sight to sight at a leisurely pace.
Getting around by bicycle is the ideal orientation if you're new to Florence, and return visitors will discover new facts and hear new stories about the city they love. Either way, you are sure to agree that riding a bike is the best way to Florence. You'll see all the famous Florence monuments but also lesser visited sites including:
Santa Maria Novella
Palazzo Pitti
Uffizi Gallery
Piazza della Signoria
The Duomo
Ponto Vecchio
Piazza della Repubblic
Stop in the Oltrano district and choose between a complimentary gelato (delicious in Summer) or hot chocolate (warm end to your tour in Winter). Relax and savor your treat& it's the ideal reward after all that pedaling! Don't forget to bring your camera - there's time to stop at several vantage points to capture the sites and delights.
November 2015
I love taking bike intro yours! It's a great way to get around and suss the place out. It also gives you the confidence to hire in the following days and explore more on your own. You can cover so much more area on a bike and good exercise.
October 2015
Amazing bike tour! My friends and I did this tour the first day we were in Florence. A perfect way to see several Florence sights in a small amount of time, gain knowledge about the history of the city and get a great idea of where you may want to spend more time. Highly recommended!
October 2015
Fun and informative. We discovered places we hadn't reached on foot. Great Gelato stop too! We didn't want to give the bikes back.
October 2015
We spent 2 weeks in Europe and this was one of our favorite tours. We liked the fact that we did several stops and that the tour guide looked for streets that were not that crowded. We enjoy having gelato at the end of the tour. The tour was really different and fun.
September 2015
amazing tour in an amazing city ,
the guide/she has a lot of positive energy
August 2015
Highlight of my Florence trip! 2 hour bike ride where you see ALL the famous piazzas in Florence. Great way to spend a morning.
August 2015
Excellent way to start our stay in Florence! It was not too long 2 hours and very affordable. Our tour guide was very knowledgeable and she gave us very interesting stories. It does not require much effort to do this bike tour as we spent more time listening to our tour guide, Valentina, than biking itself which is what we were looking for. It's a perfect way to get familiar with the area as well. Well done Valentina! Caroline, Martin and Marianne
August 2015
Loved this tour! Great way to get around the city and orientate yourself. Ilaria was a great guide, very enthusiastic, bubbly, fun and smiley - it was a real pleasure to be shown around Florence by someone who knows and loves it so well. Thanks!
July 2015
This trip was one that we booked last minute, about one hour before, and ended up as one of our highlights of our whole trip to Italy! The BEST way to view Florence - it was more than we could have imagined and much for fun as well. Our tour Mario was amazing. He loves the city of Florence, born and raised there and it's easy to tell he enjoys sharing about this city. We stopped at each major attraction as well as a local artist shop that was an added bonus. For this price, don't think twice - absolutely worth it!
July 2015
Great tour and fab guide Frederica not sure thats the female spelling though, sorry. Well worth the money, highly recommended.
Advertisement
Advertisement