Discover Italian art, history and culture on a hop-on hop-off bus tour of Florence. Select a 1-, 2- or 3-day pass and travel around the city's top attractions, hopping on and off as you like. See the panoramic views from Piazzale Michelangelo, the burial spot of Galileo and Machiavelli at Santa Croce church and more. Your pass includes unlimited rides for the duration selected and 360-degree views from the open air of the upper deck.
Highlights
Hop-on hop-off tour of Florence

Florence city route with 18 stops including the Duomo and Palazzo Pitti

Fiesole tour from Florence for fabulous Tuscan views
Ticket valid for 1 day, 48 hours or 3 days

Recent Photos of This Tour
Florence City Hop-on Hop-off Tour
What You Can Expect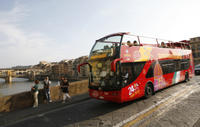 Discover the jewel of the Renaissance on a hop-on hop-off tour through Florence. Climb aboard an open-top double-decker bus with options for 1-, 2- and 3-day travel. Settle in your seat to view the city's most popular sites and hop off to explore on your own at any stop.

See the Itinerary section below for details about the two tours available and the list of stops.
Itinerary
Florence Fiesole Tour

The entire route takes 2 hours. Buses departs every 60 minutes from each stop. Take this tour to see views of the city of Florence and visit the museums. A vacation in Florence won't be complete without visiting Fiesole, the famous etruscan city lying on a hill just 3 kilometers away from Florence downtown. Fiesole offers a panoramic view over Florence , but it also gives the opportunity to visit museums, churches or to take country paths ideals for trekking or walking
Florence City Tour

The entire route takes 1 hour. Buses departs every 30 minutes from each stop. This tour takes you around the city of Florence. The buses follow a 16-km route that snakes through the city with eighteen stops, from Santa Maria Novella station to Barbetti.
Stops on the Florence Hop-on Hop-off Tour:
LINE A
Piazza Stazione FS SMN
Piazza della Libertà
Piazzale Donatello
Piazza DAzeglio
Piazza Beccaria
Santa Croce
Teatro Verdi
Lungarno Pecori Giraldi
Piazza Ferrucci
Piazzale Michelangelo
Piazzale Galileo
Villa Cora
Calza
Pitti
Frescobaldi
Guicciardini
Ognissanti
Barbetti
LINE B
Piazza Stazione FS SMN
Curtatone
Soderini
Tasso
Porta Romana
Machiavelli
Galileo
Michelangelo
Ferrucci
Demidoff
Cavalleggeri
Lungo l'Affrico
Righi
San Domenico
Regresso
Fiesole
Regresso
San Domenico
Righi
Stadio
Matteotti
Libertá
Indipendenza
Piazzale Montelungo

May 2016
Did the two hour sightseeing trip. Well worth every penny. Would go again.
May 2016
Excellent way to get a feel for the city and to visit all the major places and more. Friendly and helpful staff assist you. The three-day pass is fantastic value for money.
May 2016
An excellent, reliable, low cost way of seeing Florence.
Glenda P Australia
May 2016
Great way to see Florence - It was amazing to watch how the drivers navigate the narrow streets with these huge buses
May 2016
this was the best way to get around florence and learn where all the sights and attractions are without ever leaving the bus. stay on for as long as you like. get on and off as many times as you like. bus runs frequently so never much of a wait. plan your itinerary from the comfort of the bus, headphones included as your driver narrates along the way. great value.
April 2016
We bought a 3 day package but only used it one day. We did enjoy that day's trip. I think that a 3 day package is too long. I forget the difference in price.

April 2016
All of my family group voted this the best attraction as the best of our four day trip to Florence. The reasons included the great commentary, the free wi-fi, the chance to see more of the city whilst resting your feet, the trip to Fissile, the view of the city from the hill and, again, a chance to rest your feet. Full marks from us.
April 2016
my wife and i enjoyed the trips provided by Viator and would recommend themto our friends
April 2016
The tour guide was kind, nice to answer any question. and the bus was always on time. Excellent way to see the city.
April 2016
The open top bus tour was, as all of the ones we have been on before, was very good. We were able to get an overview of the city and then get off where and when we wanted. Really good way of seeing a city and good value for money too.
Advertisement
Advertisement