1109 Reviews
Location:

Florence, Italy

Duration:

1, 2 or 3 days
There is no better way to see Florence than on this hop-on and hop-off double-decker bus. Stops along the tour route include the Cathedral, Santa Croce, San Marco, Piazzale Michelangelo and much, much more! Hop-on and off as many times as you like for a full day of sightseeing!
Highlights
Hop-on hop-off tour of Florence

Florence city route with 18 stops including the Duomo and Palazzo Pitti

Fiesole tour from Florence for fabulous Tuscan views
Ticket valid for 1 day, 48 hours or 3 days

Recent Photos of This Tour
Best Florence City Hop-on Hop-off Tour
What You Can Expect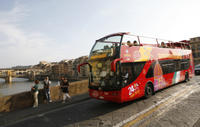 In the romantic region of Tuscany lies the jewel city of the Renaissance, Florence. Surrounded by the Appenine mountain chain it lies in a fertile valley surrounded by the charming Tuscan vineyards and olive groves. The art galleries and museums of Florence are renowned throughout the world and holiday makers flock to admire the superb David of Michaelangelo, the Venus of Botticelli or the stunning Duomo with its marble facade.The city is not only culture however, it is also home to elegant boutique, tiny craft shops and tempting ice cream parlors with gelato served in every flavor under the sun.
You can hop-on and off as many times as you like aboard this open-top double-decker bus. Two routes are included in the price and your ticket is valid for 1 calendar day, unlimited travel for 48 hours or 3 calendar days.
Florence Fiesole Tour

The entire route takes 2 hours. Buses departs every 60 minutes from each stop. Take this tour to see views of the city of Florence and visit the museums. A vacation in Florence won't be complete without visiting Fiesole, the famous etruscan city lying on a hill just 3 kilometers away from Florence downtown. Fiesole offers a panoramic view over Florence , but it also gives the opportunity to visit museums, churches or to take country paths ideals for trekking or walking
Florence City Tour

The entire route takes 1 hour. Buses departs every 30 minutes from each stop. This tour takes you around the city of Florence. The buses follow a 16-km route that snakes through the city with eighteen stops, from Santa Maria Novella station to Barbetti.
Here is a list of stops on the Florence Hop-on Hop-off Tour:
LINE A
Piazza Stazione FS SMN
Piazza della Libertà
Piazzale Donatello
Piazza DAzeglio
Piazza Beccaria
Santa Croce
Teatro Verdi
Lungarno Pecori Giraldi
Piazza Ferrucci
Piazzale Michelangelo
Piazzale Galileo
Villa Cora
Calza
Pitti
Frescobaldi
Guicciardini
Ognissanti
Barbetti
LINE B
Piazza Stazione FS SMN
Curtatone
Soderini
Tasso
Porta Romana
Machiavelli
Galileo
Michelangelo
Ferrucci
Demidoff
Cavalleggeri
Lungo l'Affrico
Righi
San Domenico
Regresso
Fiesole
Regresso
San Domenico
Righi
Stadio
Matteotti
Libertá
Indipendenza
Piazzale Montelungo
September 2015
amazing city and can't wait to return
September 2015
The Florence trip was great the bus took us everywhere we wanted to go and even took us to a small village in the hills of Tuscany. We had a great time.
September 2015
One of the best ways to see as much of Florence as possible, and being able to hop on and hop off at so many different stops enabled the six of us to really get to know this beautiful city. We would all highly recommend this particular way to see Florence and also gain some knowledge of its wonderful history.
August 2015
August 2015
Florence isn't a huge place but the bus tour was great. Nice way to get around the city without having to walk a ton and it also went out to some areas we wouldn't have seen otherwise. For the cost I definitely recommend it. There was even a audioguide that you could plug headphones into that talked about different areas as you passed them.
August 2015
Good overview of the city on the A, did the B in the early evening and got to see Fresole which was a treat.
August 2015
We loved this tour. It was perfect to get to all the great site and attractions of Florence. My entire family of 4 loved it!
August 2015
Great, relaxed way to tour the city at your own pace and learn a bit along the way.
August 2015
This was really good fun and by sitting on top there was a lovely breeze in the scorching temperatures! The radio controlled commentary was very interesting too. It really gave us a good tour of the City and was a lot cheaper booking in advance.
August 2015
Great tour. staff were helpful and attentive. The driver was very good.
Advertisement
Advertisement