Learn how to make traditional Italian pizza and gelato on this 3-hour cooking class in Florence. Led by an expert chef, sample a variety of flavors of each and learn how to create your own, Italian-style. Afterward, bring home your newfound skills in the kitchen to impress your friends. This class is limited to 25 people to ensure you receive personal attention from your instructor.
Highlights
Make your own Italian pizza and gelato in this Florence cooking class

Sample a variety of different pizzas and gelato flavors
Learn tips and traditional Italian culinary methods from a professional chef
Recent Photos of This Tour
Florence Cooking Class: Learn How to Make Gelato and Pizza
What You Can Expect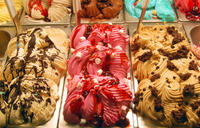 Watch how to make the two most important food groups – pizza and ice cream – with this Florence cooking class.

As you get started with your expert chef, learn about the history of pizza-making in Italy, and the distinct characteristics between pies from each Italian region. Sample an array of pizza flavors as you go and then throw your own creation in the oven to bake.

Continue with a lesson in dessert, as you receive instruction on crafting traditional Italian gelato. While this sweet treat does share similarities to ice cream found in other countries, it typically has a lower amount of butterfat and a unique freezing process that accounts for its dense, flavorful consistency. As your instructor shows you the secrets of the trade, enjoy plenty of samples to satisfy your sweet tooth.

After your class concludes, take home your insider's tips from your chef to impress your friends in the kitchen.
May 2016
It was a lot of fun. Davide and Giuseppe were very personable. We received a lot of tips on how to make pizza. They gave hands-on instruction, and the wine was delicious. They gave good information on how to pick a good gelato. Not everyone made the gelato it was the chef and three of the group who acted as sous chefs. We were all able to watch, though and get a good feel on how to make it. We were with a good group of people. I would definitely recommend this.
May 2016
This was our second time with the same tour. Once again, it was another great experience! Teachers were informative with great humor!
May 2016
Giuseppe and Paolo made this experience wonderful. Full of great information, explained very well, my two children got to be soux chefs for the night and we all loved every minute. Would do again and would definitely recommend to anyone.
May 2016
This was an excellent experience that I strongly recommend to anyone interested in pizza and gelato! Our instructor, Davide, taught us how to make pizza and gelato in a very easy way. We were able to enjoy our work with some delicious wine as well. If you get a small class, even better!

May 2016
It doesn't get any better than pizza and gelato, unless it's learning how to do both in Italy. What a great experience for the whole family. This is one of those memories you'll be able to relive every time you make pizza at home. I've made pizza at home before but what I've learned here will make it so much better.
May 2016
It was a lot of fun and our chef's were very engaging!
April 2016
Best tour ever!! Excellent chefs - Davide and Giuseppe. Fun evening. Great food.
April 2016
Really fun, pizza was great and the gelato was tasty. Made you feel like you might actually do it when you get home. The only hitch was the meeting place, was not clear where to be and then had a long walk which was difficult for one of the members in the group. The Chef was fun I can't remember her name but I think she said she is the only womanand really involved some of the kids that were in the group.
April 2016
This is absolutely a gem. Exciting to learn how to make gelato and pizza. The chefs were perfect, Quida and Pauola were the best. My favourite Viator tour while in Florence.
April 2016
This was one of our tour highlights. We ended up in Chianti with our wonderful instructor Alessio. My daughter who is 6 thoroughly enjoyed her time learning to make gelato and pizza. I recommend everyone do this
Advertisement
Advertisement