Learn how to make tiramisu, a classic Italian dessert, during a 2-hour demonstration in Florence. With a local host who's passionate about all things sweet, you'll discover tips and techniques on how to make your own version of this wickedly indulgent treat. Sample key ingredients; help out with the preparation and cooking; and, best of all, sit down and enjoy your delectable creation!

Limited to 12 people to enjoy personal attention on this small-group.
Highlights
2-hour tiramisu-making demonstration in Florence

Relax in a traditional Florentine house and learn the secrets of making authentic tiramisu from your passionate local host
Sample three types of coffee and test different flavor combinations
Share cooking tips with other food lovers in your group while indulging in your creation
What You Can Expect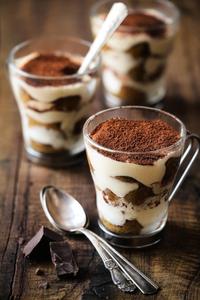 Your 2-hour cooking demonstration takes place in a private room at a Florentine home, and includes all utensils and equipment. Under the careful eye of your expert host, discover the culinary secrets behind making authentic tiramisu dessert, a traditional Italian dessert.

Meaning 'pick-me-up' in Italian, tiramisu is a boozy, indulgent and much-loved dolce (sweet) dish made by layering liqueur- and coffee-laced sponge cake with cocoa and sweet mascarpone cheese. This distinctive dessert is recognized all around the world, yet even in its birthplace, Italy, no tiramisu recipe is ever exactly the same.

As you watch your host make a version of tiramisu, you'll learn how to create a light sponge and discover how to use flavor combinations -- like chocolate and even coconut -- to achieve deliciously different results. Coffee is always a key ingredient, so you'll try three different types that are commonly used: mocha, espresso and americano.

During the demonstration, you'll have chance to hone your tiramisu-making skills by helping the host, should you wish. Whether you actively participate or choose to simply sit back and watch, you'll get to sit down with your group at the end and enjoy this classic dessert with your choice of tea, coffee or cappuccino. With this class under your belt, you'll be able to easily make your own tiramisu again at home to impress your family and friends.
July 2015
Chef Vary was fabulous! Had a private class in her house as the 4th member of the group was a no show. She is smart, funny, informative and just plain entertaining! The tiramisu was to die for...we tasted 4 kinds. I learned a great deal and she sent us home with so many terrific recipes. A wonderful way to spend an afternoon. Recommend highly!
April 2013
Very interesting experience in a cosy private atmosphere, in a very small group! We are now true tiramisu experts! And it was very tasty as well.
April 2013
The tour is short and basic, but perfect for those new to Italy, just getting their feet wet. The tour was completely within the confines of one of Florence's more intimate markets. Our guide, Linda Sorgiovanni, had been doing the tour for a decade, and her experience showed.
It wasn't physically demanding, and the tour was extremely flexible to allot for extra time wherever we'd want it. She had an excellent realtionship with the local growers and shopkeepers that made us feel like we had an "inside line" to the local cuisine.
5 stars.
July 2013
We enjoyed it, it was only the four of us so we had a private tasting, yum
August 2015
What to expect- you enter a local's home and she makes tiramisu in front of you and talks for two hours. We were promised recipes and left our emails and never received any. The picture is nothing like what you get. She makes the tiramisu filling and lets you sample three kinds in a small sample cup. She reprimanded a guest that was gluten free that did not tell her ahead of time. It made for an uncomfortable class.
Advertisement
Advertisement