Learn how to capture the stunning Florence scenery like a master on this 3-hour private photography tour. Explore the iconic Ponte Vecchio along the Arno River, the Piazza della Signoria and other scenic monuments as your private guide provides professional tips on how to capture the world around you on camera. Choose between two tour options, one that takes you through the Boboli Gardens and Palazzo Pitti, or a route that shows you Florence's true Renaissance gems.
Highlights
3-hour private photography walking tour of Florence with an expert guide
Choose the Palaces, Palazzos and Bridges tour, or the Birth of Renaissance tour, depending on your interests
Photograph Florence's top attractions, including the Piazza della Signoria and Ponte Vecchio
Line up shots of the Palazzo Pitti and Boboli Gardens on the Palaces tour
Photograph the Basilica di San Lorenzo and Duomo on the Renaissance tour
Learn insider tips and how to use your camera settings to best effect
Enjoy the undivided attention of a guide on this private tour
Recent Photos of This Tour
Florence Photography Walking Tour: Palaces, Palazzos and Bridges
What You Can Expect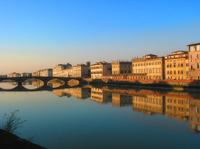 Your tour will begin in central Florence, where you'll head with your personal camera in hand to meet up with your private guide. As you begin to walk along your selected route, learn about the history of this incredible city and its vital role as the center of the Renaissance.

Your guide will pause along the way to discuss how to spot great shots, master your camera settings and contemplate light and composition. See the Itinerary section below for more details about each tour option.

Itinerary
Palaces, Palazzos and Bridges Tour (3 hours)
Meet your guide near the Palazzo Pitti and take shots of this magnificent building, once home to Florence's Medici rulers.
Next, enter the palace's Boboli Gardens, (own expense), laid out for the Medicis in the 16th century. Line up photos as you explore the statue-lined paths, and then continue to the Piazza della Signoria – Florence's central square.
Photograph the Palazzo Vecchio city hall and statues that frame the square, including the copy of Michelangelo's David. Then, walk to the Arno River and cross the magnificent Ponte Vecchio. Built in the 14th century, this exquisite, shop-lined bridge cries out to be caught on camera.
Continue to the Piazza della Repubblica, once the site of the Roman Forum, and now flanked by cafés. Capture the bustle here before strolling to the Church of Orsanmichele to photograph the statues that adorn this former 13th century granary.
Lastly, visit the Ponte Santa Trinita, the arched bridge designed by Ammannati in the 16th century with tips from Michelangelo. Point your camera at its statues and the Arno River from here before ending your tour.
Birth of the Renaissance Tour (3 hours)
Meet your guide at the Piazza della Santissima Annunziata, one of Florence's most beautiful squares, and snap its Ospedale degli Innocenti orphanage, with its Bruneschelli-designed 15th-century portico.
Then, point your camera at the Basilica di San Lorenzo and its neighboring market, and stroll on to Florence's spectacular Duomo to take photos of its
cathedral and its Renaissance dome, another Bruneschelli masterpiece.
After, continue to some of the major sights covered in the Palaces tour, stopping at the
Piazza della Repubblica, Church of Orsanmichele, Piazza della Signoria, Ponte Vecchio and, finally, the Ponte Santa Trinita, where your tour finishes.
June 2014
In spite of the cost I think this tour was exceptional value for money. My guide, Simone, was able to discuss both the technical and aesthetic sides of what makes a great photograph. As well as providing interesting historical information about the areas we were photographing we were able to seek out some of the lesser known spots for taking photographs. I now know so much more about how to assess a subject and how to approach taking photographs I feel I have come away from my holiday with some really great shots instead of just snapshots. I would very highly recommend this tour to anyone interested in capturing their holiday in photographs.
October 2012
Simone was excellent. He reminded us that we have to 'look' at things - take that first 'snap shot' then think about what was it that caught your attention in the first place and then take photo's 'from the heart' :) He also provided a great introduction to Florence and some of the more technical aspects of using our camera's (he's a great teacher)! I would recommend this tour to anyone with an interest in photography. My photo's turned a corner after this tour with him.
January 2014
Four of us took this tour all experienced semi-professional photographers. Surprisingly enough, each of us learned something technical from our guide. He was superb!
PETA Australia
October 2011
Simone was the guide, agin we were the only ones on the tour. A native to the ci, Simone shared many stories and history of the city, he is a professional photography teacher. He tried to teach us more about the camera and succeeded in teaching us how to take night time pics. The timing of the tour in hindsight prob wasn't ideal, unless you want to learn to take night time pics, as it was sunset within an hour of us starting, then ,ostly night time pics. A very able and patient teacher!
August 2014
It was not my first visit to Florence- but i thought that the guide will show me new places and good tips for taking special shots -but none !!! A very expensive tour for nothing !!!!
Advertisement
Advertisement