19 Reviews
Location:

Florence, Italy

Duration:

4 hours 30 minutes

(approx.)
Special Offer
Save 5% on these popular tours by booking them together in this exclusive combo package!
Lick your lips and roll up your sleeves for an evening of food tasting and cooking during an exciting Florence Super Saver. Combining two best-selling food experiences at a discounted price, the Super Saver starts with a wine and olive oil tasting in a Florentine bar to introduce you to some of the finest Tuscan ingredients. Then, learn how to make classic Italian pizza and gelato with a fun-loving local pizza chef before devouring your creations with another glass of wine!
Highlights
Florence Super Saver, combining a tasting session with a cooking class at a discounted price
Sample up to three glasses of Tuscan wine plus olive oil, cheese and honey in a Florentine wine bar
Learn about Tuscany's renowned foods from a knowledgeable local sommelier
Discover the secrets to making high-quality dough and toppings from a respected local pizza chef
Hear about the ingredients and production techniques used to create authentic Italian gelato
Savor your creations with a glass of wine, and receive a 'graduation' certificate

Recent Photos of This Tour
What You Can Expect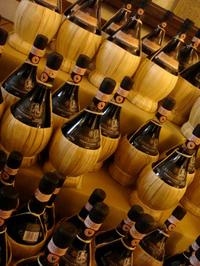 Florence Wine and Olive Oil Tasting (1.5 hours)
Meet your guide inside a Florentine wine bar in the center of the city, and take a seat at your table for your tasting session. Wine and olive oil are staples of Italian cuisine, and Florence — in the heart of the fertile Tuscany region — is perfectly placed to produce some of the country's finest varieties.

Learn about the region from a local sommelier, and hear some of the secrets of wine and olive oil production in Tuscany. Next is the highlight: the tasting of three different Tuscan wines as well as various olive oils and select local produce such as cheese and honey. Samples vary, but typically include prestigious local varietals such as Brunello di Montalcino.

Your tasting session finishes after 1.5 hours, but you can stay inside the bar for longer if you wish, and make the most of another 1.5 hours of free time before your next experience starts.

Florence Cooking Class: Learn How to Make Gelato and Pizza (3 hours)
Meet your guide at the Food and Wine Academy School in central Florence, and start your cooking class by getting to grips with the basics and background of Italian pizza. Pizza Margherita took its name from Italy's Queen Margherita, who was served a pizza that resembled the Italian flag with red tomatoes, white mozzarella and green basil. The beloved Italian pizza as we know it today was born.

With the help of your pizzaiolo, a professional pizza chef, learn how to make the tender and flexible dough that epitomizes a good Italian pizza, and see how to stretch it to the thinness of paper before topping it with a flavorful tomato sauce. It's sure to be one of the best pizzas in town, and one made with your own hands!

After feasting on your pizza with a glass of wine (or soda), busy yourself with the important task of gelato making. Learn how to select the finest quality ingredients to produce intense flavors that are combined with a lightness and elegance you rarely find outside Italy. Discover how natural colors are developed and applied, and learn about different heating and freezing techniques to achieve the creamy texture of a perfect rich gelato.

Eat your gelato and receive your 'graduation' certificate from your pizzaiolo before finishing the experience.
August 2015
So lovely. Delicious pizza. Delicious gelato. Love, love, love it!
July 2015
Excellent and entertaining instructors. Clean and comfortable classroom. Great wine with perfect food pairings. The pizza making class was really fun and the pizza turned out great! The gelato was also very yummy.
July 2015
Super fun!! Would recommend this to anyone who wants to end their day with a relaxing class and dinner. Our Wine tasting class was first rate - and actual class on how to taste and identify wines. Not at all what I expected. I thought we just be given several wines and asked to rate them but it was a full lesson on 3 different red wines along with handouts. The instructor was fabulous. Then came the pizza and gelato making class. We each were taught how to make and kneed our own pizza dough properly. While it was rising we were taught how to make Gelato and what makes a good vs poor gelato. Then we rolled out our dough, topped it, baked it and ate it! Followed by dessert of our Gelato. The instructors were so fun. Good time had by all and would highly recommend.
June 2015
The wine and olive oil tasting was amazing, our guide was fun, upbeat and knowledgable.
Our dinner was great and I can't wait to make the pizza again.
June 2015
I took this class with 3 of my friends while we stayed in Florence. I have to say it was one of my favorite parts of our stay! We started with the wine and olive oil tasting. Our guide Lilli was amazing and she gave us some history of both the wine and olive oil making process. We got to try 3 different wines and then have a glass of our favorite. We also tried variations of balsamic vinaigrette. I liked one of them so much I ended up purchasing it. Next we took a bus to the pizza and gelato making. The view from this location was great and we got some really nice sunset pictures of the hills of Italy. With the help of our awesome guide Alessio, we learned how to make the dough, roll it out, and let it rise. While our dough was rising we learned about gelato and how to identify authentic gelato in the different stores. Not only did I learn a lot, but the pizza came out great and the gelato was amazing! I highly recommend this experience!
June 2015
A great way to spend a few hours learning about wine........and drinking it...wow
June 2015
Paola and Carolina led our Wine and Olive Oil class and Davide and Andreas led our Pizza and Gelato class -- all four instructors were fantastic! Super friendly and experienced too. We had a wide range of other attendees and no one seemed to have a problem following along and participating. I would recommend both classes to anyone visiting Florence. It was the perfect way to start our visit in Florence.
May 2015
April 2015
December 2014
Would recommend this to anyone coming into Florence even do this before you start sightseeing it was utterly incredible will definitely do it again
Special Offer
$91.72 Save $5.05
Advertisement
Advertisement