Explore Florence's Oltrarno neighborhood, on the less-visited (but equally charming) side of the River Arno. Your 3-hour walking tour focuses on the intriguing Florentine art and craft traditions that are centuries old, but still alive in Oltrarno today. Meet local artists and craftsmen, visit bustling workshops, see beautiful Renaissance architecture and even try your hand at the ancient skill of paper marbling!

Accompanied by your own private guide, you'll enjoy personalized attention on your luxury private tour of Florence.
Highlights
3-hour art and crafts walking tour in Florence

Explore Oltrarno, a lively Florence neighborhood where many local artists live and work

Watch craftsmen in action and see their finished work including fine art prints, jewelry and more

Try the centuries-old tradition of paper marbling in an authentic atelier

Visit Piazza Santa Spirito and see a wooden crucifix, carved by legendary Renaissance sculptor Michelangelo

Private professionally guided tours
What You Can Expect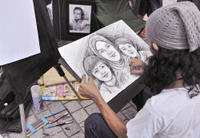 Meet your guide by the impressive Piazza Pitti, and stroll through the quaint streets and squares of the bohemian Oltrarno neighborhood. The lively, working-class district hums with activity of craftsmen and traders going about their day-to-day lives. The first stop on your tour is an old atelier, a traditional workshop where the owner will show off the quality art prints and engravings that are created there.

Head to a studio close by and watch a silversmith in action, creating jewelry from silver and enamel. Hear colorful tales and learn about his working life in Florence as a master craftsman. Your tour continues to a paper marbling shop where you'll learn all about this fascinating craft. The ancient skill of paper marbling is rarely practiced anywhere else in Italy, so this is a one-of-a-kind opportunity to learn how to mix and apply colors to create gorgeous, marble-like swirls on paper.

After spending roughly two hours meeting Oltrarno's most interesting craftspeople and seeing their places of work, your guide will introduce you to the neighborhood's other charms. Walk through Piazza Santo Spirito, lined with restaurants, craft shops and galleries, before stepping inside its main attraction -- the beautiful Basilica de Santa Maria del Santo Spirito. Originally designed by Filippo Brunelleschi, one of the most important architects of the Renaissance era, the church is home to a wooden crucifix that was carved by a young Michelangelo when he was just 17 years old.

Your walking tour ends at the workshop of a great Florentine artist, descended from six generations of sculptors. Located in an 18th-century church, the workshop is home to a vast collection of molds, models, copies of famous monuments and replicas of classical works of art, all of which you can admire!
July 2013
Wonderful personalized tour! It was a bonus of our trip-the whole family enjoyed it very much! It was fascinating to see the different artisans, even getting personal demonstrations! Our guide was wonderful and knowledgeable. The absolute highlight was to see the gorgeous crucifix by Michelangelo!!!!!!
June 2013
Un tour très interessant, on découvre des gens qu'on aurait pas trouvé par nous meme. Je recommande fortement
December 2013
Fascinating to see just how the artisans make the silver and gold items, shoes, chairs, and the marbled papers etc. A very interesting afternoon.
May 2013
This was a great tour: met several astounding artists and the tour guide was very helpful and knowledgeable
July 2012
Enjoyed this tour very much; the guide was easy going and knew her stuff
August 2013
October 2014
VERY disappointed. This is supposed to be a tour of the arts of crafts area and we only saw only saw three real crafts-marble papering, a silversmith, and a leather shop. Then we saw a church and a mosaic stone. Where is a bookbinder, the gold-leaf artists, and some of the other crafts. We only saw 3 demos. I thought the whole tour would be arts and crafts-not another church. I wanted to see how things were made no stores. We saw more crafts walking around on our own and going into workshops.
November 2013
Mainly the "artisans" just wAnted us to buy something
Advertisement
Advertisement