11 Reviews
Location:

Florence, Italy

Duration:

2 hours 15 minutes

(approx.)
Get a revealing look at the hidden history of Florence as you stroll down its alleyways on a two hours and fifteen minutes guided walking tour. Follow your knowledgeable guide on foot to the famous piazzas in the city center, including the Piazza della Reppublica and Piazza del Duomo. You'll hear tales from the Renaissance city's murky past—one scandal at a time! Enjoy personal attention on this small-group tour, limited to 18 people.
Highlights
2.15-hour historical walking tour of Florence
Stroll through central Florence and discover the city's hidden secrets
See the Baptistery, the Bargello (Bargello Palace), the Duomo cathedral and Palazzo Medici Riccardi
Hear shocking tales about scandalous lives of the Renaissance from your knowledgeable guide
Small-group tour limited to 18 ensures a more personalized experience
Why Our Insiders Chose This Tour
If you want to learn all about the scandals from the Renaissance period in Florence, this is a must-do tour!
What You Can Expect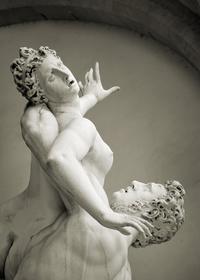 Meet your guide near Piazza Davanzati in central Florence and begin your entertaining small-group tour through the city streets. While you walk down hidden alleyways, learn about the city's sordid past, when the world's oldest occupation was the city's biggest business.
Your guide will uncover aspects of the city you don't normally hear about, such as how certain streets segregated the lower-class prostitutes from the upper middle–class courtesans. Learn about the socially accepted behaviors of political figures, popes and peasants in some of the most scandalous events of the Renaissance

Discover how some of the city's strange street names came about on your way to the public squares found throughout central Florence, such as the famous Piazza della Reppublica. At the Piazza del Duomo, walk past the octagonal Baptistery of St John, which stands across from the Duomo cathedral and the Giotto bell tower (Campanile di Giotto). You'll view the Palazzo Medici Riccardi, a Renaissance palace, and the Bargello—a former barracks and prison housed in the oldest public building in Florence.
Along the way, your guide reveals the weird, and often wretched, mixtures that passed for medicines during the Renaissance, and shows you where to find (good!) elixirs for sale today. Visit an ancient well where bodies were discarded. Many locals still fear to tread near the massacre site today!
July 2015
Klas was fabulous! He was everything you would want in a tour guide: informed, enthusiastic, and a great storyteller. If you are looking for a tour that takes you a bit off the beaten track, with a guide that will keep you thoroughly entertained, you've come to the right place. I wouldn't hesitate to recommend this tour, or to take another with Klas. Fabulous, fabulous, fabulous.
April 2015
This tour was the reason we would come back to Florence. We were introduced to a fuller sense of history and parts of the city we would otherwise never have seen. Our guide was highly knowledgable, insightful and enthusiastic. We should have done this tour on our first day!
October 2014
This tour is absolutely fantastic - would 100% recommend to all visiting Florence!!!
I took the tour in October 2014 with my mum - a bit of an alternative tour choice for a mother/daughter holiday, but I wanted do to something that would tell us about the "real Florence" and this certainly didn't disappoint.
Our tour guide (whose name I sadly don't have) was absolutely brilliant - incredibly enthusiastic, friendly and knowledgeable on the history of Florence, the Renaissance period and was able to answer any and every question guests on the tour asked.
The facts were fascinating and you explore loads of places you wouldn't normally come across on standard tours/in guide books.
The tour was one of the best days of our trip to Florence!
September 2014
I really recommend this tour to all visitors when in Florence (18+ONLY, Given the Sensitivity of the Tour Content)... The guide (Antonia) gets into the unknown and intimate details of the city as well as the true stories of the most powerful families and icons at that time. The Medici Family, The Riccardi Family, and the one and only: Leonardo Da Vinci. This tour gives you an insight that only an Italian-Historian can offer and NO Visitor could ever know about all these stories, unless he/she is able to take this kind of tour. Without a doubt, this tour is very enhancing and informative....Job Well-Done :)
August 2014
July 2014
Book this walking tour if you are a history lover. Corinna is an exceptional guide. My wife and I are frequent visitors to the city. We just can't get enough of the fabulous art collections in the Florence museums. But this walking tour is really something else. Corinna makes Renaissance people, artists, noblemen and ordinary folk, come alive in historically accurate anecdotes and cool petty facts. It was a real privilege to have you as our personal guide, Corinna.
November 2015
We were fortuned to have a private tour as there was a little miss up in booking. The staff quickly fix the situation and it all worked out. Very Funny Scandals, you will never look at art quite the same way.
October 2015
Interesting and scandalous. Very impressed that although I was the only one who booked, the tour went ahead - so I had a personal tour through Florence. Angelo presented the history with knowledge and enthusiasm, making the tour enjoyable. If you want a diversion to the usual historical tours, I recommend this. Not sure I swallowed all the information, but amusing diversion to the more factual tours.
May 2015
Out of the five tours we booked through Viator during our two week stay in Italy, this was perhaps our least favorite. The subject matter was interesting and we were fully prepared and fine with its R-rated nature. But we felt it could have been presented in a more organized fashion. Overall, a bit confusing and exhausting. By the way, we were the only attendees of this tour, so perhaps it needs to be retooled a bit.
November 2015
It was terrible. The description of the tour was grossly inaccurate. Instead of shocking tales about scandalous lives it should have state sexual exploits. The entire tour revolved around the sexual life of Florence. There was very little other than the wine/vino doors information given in the tour that I could share with family and friends.
Advertisement
Advertisement