Special Offer
Book by June 30 and travel by October 29 and save 20% off our previously offered price!
See Florence in a whole new light on a 2-hour evening walking tour. Led by an expert guide, learn about the rich history, scandal and intrigue of the medieval era as you pass lesser-known gems like the Palazzo di Bianca Cappello and Palazzo Strozzi. Hear tales about the powerful Medici family before concluding at one of the city's most famous gelato shops. Headsets will also be provided so you can hear the commentary clearly while you walk.
Highlights
2-hour medieval Florence walking tour, led by an expert local guide
Hear about the city in the Medieval ages
Learn about the Medici family who ruled Florence for over 300 years
See the sites of medieval scandal like Palazzo di Bianca Cappello and Palazzo Strozzi
Discover lesser-known details about top Florence attractions like the Ponte Vecchio and Uffizi Gallery
Finish your tour with a gelato stop at one of the city's leading gelaterias
Recent Photos of This Tour
Medieval Florence Evening Walking Tour
What You Can Expect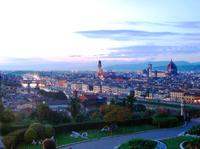 Your tour will begin in central Florence, where you'll join up with your guide and set out into the evening. As you travel the historic streets and squares, hear about how the medieval era paved the way for Florence's Golden Age. Your guide will discuss how the city's commercial wealth during that period was off-set by dangerous power struggles and cut-throat business dealings.

No trip to Florence is complete without hearing the name Medici, the influential family who found themselves at the center of many scandals throughout the Middle Ages. Visit the Palazzo di Bianca Cappello, constructed by Cosimo Medici for his mistress and hear the story behind the couple's mysterious deaths. Then, head past the residence of the one of Medicis' greatest rivals, the Palazzo Strozzi, built for the Strozzi family. Continue on to the lavish Palazzo di Parte Guelfa, the headquarters of the Guelph family, another political rival of the Medici family.

Afterward, follow your guide toward some of Florence most beloved sites, such as the bustling Piazza della Signoria and the Uffizi Gallery, home to masterpieces from Botticelli, Michelangelo and more. As the sun goes down, stroll to the Arno River and admire a scenic view of the Ponte Vecchio.

Your final stop will be at one of Florence's top gelato shops, where you can select from a wide of array of delicious flavors and walk the streets like a real Florentine, with ice cream in hand. After two hours of history, intrigue and sightseeing, your tour will conclude in central Florence, at Ponte Santa Trinità.

June 2016
Very interesting and fun tour. Angelo our guide was very engaging, with perfect English. I expected the gelato at the end to be lame, but was actually one of the best we've had in Italy. We went back there the next day for more.

June 2016
Angelo tells a great tale!
June 2016
Angelo who gives this tour is amazing! He is super nice, entertaining and a little bit mysterious -
I really recommend this tour as it gave me a whole new perspective on Florence and its history!
June 2016
Totally fun, exciting behind the typical areas and very interesting stories
June 2016
Amazing DARK, FUNNY, AND ADULT, tour. Wonderfully, historical and entertaining.
June 2016
Oh my gosh! This tour is fantastic! I did this my first night in Florence and what a great introduction to the history of the place. This tour isn't about art or the beauty of Florence but gives you a great guide to the different families of medieval Florence and how the city was constructed. The tour guide is fantastic and has such enthusiasm for the topic, then to top it off you get a gelato at the end from an amazing gelateria. 100 recommend!
June 2016
Excellent tour, Angelo was a very good guide who really enjoyed telling about the history of Florence
May 2016
Fantastic! We did this on our first night there and it was a great way to explore an unfamiliar city. If you are a lover of medieval politics like I am, then this tour is definitely for you, but the material is not so arcane that it would leave the other members of your party disinterested. Plus, the gelato at the end is definitely some of the best I have ever had in Italy. Angelo was a spectacular guide to Firenze! :
For the other planners and itinerary leaders out there: the timing of this tour also has a logistical advantage. It starts at 7:45 PM, which gives you plenty of time after the other attractions close to grab dinner. In our case, we got into Florence later in the day, so having something interesting and engaging to do before the day was over definitely helped us to feel as though we had still accomplished something, despite the long day of travel.
May 2016
This is a great introduction to Florence, well informed genuine guide.
Not too much walking and a gelato to finish!
January 2016
Awesome tour with an awesome guide!
Special Offer
$38.35 Save $7.67
Advertisement
Advertisement