Get a true taste of Italy on this half- or full-day wine tour through the Chianti region. Departing from Florence, a guide will drive you to a rustic cellar in the countryside to sip the region's top wines paired with bruschetta, cheeses and cold cuts. If you choose the full-day option, continue on to enjoy a traditional Tuscan dinner in the Chianti hillside. Your tour will conclude with drop-off at your Florence hotel.

Highlights
Private tour and wine-tasting in the Chianti region

Your own private English-speaking driver will show you one of Tuscany's most famous regions

Enjoy a wine-tasting with light snacks
You have the option to add on a Tuscan dinner in a historic village
Visit to the Ancient Cellar with an expert wine guide

Recent Photos of This Tour
What You Can Expect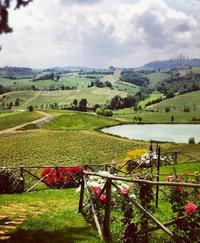 After being picked up at your hotel in central Florence, your guide will lead you to a rustic village known for its unique castle farms in the Chianti countryside. Stop at one of the farm's cellars to sample regional wines, including a Super Tuscan and Chianti Classico Riserva. Hear about the characteristics of each blend from your expert guide and enjoy Tuscan bread, cheese, cold cuts and bruschetta to complement the wines' flavors. Conclude your tasting experience with the famed sweet wine of Vin Santo and some Cantuccini di Prato, traditional Italian cookies.

The half-day option will conclude here, with return transportation to your Florence hotel. If you select the 8-hour option, continue to a hillside village for an authentic Tuscan dinner. If the weather is clear, you'll be seated outside to toast fine Chianti wine under the stars. Your evening will conclude with drop-off back in Florence.

Itinerary
This in-depth, private tour is hosted by an English-speaking driver and a private wine guide during the ancient cellar visit. Please list any special interests you have (art, architecture, history, culture) at the time of booking to alert your guide, so that he or she can prepare for your private tour.

Please note that tours are carried out in different areas of the Chianti region. The trip from Florence to Chianti is approximately 40 minutes each way.

Dinner Sample Menu:

2 First Courses: options
- Ribollita (typical vegetable soup)
- Pici all'aglione: (Pasta with dressing made with tomatoes and garlic)
- Taglieatelle al Ragu: (Egg oodles with Bolognese sause)

Second Course: options
- Stracotto al Chianti con Spinach (Stew beef cooked with Chianti wine and spinach)
- Roast pork with potatoes
- Sausage and beans

Dessert: options
- Tart
- Tiramisu

Drinks:
- Glass of Chianti
- Half litter of mineral water

James L USA
March 2016
From the minute Marzio picked us up at our apartment in Florence, we began our lessons on the history and people of not only Florence, his native city, but the rest of Tuscany as well. We have been to Florence many times, but we actually learned quite a bit that we didn't know on this tour. Marzio speaks excellent English and is very entertaining - it seemed as though a friend was driving us around, showing us his countryside. The wine tasting itself was wonderful, too - we thoroughly enjoyed the lessons on Chianti wines and olive oils and tasting those delicious products as well as having the chance to order bottles to be shipped home. This is a wonderful excursion and very well worth the extra cost. Highly recommended!
October 2015
Amazing wine tasting experience.
June 2015
Castle was beautiful, host was gracious and winr was delicious
July 2014
Our private tour was amazing! Our guide, Alejandro was excellent. He spoke great English and provided us wonderful information and background throughout the tour. We booked the tour with only a couple days notice and it was on a Sunday yet VIATOR organized a personal tour of one of the wineries still (most are closed on Sundays). We got a tour from the actual wine maker where we started with a few white wines, did the tour, and then sat down (outdoors) for more wine, cheese, and meats. The dinner at La Tappas was fabulous. Would absolutely recommend this tour to anyone who wants to get outside of downtown Florence and truly experience some of the Tuscan region!
December 2013
This was a last min booking. We were in Florence and thought it would be great to get out into the countryside for the day, and my husband did not want to rent a car! So, the night before we're looking online for a tour, of course everything was booked up, and then we came across this tour. It was a little more than we wanted to spend, but we thought why not, and boy am I glad we did. We were met at our hotel, right on time, in a beautiful clean, comfortable car by our driver, Guido Laschi. I cannot say enough great things about him, his English was impeccable, he was knowledgeable about the area, he showed us things that we would have never found on our own, it was like touring around with an old friend, he even made dinner reservations for us at a restaurant we had been dying to eat at, but unable to get reservations for. He definitely made our trip, and the money we spent worthwhile.
December 2013
Our driver was English speaking (from the UK). He picked us up at our hotel in a beautiful Jag. We tasted wonderful Chianti region wines at a very small winery. They also served us cheese and bread and showed us where the wine and olive oil is made. We then drove to a small town for coffee and to window shop. It was very romantic.
July 2013
This was by far our favorite tour. Our winery hostess, Nadia, was not only informative but very entertaining with her personal stories of working in the wine and grape business. We had so much fun learning about Classico Chianti and tasting the winery's selection. Our dinner at La Toppa in San Donato was also delicious. The setting, hospitality, and weather were everything you can image for this region of Italy. This tour is a great break from the hectic cities of Florence and Rome.
July 2012
Outstanding experience. My boys loved meeting Alexandro and being taken around by him. He showed us breathtaking country side, took us to a terrific winery and also to meet folks he knew who made wine and balsamic vinegar. The whole day was one sumptuous feast, and he let it develop as it did. We spent more time in one place and so we adjusted the itinerary. It was a warm memorable introduction to the Chianti region.
Duayne M USA
July 2010
Our driver, Allesandro, was simply outstanding. Worth a try to request him. The tour of Castell di Querceto was just right and and our young hostess was lovely and well informed. As for the tasting three very "shallow" pours with one of the three being a dessert so, for me it doesn't really count. Good stuff, but it would have been an appropriate gester to ask if anyone wanted a fuller taste of their favorite. If I could do it again we would have bought a bottle to sit and drink right there. In any event, it was a good experience and Allesandro made it outstanding.
E Darrin C USA
August 2008
Driver was excellent, tailoring the return trip to our special wishes. The vineyard chosen (DieVole) was an awesome experience.
Advertisement
Advertisement