Explore the Italian gems of Pisa and Lucca on this full-day private tour from Florence. Your guide will lead you first on a 2-hour private walking tour of Pisa, where you'll see the Baptistery, the famous Leaning Tower and more. Then, enjoy some time to stroll along the 16th-century walls of Lucca and sightsee independently before reuniting with your guide. Your tour will conclude with transportation back to Florence.
Highlights
Private tour from Florence of Pisa and Lucca

Your own private guide will show you around Pisa

Walk along Lucca's 16th-century walls
See the Leaning Tower of Pisa
English-speaking guide can create the best tour based on your interests
What You Can Expect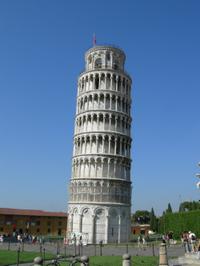 After being picked up at your Florence hotel, you'll depart with your guide to Pisa. Once there, enjoy a 2-hour walking tour as you learn the history behind this vibrant city. Pass the Piazza dei Miracoli, the Baptistery and take your picture with the world's most famous slanted building, the Leaning Tower of Pisa. You'll also pass the stunning medieval Cathedral, with construction dating back to the 11th century.

Follow your guide to Piazza dei Cavalieri to see the renowned university, Scuola Normale, founded in 1810 by Napoleonic decree. Afterward, break for lunch, with the option to eat at your own expense in either Pisa or Lucca.

In Lucca, soak up some free time to explore the Piazza Anfiteatro, the Torre Giunigi and the Duomo di San Martino, and walk along the famous 16th-century walls. Afterward, reunite with your guide and enjoy a smooth ride back to your hotel in Florence.
Itinerary
This in-depth, private tour is hosted by an English-speaking guide in Pisa. Please list any special interests you have (art, architecture, history, culture) at the time of booking to alert your guide, so that he or she can prepare for your private tour.
December 2013
This was one of the best days of our trip! Our guide, Alexander, was the best! He gave us so much information about the area, the city and the history while we were driving. We had a private tour guide in Pisa. Before going to Lucca we stopped at a seaside town and enjoyed the day by the beach for a few minutes and that had a wonderful lunch before heading out. Great day!
Hilde A USA
September 2013
Wonderful trip, but very,very pricey for 2 people. It really left all the worries to someone else.
November 2010
This trip is so worthwhile. People of varying degrees of mobility should have no problem with it as both Lucca and Pissa are relatively flat areas. Our driver and guide, Sergio, was informative, humurous and gave us the option to spend more time in Lucca, less in Pisa as we opted to view the grounds only and not enter the buildings. You also get a private guide in Pisa who is local to the area which is very helpful. And then you get Lucca. Beautiful, beautiful Lucca all to yourself with tons of fun shops to look at, marvelous old streets and a beautiful square. If you like walled Medieval towns but have trouble with the steep hills then Lucca is for you!!! Would recommend this one highly.
July 2012
This tour was the 'splurge' of our trip and while we had a great day, it was a bit disappointing. We had a fantastic driver for the day - Allesandro - who was informative and enjoyable all day. In fact, when the restaurant in Pisa to which he usually takes people on this tour was closed, he found a wonderful restaurant in the countryside between Pisa and Lucca for us - it was truly one of the highlights of our entire vacation! While we enjoyed both towns, the Pisa portion was a bit disappointing. Read carefully - tickets in Pisa are NOT included and you will need to wait on lines (which can be long) to buy them (and they are not cheap!). Our guide there (Francesca) was just o.k.; she spent much less time with us than was expected/ advertised and when we did not want to go into certain buildings, she did not offer us any alternatives. You are on your own in Lucca and while we were provided a map, more direction / suggestion would have been appreciated (perhaps a suggested walking tour / top sights to see?). All in all a good day, but not sure it was worth the cost.
Peter M USA
January 2009
While quite expensive, my wife and I found the private trip to Lucca and Pisa was a good value. This was due, in good part, to our driver and highway guide who was knowledgeable, humourous, and unflappable--as proved during our 3-hour trip from Pisa back to Florence when a major accident on the main thoroughfare closed the road to traffic. We loved the four hours alone and without a guide in Lucca, the old part of which is small enough to navigate without a guide. Make sure to see Tintoretto's 'The Last Supper' at the Cathedral San Martino!!! It's superb! I recommend Buca di Sant'Antonio for lunch. It's just off the main piazza. Pisa was less interesting, but a worthwhile side trip. Because of the cost of the day trip, I was put off by having to pay for tickets to enter the baptistery, as well as the Museo delle Sinopie.
Gerardo F T Mexico
January 2009
Very nice experience. The guide in Pisa was excellent.
January 2014
Our driver was fantastic, but our Pisa guide kept trying to convince us not to climb the tower (which ended up being a great experience) and the restaurant she recommended was closed. My 9-yo kept asking questions, and she didn't seem able to handle disruptions to her script. We did love walking the walls in Lucca, which had lots of things for my active children to do along the way.
Advertisement
Advertisement