Live like royalty for a night with this 1.5-hour Renaissance banquet in a Florentine palace. Indulge in a 4-course meal complemented by Chianti wine in the palazzo's lavish banquet hall. While you savor each traditional Tuscan dish, classical musicians and dancers dressed in costume will perform popular choreography from the Renaissance era. If you'd like, stand up and try your hand at some of the steps.
Highlights
Renaissance banquet and entertainment evening in Florence
Spend the evening in the banqueting hall of a beautiful Florentine palazzo
Enjoy music by harps, flutes and a soprano singer while watching 15th-century dances
Feast on a 4-course banquet, enjoying delights such as cured beef and ravioli
Sip Chianti wine and coffee, and take home a certificate of your experience
Recent Photos of This Tour
Renaissance Court Banquet in Florence
What You Can Expect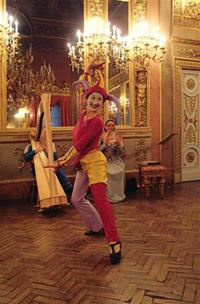 Your evening will begin in central Florence, where you'll meet with your host and walk to a stunning palazzo, once home to members of Florentine nobility. Arrive inside the opulent banquet hall and settle into your seat as the show begins.

Music from the Renaissance era will strike up, with the impressive pitch of a soprano singer, accompanied by harps and flutes. Dancers in 15th-century garb will impress with their traditional steps and, if you're lucky, might select you to join them on the dance floor.

Continue to enjoy the performance as your 4-course meal is served, offering delicious salads, meats, dessert and more. Sip local Chianti wine with your dishes and digest with an after-dinner coffee. When the meal and music concludes, you will be given a personalized certificate on parchment with the palazzo emblem to commemorate your night.
Itinerary
Sample Menu:
First course:
Cured beef with arugula (rocket leaves), cherry tomatoes, pine nuts and mozzarella
Second course:
Risotto with asparagus, ricotta and spinach ravioli with tomato and basil sauce
Third course (choice of one):
Beef with roast potatoes
Breaded sirloin of cinta senese with roast potatoes
Fillet of sea bream with scalloped potatoes and a mussel sauce
Dessert:
Tiramisu and Bavarian cream
November 2015
October 2015
A lovely evening! Had so much fun! Very professional entertainers and the food was EXCELLENT! Very good value for money!
October 2015
Enjoyable evening of entertainment and great food. What else can I say.
October 2015
Amazing ... for sure I'll take it again.
October 2015
This was an excellent night out the venue was the Piazzali Borghese which was the former very opulent home of Pauline Bonaparte the Favourite but scandalous sister of Naploeon.. On arrival we were given a glass of Bubbly which was a nice touch made us feel welcome.. The meal and Wine was excellent plenty of it and and the staff were all very pleasant and the service was first class ..The entertainment was really good took us back to the Renaissance as promised and everyone seemed to be having a good time.. I was invited to dress up which was fun and I have some great pictures to remind me of a very enjoyable evening out in Florence which I would certainly recommend ..
When looking for the Venue it is next to the Borghese Palace Art Hotel which is no 174 Via Ghibellina and the Venue is 110 Via Ghiballina note that the street numbers don't follow on so keep looking .. Also the street had a different name on either side so we walked straight passed at first so you need to look at both sides of the street when looking for Via Ghiballina the easiest way would be take a tax but they are not cheap in Florencei!!
October 2015
What a fun evening and great food. It was a little hard to find, because did not understand the address and colors. Their was so much food it never ended. The games were fun too.
September 2015
The evening itself was Fantastic - the meal outstanding and the entertainment was enjoyable. However there were a few things that need to be improved - I did not want to rate the experience negatively but these issues are ONE STAR. First - the venue is located at a hard to locate building. CAF Tour who was the point of contact for this evening sent me to the wrong location - they google mapped the address and directed me while on the telephone to a wooden door that was on the side of a building next to Viktoria Lounge Bar - THIS IS NOT THE LOCATION. Giving up we started to walk back to the hotel and passed another building with the same address 200 meters up the street. We were not the only ones late - about 30 other folks came about an hour later after us. Apparently there is a north and south address - Funny that the Tour organizer did not know this. The second issue was the listed dress code. It specifically stated no sandals. Well - when we finally got to the venue, everyone was dressed up and many were wearing sandals - cant really get dressed up wearing sneakers.... This was a great evening after we overcame the challenges - CAF and Viator are doing this business a great disservice by not fully understanding where the venue is located and what actually happens during the evening. I would hope someone at CAF would work with their staff to educated them on this venue's location - and Viator update the dress code restrictions. More people should experience this fun evening and wonderful food.
August 2015
April 2015
What a fabulous way to start our visit to Florence. The Palace is magnificent and the entertainment was quite charming. The food and wine were of a very high quality and most enjoyable.A wonderful evening!
March 2015
This was a terrific night and the entertainment was so much fun, I even got dressed in the medieval clothes and danced with the male dancer to one of the dances. The food was wonderful and there was so much of it and there was plenty of wine. Everyone got into the spirit of the night and we all bonded and had a great night. The room was just stunning with all the gold, mirrors and candelabras. This night will not be forgotten.
Advertisement
Advertisement