117 Reviews
Location:

Florence, Italy

Duration:

4 hours

(approx.)
Step back to 1960s Italy as you drive an eye-catching vintage Fiat 500 car through Tuscany! Following a guide out of Florence, drive into the lush Tuscan hills, passing through picturesque villages and attracting nostalgic glances from admiring passersby. Your 4-hour tour ends in the best possible way – with a relaxing meal on a private terrace.

This unique Florence tour is limited to five cars (with 15 people total), ensuring you'll enjoy a small-group experience.
Highlights
4-hour Tuscany tour from Florence by vintage Fiat 500

Follow your expert guide and drive into the Tuscan hills

Visit the Church of San Miniato al Monte, and enjoy the views over Florence

Stop for photo opportunities and to change drivers if you wish

Enjoy a meal in Tuscany before returning to Florence

Small-group tour with a maximum of 15 people in five cars ensures personalized attention from your guide

Recent Photos of This Tour
Self-Drive Vintage Fiat 500 Tour from Florence: Tuscan Hills and Italian Cuisine
What You Can Expect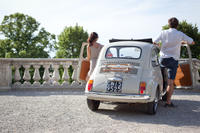 Fiat 500s sprung onto the Italian motoring scene in the late 1950s as a stylish yet affordable vehicle. Ever popular, modern Fiat 500s are frequent sights on Florence's streets, but the vintage models are harder to find. Luckily for you, you'll drive one of these rare classics -- a lovingly restored 1960s model -- on your Fiat 500 tour of Tuscany!

After meeting your guide, walk to the garage where you'll find your vintage car ready and waiting. Listen to a safety briefing before taking part in a practice session, aimed to get you familiar with the car's manual gears.

Fiat 500s are small compared to most of today's cars, so with comfort in mind, bookings are only accepted for a maximum of three adults, or two adults and two children, per car. Should your group be larger, no worries – up to 15 people can book, and each group will be divided into separate cars, traveling together in a colorful convoy.

Following your attentive guide (who will be in constant radio contact throughout the tour), drive through Florence's quieter streets and out into the Tuscan hills. First stop is the Church of San Miniato al Monte, perched on a hill overlooking the city. After enjoying the views, step inside the Romanesque structure, and see why many call it Italy's most beautiful church.

Driving further into Tuscany, pass through quaint villages, attracting smiles from passersby. Enjoy the attention from onlookers as you make several stops for photos, to chat with your guide or to switch drivers if you wish. Before returning, stop for a meal on a private terrace in the hills. Dishes vary, but will always be typically Tuscan. Expect antipasti, featuring delights such as crostini with tomatoes and locally cured salami. It's a beautiful ending to your day in Tuscany!
September 2015
This was one of the highlights of our trip - we had a small group - our guide Fabiano was fantastic. What blast driving this Fiat - A great way to see the outskirts of Florence. And of course, lunch was delicious at a beautiful setting overlooking the beautiful tuscan country side. This is a must DO - wish we had time to do all the tours with this company Walkabout
September 2015
Fantastic experience, a highlight of our trip, with Fabio as guide.
Four and a half hours of great fun.
September 2015
What a hoot! Franciesco led the way in his fiat followed by 4 Vespas and then us in the fiat. Up through the Tuscan hills with interesting and scenic stops along the way. Everyone was on a high from the get go and patience and leadership shown by Francesco was remarkable. We booked this tour at the last minute and we are so glad we did.
August 2015
I absolutely loved this tour. Being able to drive the Fiat gave the tour a very different angel and made it fun too. We had Angel as our host, who was brilliant. He took us to some picturesque places so we were able to stop and take some pictures too. We were the only group so we were lucky enough to have Angel as our photographer too. We ended up driving to a private property for lunch where they had fresh pasta and tasty wine while we overlooked a breathtaking view. We then drove back to the city to conclude this experience. what an incredible one - I highly recommend it!
August 2015
This tour was so much fun. I enjoyed driving the little Fiat through Florence.
As we drove out of the city we stopped and had some great views of the city, I got some great shots of the Duomo
August 2015
a very enjoyable experience ,great guide ,loved driving the car through the streets of florence and up into the tuscany hills very scenic . The lunch was really good and in and wonderful setting .
August 2015
Fun and crazy. I loved it Don't miss it people.
August 2015
This outing was the highlight of our trip to Florence!! We loved it!! We were a group of four and all of us really enjoyed this trip!! We can not say enough about Julian and the staff that led this he grew up in Seattle and Florence and his knowledge of the city and its history was definitely an asset.
The driving was an adventure and the views of Florence were ones that you simply could not experience if you stayed only in the city. It was very warm the day we went, and the cars we did the Fiats, not the Vespas do not have AC but that is actually part of the experience! The vintage cars were beautifully maintained and ran very well, the two drivers enjoyed the experience of driving a vintage vehicle with its unique transmission.
The lunch in the Tuscany hills was delightful and just right - served by the local tour company staff. It was a delightful respite and opportunity for conversation with our fellow travelers.
We HIGHLY recommend this trip!
August 2015
Words can't begin to express HOW MUCH FUN our little family of 3 had on this tour! Julian was the consummate guide and host, from Florence as well as Seattle, handily assisted by David in the shop and some delightful ladies whose names escape me at Julian's family villa tour's destination. Took a little bit to find the starting point place in Firenze, but once we did, well worth the hike to get there! It is at the Walkabout Office next to the Palazzo Vechhio. Note too to travelers by foot who don't want to pay a euro to use the WC: Walkabout has a lovely public restroom! It took roughly an hour for everyone to gather and get trained. American heads up: you need an International Driver's License to drive in Italy easily acquired if you belong to AAA. We ended up being a convey of three adorable Fiats with about 6 Vespa scooters in front of the Fiats and Julian in his signature navy Fiat at the lead. Once loaded we all enthusiastically drove through the city streets up into the hills of Florence, making two picturesque stops along the way. It was hotter than Hades the day we went, so be advised there is zero, zip, nada AC in the brightly colored little sardine cans with lawnmower sounding motors! But oh was it a blast! Hubby and I took turns driving. Back seat has enough room for one 16 year old teen FYI. Not able to drive as the age minimum is 18. Be advised anyone who gets car sick should absolutely not ride in the back seat. That advisory aside, if you and your passengers are ready to roll, game on! The roads are narrow, the hills require down shifting NO AUTOMATICS and the intersections are hair raising! Got to use the horn once! Again, it was all fun! Once at the extremely - and enviably - picturesque Villa, we were served a feast of apertivo, vino and then even a pasta main course, dessert and espresso! Ooodles of bottled water too. The setting, attention to detail, the view... Magnificent! Wish we could have stayed but had to drive ourselves back! Grazie Julian!
August 2015
We had a great time. Laughed lots and enjoyed the excitement of travelling through the laneways and Tuscan hills in a Fiat 500. Definitely a highlight of our trip to Italy! What a hoot!
Advertisement
Advertisement