Tour code:
5070FLORENCEFIAT500
See Italy from behind the wheel of a retro Fiat 500 on this 4-hour tour through Tuscany. Take a spin around the countryside, enjoying panoramic views of Florence and a stop at the Church of San Miniato al Monte. Your guide will lead the way to a private terrace, where you'll enjoy a delicious Tuscan lunch before cruising back to your original departure point in Florence.
Highlights
4-hour Tuscany tour from Florence by vintage Fiat 500

Follow your expert guide and drive into the Tuscan hills

Visit the Church of San Miniato al Monte, and enjoy the views over Florence

Stop for photo opportunities and to change drivers if you wish

Enjoy a meal in Tuscany before returning to Florence

Small-group tour with a maximum of 15 people in five cars ensures personalized attention from your guide

Recent Photos of This Tour
Self-Drive Vintage Fiat 500 Tour from Florence: Tuscan Hills and Italian Cuisine
What You Can Expect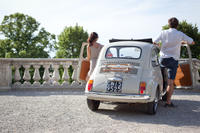 Fiat 500s were first introduced in Italy in the 1950s and quickly won the hearts of Italians for their stylish looks and affordable prices. Nowadays, vintage models are harder to come by, but you'll have the rare chance to ride a 1960s model on your tour.

Join up with your guide in central Florence and head to the garage where your retro car will be waiting for you. A safety overview will be provided as well as a test run with car's manual gears to ensure you're comfortable before hitting the road.

Then, you're off! Your guide will keep in constant radio contact ahead as you follow through the city streets and up into the hills of Tuscany. Stop to see the beautiful Romanesque design of the Church of San Miniato al Monte, noted by many as the country's most beautiful church, and soak up the surrounding views of Florence below.

Hop back in your Fiat and journey deeper into Tuscany, pausing for photos and passing through charming hillside towns. Your guide will lead the way to a private terrace, where you and your group will enjoy a traditional Tuscan meal, complete with regional specialties such as crostini and cured salami. After your stomach and taste buds have been sated, you will drive back to your original departure point in Florence.
Itinerary
Please note: Fiat 500s are small compared to most of today's cars, so with comfort in mind, bookings are only accepted for a maximum of three adults, or two adults and two children, per car. Should your group be larger, no worries – up to 15 people can book, and each group will be divided into separate cars, traveling together in a colorful convoy.
June 2016
Hola Ángel, soy Pepe....jajajaja, como me bautizaste. Bien, soy Jordi. Tanto a mi mujer como a mi nos encantó la experiencia. Es ver paisajes de Florencia que de otra forma no veríamos. Ángel, un fenómeno, tanto por sus atenciones como en las explicaciones del recorrido. Si podéis, hacer el tour.
June 2016
We had an awesome time on the Fiat 500 tour! You drive all across the Tuscan countryside with a group of Fiats and Vespas. We stopped for lunch halfway through at a villa that overlooks a valley. It was beautiful, and the food and wine was delicious. Our tour guide Fabian was great too!
Kristin G United States of ...
May 2016
Wow! This was just an amazing day! our guide, Francesco, was fabulous and very patient with us driving these little cars. : And the lunch was so special as well as delicious. We had no idea that this adventure would be so wonderful. It is worth every penny and we would recommend it highly!!! If we ever get back to Florence, we will definitely put this on our agenda and probably add the cooking class out at the vineyard.
May 2016
We came to Florence for a long weekend with my boyfriend and this tour was definitely the highlight - which you will understand is no mean feast after you see the beautiful Florence. The guides were great fun and travelling with small group our guide made time to speak to everyone individually and share the bits that were interesting to us. I have LOVED the little red Fiat 500 so much I felt a little heart broken when the tour was over. All in all it is worth every penny!.
May 2016
A fantastic experience in such an iconic car in beautiful scenery. Our guide, Angel, was very knowledgeable and enthusiastic and did a superb job. The trip included lunch at the boss's country house and was a real treat. This is a MUST do for car enthusiasts and we most certainly will return - hoping for an Abarth next time please :
April 2016
We booked this tour via Viator and it was the absolute highlight of our trip to Firenze!
You have a quick briefing on the car's controls and then off into the countryside. We were the only car other than the guide leading us and four Vespa's and we had such fun! We hardly got out of 3rd gear but it didn't matter as we made our way up winding streets to a private villa.
We had a wonderful lunch in the grounds before setting off back to Firenze... I lost count of the amount of photos taken of us and waves from tourists! It felt so special and we would love to do this tour again when we return...
Thank you to Fabien for his knowledge and friendliness even though his car broke down and they hurriedly brought a replacement!
April 2016
Great tour Fiat ran like a champ and driving in Italian traffic was an experience , once out of city
drive through country side to vineyard were we had early dinner was beautiful. Guide was an young man with a lot of knowledge and enthusiasm for what he was doing.
April 2016
This tour was the absolute highlight of our time in Florence. Hosts Johnny and Angel did a fantastic job, and we and #39;re available to answer various questions at each stop. Weaving through the Tuscan countryside was both fun and beautiful. This tour is a MUST do! :)
November 2015
We had such a great time!!!! The tour guide was wonderfull and took us to places that the tour buses couldn't go. We had a delicious meal in a private kitchen in the Tuscany hills. Coming back into the city people loved the site of 6 vintage fiats . Many were taking pictures of us and filming the fiat caravan. We felt like we were being chased by paporazzi. The day was great from beginning to end.
November 2015
An excellent experience. Location of the company in the middle of town. Julian was an excellent guide and had a great love for and knowledge of Florence. A fun must do experience followed by a beautiful lunch.
Advertisement
Advertisement