Tour code:
7032FIAT500PICNIC
Drive through Tuscany's idyllic countryside in a vintage Fiat 500 and relax by the pool of a classic Tuscan villa on this 5-hour self-drive picnic tour from Florence. Travel in convoy with an expert guide and admire the gentle Tuscan landscapes as you trace quiet, country roads to the villa. Then, enjoy time to swim in the pool, stroll the gardens and enjoy a gourmet picnic lunch with wine tastings.
Highlights
5-hour Fiat 500 self-drive tour from Florence
Follow your expert guide along secluded roads into the Tuscan countryside
Spend time at leisure on the grounds of a beautiful villa
Escape the midday heat by taking a dip in the villa's outdoor pool
Relax with a pool-side picnic lunch and enjoy fresh breads, cheeses and cured meats
Recent Photos of This Tour
Self-Drive Vintage Fiat 500 Tour from Florence: Tuscan Villa and Picnic Lunch
What You Can Expect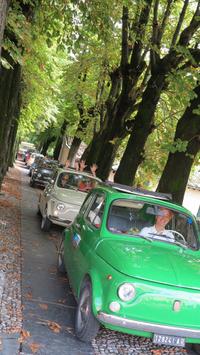 Meet your expert guide on the outskirts of Florence, and get a safety briefing and introduction to the famous vintage Fiat 500s.
These ultra-cool 4-seaters are a relatively rare sight on Italy's roads, so this self-drive tour offers an exciting opportunity to get behind the wheel of one of these iconic vehicles. Get driving instructions and take a practice session. The Fiats have manual gears so if you're the nominated driver, you'll need to be confident using them.
Once you're ready, set off in convoy behind your guide into Tuscany's beautiful countryside.

Trace the peaceful roads across the undulating landscapes, passing leafy vineyards, velvety fields and cypress groves. Make regular photo stops and after roughly two hours, pull up at an elegant country villa.

Leave your Fiat and relax in the gorgeous surroundings. Stroll through the exquisite gardens and feel free to take a swim or laze beside the outdoor swimming pool.
Then, dig into a gourmet picnic lunch by the pool. Dishes vary but expect local favorites such as bruschetta (tomato and basil on toasted bread), cheese, cold meats and pastas. Accompany your food with tastings of wines made at the villa.

After around 2.5 hours at the villa, hop into your Fiat again and end your tour back in Florence.
November 2015
OMG, so much fun. Be sure you feel comfortable driving a stick. The lunch was a lot of fun too.
October 2015
It was fun and beautiful.
August 2015
great experience, lots of fun, wonderful guide....
would highly recommend this experience !!
July 2015
This was a fun tour! Villa was beautiful and lunch was delicious!
June 2015
what a fun few hours we had driving those gorgeous little cars through beautiful scenery. Tour guide so friendly and helpful and keen to help us take good photo shots. lunch amazing and at a beautiful setting with a lovely swimming pool. great to escape the city as well. Fun and well worth doing : :

June 2015
This was a great although there was a wedding booked in at the villa, so rather than sitting by and enjoying the pool we were put into the wine cellar which was actually quite nice and cool in comparison to outside however, not what we were expecting. And although Viator will let you book the wine making session, it is not available until August at the earliest so we were disappointed we weren't able to do this. However this wasn't the fault of the company that ran the tour, rather that of Viator
The service the company ran I could not recommend enough! The starting location is very easy to find, taking about 30 mins on the bus from central Florence and very simple to find and navigate. We were given a quick run down on the cars and the dreaded double clutch it's simple once there's been a demonstration given and a quick test drive in the private grounds and then we were off! At a good pace and following as a convoy it was a truly unique experience! Although our little Topsy broke down half way through these are classic vintage cars don't forget we were able to swap and drive a different car so we didn't lose out on the experience. Then the food afterwards was great too with the opportunity to buy some of the wine made there at the villa, all in all a very unique experience.
June 2015
This trip was fantastic. Very well organised, the cars were in fantastic condition and the views driving around Tuscany were exceptional. The lunch was very nice, lots of local fresh produce and plenty of wine to wash it down! We had a good chat and laugh with the other people on the tour.
The double clutch took a bit of getting used too but after that it felt really special to be driving around Tuscany in a piece of history. Especially with the excellent music playing to accompany us!

June 2015
Amazing tour... The guide was great, the food... views.. wine and grounds were fantastic. Highlight of our trip... as we had many. You will never forget this one. The cars are too much fun!
May 2015
This trip was one of the highlights of our holiday and would without reservation recommend it to anyone visiting Florence.!!
December 2014
This tour was a highlight of our trip to Italy! The Fiat 500 cars were fun to drive- knowledge of manual transmission is a must. Driving through the Chianti countryside was scenic and the picnic at the villa afterwards was fantastic! Highly recommend this tour.
Advertisement
Advertisement