80 Reviews
Location:

Florence, Italy

Duration:

5 hours

(approx.)
Experience the best that Italy has to offer with this 5-hour experience combining wine tasting and a Fiat 500 tour. Departing from Florence, hop behind the wheel of a gorgeous 1960s model and journey into the Tuscan hills with your convoy. Then, park your classic ride at a 15th-century wine estate and villa. Enjoy the option between stomping on grapes on a winemaking experience, or relaxing with a vineyard tour and tasting.

Highlights
5-hour Fiat 500 self-drive tour from Florence, focusing on world-class Tuscan wines
Visit a 15th-century Renaissance villa and wine estate in the heart of Tuscany
Choose between two different wine tours, sampling famous Chianti Classico wines on both
Meet a local winemaker and stomp your own grapes (winemaking experience option only)
Explore the grounds, vineyards and cellars while sampling several locally produced wines (wine-tasting option only)
Recent Photos of This Tour
Self-Drive Vintage Fiat 500 Tour from Florence: Tuscan Wine Experience
What You Can Expect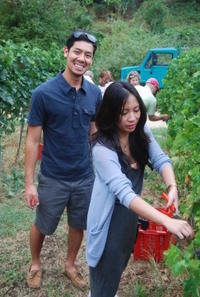 The Fiat 500 swiftly became Italy's favorite little car when it was first introduced near the end of the 1950s. Its retro-chic look has made early models the most desired vintage cars today in Italy, and you'll have the chance to hit the road with one yourself.

Make your way to a private garage in Florence, where you'll find your restored 1960s Fiat 500. Your guide will give you a safety overview and the opportunity to practice with the manual gears. The selected driver for each group must feel confident behind the wheel before you set out.

Then, you're off! Travel with your convoy into the Tuscan hills as your guide leads the way. Hear insightful commentary about the history of the wine region as you drive along the secluded country roads.

After a scenic, 2-hour drive through the Chianti region, you'll pull into the villa and wine estate, dating back to the 15th century. See the Itinerary section for details on the two activities to choose from before making the journey back to Florence.

Itinerary
Tour Including Wine-Tasting Session:
Learn about the region's prestigious Super Tuscan wines on a 1.5-hour tour of the wine estate. With your knowledgeable guide, explore the vineyards and cellars, and then taste several local wines. During the tour, sit down in the wine cellar to enjoy a light lunch of crostini, meats and cheeses. You'll have time to spend at leisure in the grounds after your wine-tasting tour ends-- simply relax and sun yourself in the grounds!

Tour Including Winemaking Experience:
Meet the villa's head winemaker and get an inside glimpse into the day-to-day winery work that takes place on site. As you're entertained with lively accounts of wine harvesting, learn how to cut vines and have a go at stomping your own grapes – a classic trick that kick-starts the winemaking process. Sample wines at different stages of fermentation before tasting the finished products! Lunch comes next and consists of a traditional picnic served on tables on the villa's grounds. The exact dishes will vary but you can expect cold pasta dishes, bruschetta, cured meats and salads, served alongside a small glass of Tuscan wine!
December 2015
This was a great tour the guide was excellent and the cars a whole lot of fun to drive. after the driving we we treated to a great lunch a variety of wines to taste, pasta cheese and breads. we wold highly recommend this tour for something a little different
November 2015
Absolutely Fantastic Day Out. By Far the best thing you could do while away.
Just Do It
November 2015
This tour was one of the highlights of our vacation. Our tour guide David provided us with all of the information we needed to make it safely through the beautiful hills and valleys of the Tuscan country side. We arrived at the winery and were treated to a wonderful lunch with an excellent selection of wines followed by a tour. David was attentive to our group and made sure we were well prepared to drive these great little cars. I would highly recommend this tour to anyone who wants a nice day away from the city and is up for driving a great old car and seeing some wonderful scenery.
November 2015
Fantastic tour. Driving vintage Fiats around Tuscany is an incredible way to see the countryside. The vineyard is beautiful with great wines. Our tour guide Nicol was friendly, knowledgable, and very fun.

Matthew H United States of ...
November 2015
One of the best activities that I did on this trip to Italy. The instructor was knowledgeable, informative and so fun to be with. The experience outside of the city is one not to be missed. I highly recommend to anyone wanting to enjoy a unique experience outside of the hustle of tourist packed streets.
October 2015
This was a highly entertaining jaunt through the hills of Florence and the Chianti region in these vintage Fiat 500s. Our guide, David, was absolutely lovely and we thoroughly enjoyed our time with him. Driving the cars was probably the highlight, but the winetasting and light lunch were also quite nice. The length of this adventure was ideal. Only thing missing was we would have liked to taste more wines, perhaps adding more than one stop to make it a more diverse winetasting experience for the passengers in the cars, of course. But overall great fun. Highly recommended!
October 2015
This tour was MY favourite! Now, true, I'm a guy who likes classic cars, the older the better--- but I also like driving in wine country with the top down, so this was a dream tour for both my wife AND me!
Nicco met us at the clubhouse only 5 minutes from Florence by cab you can also take a bus and we saw him shining up his stable of fully-restored 60s and early 70s Fiats. Unbelievable! Just like the photos!!
We chose Giacomo the cars all have names because we like the Limoncello Gelato colour of him. It turned out to be a great choice because he did have some syncromesh gears being a '69, so we didn't have to double clutch like some of the others had to do. Nicco spent alot of time teaching us how to drive the Fiats, including double-clutching which is easy to learn by the way, and gave the passengers their three jobs. You won't believe where the starter switch and choke is!! And don't look for a gas gauge--- there ain't one.
We spent a beautiful afternoon on some country roads driving through beautiful scenery stopping a couple of times for pictures. SO MUCH FUN---- like driving a toy car. You won't believe the horsepower!! The winery/cheese/olive oil farm we stopped at was so good. We spent an hour tasting to our hearts content, with Martina telling us SO much about growing grapes----- ask her anything!! With the top folded back, it was just like driving through a postcard of a picture taken in the 1960s. Do NOT visit Florence or Tuscany without taking this tour---- you will remember it forever. :
October 2015
This was so much fun! What a great adventure and David our guide was great! It was a fantastic time driving the vintage cars, and the lunch and tour of the estate was just charming. We laughed together and enjoyed the views of the countryside and the lovely wine! Would definitly do it again!
September 2015
The host was very welcoming, courteous, and hilarious. Driving the fiats around was a fun excperience and a great way to see the area while gaining some local knowledge. I would recommend this to everyone.
August 2015
This tour was awesome and a great way to see the beautiful Tuscan countryside as well as get to drive yourself around in a vintage fiat car. After the drive, we then stopped at a villa where we had a delicious lunch and tasted local wines. I'd recommend to anyone , was a lot of fun !
Advertisement
Advertisement