See the Tuscan gems of San Gimignano, Siena and Greve in Chianti on a day trip from Florence. Stop first in the city of Siena to visit a 'contrada' museum for some Sienese history, as well as the Basilica di San Domenico for an interior tour. Afterward, explore the medieval hilltop town of San Gimignano and enjoy a tasting of local blends at a nearby winery. Top off your trip at the village of Greve in Chianti before returning to Florence.
Highlights
Day trip to Siena and San Gimignano from Florence, led by a tour escort
Travel through the picturesque Chianti countryside in Tuscany
Inside visit of the Basilica of San Domenico in Siena

Explore Siena old town with your guide

Visit one of Siena's contrade museums and learn all about the city's famous contrades

Visit of a Picturesque medieval Chianti village, famous for its colors and charm
Recent Photos of This Tour
Siena, San Gimignano and Greve in Chianti Day Trip from Florence with Wine Tasting
What You Can Expect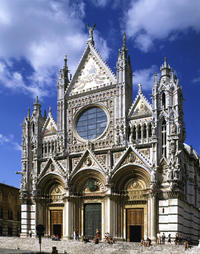 Depart from central Florence and ride south through the Tuscan countryside by coach. Gaze out at the olive groves, green hills and vineyards that make the Chianti region so stunning.

Arrive in Siena, heading first to the Basilica of San Domenico. Admire the Renaissance artwork inside with your guide before taking off on a walking tour. Pause to marvel at the striped marble of the Siena Cathedral and then enter one of the city's contrada museums.

Learn the history behind the contrades, or districts, of the city as you wander the exhibits. Hear about the individual traditions of each still celebrated today during the famous Palio horse race, which takes place in the main square twice a year. Afterward, relax with a brief break to purchase lunch.

Continue to San Gimignano, a medieval hill town best known for its impressive towers and frescoes. Soak up some free time to explore its streets independently before traveling to a small winery in the Chianti hillside. Walk in the vineyards, visit the barrel room and sample four delicious local wines, accompanied by snacks.

Top off your trip with a visit to the charming village of Greve in Chianti to peruse the local shops and main square. Your trip will conclude with transportation back to Florence.

Itinerary
Please note: When the Museum and the Oratory of the Contrada are not accessible, it will be replaced with the interior visit of the Cathedral or another site of particular historic and cultural interest.
April 2016
Exceptionally good value for the money. The highlight of our first trip to Florence. Cannot believe how much was packed into the day. There is no way we would have managed to see and experience everything that was included in the tour. The tour guide and arrangements throughout was first class and we all fell in love with San Gimignano which was something like out of a film set! Siena was also amazing and we were taken to places that were certainly off the main tourist routes. All in all a magical day and one that all our family will certainly not forget for a long while. Would have no hesitation in recommending this tour - worth every penny!!!

April 2016
Great way to see the ancient towns. Martel was a great guide and it wasn't hard to find the bus stop near the train station. We got about an hour to explore San Gimignano which isn't hard - it's quite small. As Martel recommended, it's better to visit the fort for the views than climb the towers. After all, better to get pics of the towers than pics from the towers. Siena was much larger and we had much more time there. The square where the Palio takes place is amazing. We had time to get lunch and walk around and then got a walking tour and we got some great views of Siena on the walk. The day ended with a visit to a winery through a very scenic area and after a short stop in Greve, we headed back to Florence.

April 2016
April 2016
Cette excursion est très bien organisée. Notre guide dans le car et celle à Sienne étaient parfaites. Elles parlaient un français impeccable. Notre guide à Sienne nous a parlé de sa ville avec beaucoup de détails historiques. C'était une visite très intéressante. Les deux petits villages visités en Toscane étaient typiques et très dépaysant. Je recommande cette excursion.
April 2016
Fabulous day, well paced and enjoyable. I would have loved a little more time in San Gimignano.
March 2016
The tour was excellent! The guides were wonderful and clearly enjoy doing what they do. The trip was extremely organized and ran very smoothly. We did a lot in one day and it was truly memorable!!
March 2016
A wonderful experience. Our tour guide in Siena was engaging, she made the tour come to life. Sa Gimignano is beautiful. You need to be prepared to walk, a lot. Wear comfortable thick soled shoes. The uneven stones and inclines are numerous. The wine tasting was very informative. You will know all about Chianti when you are done. Highly recommended. Have fun.
March 2016
Expire the pouring rain all day, this was a superb tour. The coach guide was absolutely fantastic, he never tired of telling us bits of information all along the route, spoke perfect English and Spanish. The walking guide in Siena was also passionate about her city and the wine tasting was a treat!
Would highly recommend this trip.
February 2016
I simply cannot say enough about the quality, value, and excellence of this tour. Our tour guide Keyko was superb. She was lively, cheerful, entertaining, and interested in us as well as the points of interest on the tour. She had accurate descriptions of the city that we were passing as we were leaving. She explained what the day would be like and gave us details all along the way. Our first stop in San Gimignano was perfect. Keyko took us to the very top of the city for an amazing view. She gave us options and opportunities to do what interested us the most. As we boarded the bus for Siena, she explained what the tour of that city would be like. She then offered us options for lunch and told us when to meet our local guide. The local guide Maria was phenomenal. She truly loved her city and exposed us to many places that were off the paths and not available to most tourists. As we boarded the bus for our stop at a winery, we saw the beautiful rolling landscape of Tuscany. The winery stop consisted of plentiful 'tastings' of wine, explanation of the wine, and some delicious local salami and cheeses. We then boarded the bus for a stop at Greve. Even though it was low season and later in the day, the town still welcome us and the quaintness of it was heartwarming. We then boarded our bus for our trip back to Florence where Keyko gave us dinner suggestions and even walked us to some excellent restaurants. Our bus driver Franco was an excellent driver, making us feel very safe and well taken care of. All in all, one amazing day!
January 2016
Advertisement
Advertisement