1413 Reviews
Location:

Florence, Italy

Duration:

10 hours

(approx.)
On a full-day trip from Florence, you'll explore two gems of Tuscany: Siena and San Gimignano. Via air-conditioned coach, motor through the breathtaking countryside of Chianti en route to charming Siena to walk the old town and go inside the Basilica di San Domenico. A contrade museum will introduce you to Siena's various historic "contrades," or neighborhoods. Then it's on to the San Gimignano 1300 Museum to watch artisans make miniature models of the medieval city. Round out your day by sampling delicious local wine and traditional sweets.

Highlights
Day trip to Siena and San Gimignano from Florence, led by a tour escort
Travel through the picturesque Chianti countryside in Tuscany
Inside visit of the Basilica of San Domenico in Siena

Explore Siena old town with your guide

Visit one of Siena's contrade museums and learn all about the city's famous contrades

Walk through San Gimignano 1300 Museum, see a craft demonstration and sample wine and sweets
Recent Photos of This Tour
Siena and San Gimignano Day Trip from Florence
What You Can Expect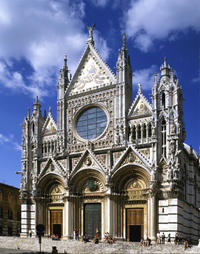 Enjoy marvelous views of picturesque Tuscany as you depart Florence via air-conditioned coach to head south to Siena. Take in the views from the large coach windows as you meander through the Chianti countryside's green, hilly landscapes filled with vineyards, olive groves and cypress trees.

After 90 minutes, reach the walled medieval city of Siena to tour the Basilica of San Domenico. Your guide will point out the architectural and design highlights, including remarkable Renaissance artwork. The walking tour of old town includes a photo stop at the magnificent cathedral.

Then it's time to learn about Siena's contrades, or the city's districts, at a contrade museum. Each of Siena's contrades has its own legends, traditions and anthems, and your guide will explain the contrades' history and significance during the famous Palio di Siena horse race. You'll also have time to browse the historical artifacts and documents on display.

Lunch is on your own (at your expense) in Siena's magnificent medieval square, Piazza del Campo. Then, it's about an hour coach ride to San Gimignano. Your first stop here is the San Gimignano 1300 Museum, where you'll watch artists build miniature models of what the city looked like seven centuries ago. Learn how the intricate models are made from clay, then fired and hand painted in detail.

After your museum tour, relax with a glass of white wine made from the local vernaccia grape, and sample a variety of medieval sweets, including ricciarelli (almond-flavored biscuits) and panforte (moist fruit-and-nut cake).

Continue to explore the museum on your own, or stroll through the local neighborhood, before returning to your coach for the drive back to Florence. This full-day tour ends at the same point you started.

Please note: If the Museum and the Oratory of the Contrada are not open, that stop will be replaced with an interior visit of the cathedral or another local site of historic and cultural interest.

September 2015
August 2015
First of all, any person that is looking to take this tour should expect to walk at least 5 miles of a lot of hills and on some old uneven roads. We were on a tour where guide was trying to present information in 3 different languages so I think the information on the bus rides was minimized and only few descriptions given on the route of sites along the way. Arriving in Sienna, expect at least a mile hike to St. Catherine's Church to meet tour guide. With the Palio bi-annual horse race the next day, the tour guide was very informative on the history of the city, the 17 contrade's areas of the city and history with Rome and Florence. The walk is very hilly on rough 1000 AD streets but sights and scenery are beautiful for pictures. Upon reaching the main square that was being prepared for the race the next day, we were given about 1 hour to tour the city. This would be great but we never got map to city and with the small roadways and high buildings, it would be very easy to get lost. The trek back to bus was another long hike before boarding to San Gimignano. Some good information on bus before arriving but again, a uphill climb to the miniature model of city and wine/cheese tasting. This was extremely disappointing as we had 59 people in group and were crammed into room no a/c with an impressive model of the city. After a short explanation, we were told the samples were on a small table in corner with very small plastic cups of wine and some small snacks. Bad thing was that only 4 people could be in front of the table at a time so many of us just left for the 45 minutes we had to view the sites of the city. I am giving this 5 stars due to the beautiful cities and sites we saw but do expect a lot of walking up hills and don't plan on the big wine/cheese sample.
August 2015
August 2015
Really good. Both guides -- Matteo and the lady who showed us round San Gimignano were excellent and the day was really well organized and enjoyable.
August 2015
August 2015
Lots of info, chance for good food and good shopping.
July 2015
This day trip was totally amazing. For me a dream come true, never thought I would see such beautiful scenery and buildings. The guide was informative, and provided a wonderful historical account of the area. I highly recommend this tour.
July 2015
Loved this tour. Well paced with a great tour guide who was with us all day. The tour guide in Sienna was wonderful too - so entertaining and informative. Highly recommend this tour if you are short on time and want to see 2 fabulous towns in 1 day.
July 2015
Loved this trip through Tuscany! I felt like we were spending the day in a postcard with the vineyards and olive tree groves. Enjoyed learning about the history and the annual horse race in Siena. Sienas crescent shaped plaza was beautiful and the only one in Europe! San Gimignano was wonderful! We enjoyed walking thought the hilly city with beautiful visa of the countryside. Also a great local shopping mecca!
July 2015
This was one of our favorite experiences while in Tuscany! If you ask anyone, they will recommend these two towns for a great experience. The tour guide we had was wonderful and knowledgeable, and we saw lots of incredible parts of the two towns. Don't forget to bring something to cover your shoulders in the various cathedrals, and make sure to be back to your check points on time, so that you have ample amount of time at each place. I wish we had more time to shop around in Siena, but our guided walking tour took a little longer than expected. San Gimignano has great areas for shopping, so make sure to hold off on your unique souvenirs until you get there! We would highly recommend this tour to anyone!
Advertisement
Advertisement