Special Offer
Book the combo of the 'Tour Only' option and save 4% compared to booking tickets to the two museums individually.
Skip the line to see two of Florence's top museums, the Accademia Gallery and the Uffizi Gallery. Led by an expert guide, first pay homage to Michelangelo's David at the Accademia, heading straight inside with your priority access ticket. Roam the impressive collection of art and opt for an included lunch, if you wish, before heading to the Uffizi Gallery. There, avoid the crowds again with your skip-the-line ticket and enjoy a guided walking tour, pausing at Botticelli's Birth of Venus and other Renaissance masterpieces.
Highlights
Italy combo: skip-the-line and guided tours of Accademia Gallery and Uffizi Gallery in Florence
Take a morning walking tour of the Accademia Gallery (Galleria dell'Accademia)
See the original statue of David by Michelangelo plus his unfinished Prigioni sculpture
Learn about the history of the Uffizi Gallery on an afternoon walking tour
Admire masterpieces like Leonardo da Vinci's Annunciation and Caravaggio's Bacchus
See the famous Birth of Venus and the Leonardo Room

Recent Photos of This Tour
Skip the Line: Florence Accademia and Uffizi Gallery Tour
What You Can Expect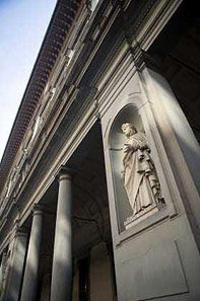 Explore Florence's two must-see art museums – the Accademia and Uffizi galleries – on this Florence combo tour. Learn about the famous Renaissance artists of Italy and see highlights like Michelangelo's David at the Accademia and Leonardo da Vinci's Annunciation on your Uffizi tour. See the Itinerary for a complete description of each skip-the-line tour, and a sample menu, should you opt for an included lunch with your ticket.
Itinerary
Accademia Gallery (1 hour and 15 minutes):
Start outside the Accademia Gallery at your chosen departure time, and then head past the entrance lines with your skip-the-line ticket and guide. As you walk, listen to stories about the bounty of artwork contained inside the gallery's walls. Works by Michelangelo are given pride of place, and your guide's commentary focuses on the artist. Admire his unfinished sculptures –
Prigioni
and
San Matteo
– and then gaze in awe at the statue of
David
that dominates the central gallery.
Created by Michelangelo when he was just in his twenties,
David
was sculpted just after he carved
La Pietà
. Made from local Carrara marble, the statue of the nude biblical hero is incredible with life-like muscles carved to precision. Explore rooms that showcase works by Botticelli and Lippi, and learn about the characteristics of Renaissance art that are prevalent throughout the gallery.
After your tour finishes, spend four hours at leisure or you can choose to end this part of the tour with lunch at a restaurant in the town center (optional). Remain inside the gallery if you wish.

Uffizi Gallery (1 hour and 30 minutes):
Meet your guide at 4:30pm and head inside with your skip-the-line ticket, and start exploring the gallery's treasure trove of art. Housed in a large horseshoe-shaped building, the Uffizi Gallery's history is as fascinating to hear about as the works inside it. Built as Florence's judiciary offices, the palace was decorated with fine art by the ruling Medici family. After their dynasty fell in the 18th century, the palace was opened to the public and has remained popular ever since.
Like the Accademia Gallery, the Uffizi Gallery's claim to fame is its wealth of Renaissance artwork, and your guide will talk you through its most interesting rooms. Admire early Renaissance treasures by Giotto, and then stroll through halls dedicated to Michelangelo, da Vinci, Caravaggio and Raphael – artists regarded as masters of their time. Learn about highlights like da Vinci's
Annunciation
and Michelangelo's
Doni Tondo
, and then explore the gallery's upper level to see Caravaggio's works.
Your tour finishes inside the gallery, but you can stay inside for another hour to browse the art independently.
Sample Light Lunch Menu:
Toasted bread with tomato. 2 First courses; Macaroni with Bolognese sauce (or tomato and basil sauce as vegetarian option) Penne with pesto sauce
Homemade dessert or cofee

Water and glass of wine (Chianti or Trebbiano)

Children Menu:

2 First courses; Macaroni with Bolognese sauce (or tomato and basil sauce as vegetarian option) - Penne with pesto sauce
Homemade dessert or Ice-cream

Water or orange juice
Please note
: Children menu will be paid at the restaurant directly.
April 2016
April 2016
Very nice tour! Both tour guides did a wonderful job and talked for the entire tour! Loads of information!
Really great!

March 2016
Great tour. Got to see Michelangelo's David, and works by Da Vinci, Boticelli, Titian and Raphael. I was also very happy to see the first Stradivari Viola, circa 1716.
March 2016
Very interesting trip. We found the stairs a bit taxing the day after climbing up the steps in the Duomo !
January 2016
The guides were wonderful and also entertaining. There was so much to see that I'd like to
go back for more and maybe just wander now that I have an educated window into both the Uffizi and Accademia.
December 2015
Love the small tours. You guides are fantastic. The only thing I would change is that one group was about 1/2 hour late in coming to the meeting point. We should not have waited for them. Thank you.
December 2015
Two amazing galleries in this package! Be sure to save additional time in your schedule to see more of the Uffizi gallery because there is soooo much there. Lots of walking with very knowledgeable guides. You will hear the guide better if you bring our own headset because the earbuds that are provided are not a very good quality.
November 2015
This combined tour gave us two great, memorable tours in one day. Highly recommended! In the morning at the Accademia, our guide Antonio was articulate and witty, and very knowledgeable about art, especially Michelangelo. He kept us informed and entertained during the pre-entry delays. Once in the Galleries, he explained several of the major paintings and sculptures in the galleries before we entered the David Gallery. Instead of rushing us up to this magnificent sculpture, Antonio took time to describe Michelangelo's personality, beliefs and the fame he achieved during his long lifetime - this all helped interpret the unfinished Michelangelo sculptures of the Slaves, St Matthew and the Pieta that we passed on our the way to David. Again, Antonio took time to draw attention to some of the key details of this magnificent sculpture - and then he left us to admire this and other treasures in the Accademia - we were delighted by the gallery of plaster casts and the display of ancient instruments which housed, amongst other items, an early piano invented in Florence! and several violins and cellos by Stradivarius and Guaneri!.
Our Uffizi Galleries tour later in the afternoon was lead by Frederica, a charming enthusiastic art historian who was passionate about the major art-pieces she described to us as we toured the corridors and galleries of the Uffizi. There are so many to choose from, and so many highlights, but we felt the selection of key artworks was just right. Frederica's descriptions and explanations of each were excellent!
It was a delight seeing so many famous pieces and having them explained and described by such an enthusiastic, passionate art specialist.
Each of the two tours was excellent in its own right but, taken together, they provided an outstanding overview of some of the world's greatest works of art, especially when explained so ably by such knowledgeable guides. Highly recommended!
November 2015
Amazing Tour!! The art will leaving you speechless. The Statue of David is a MUST SEE!!
November 2015
This was definitely one of my favorites... easy to navigate and so much to see! The Accademia and Uffizi are a must -- be sure to book a tour or plan to stand in line for hours, plus the tour guides are so informative! I loved the market place with all the leather goods and wine shops! We found language was not a problem. We had been warned of pick-pockets, but think if you're aware of your belongings it's not a problem .. don't look like an easy target! Overall, would love to travel there again!
Special Offer
$88.82 Save $3.51
Advertisement
Advertisement